North Vancouver's Erik Jensen came to home-building on a roundabout path. After switching from a forestry program at Capilano University to a computer science degree at the University of British Columbia, he began his career managing a local IT firm. Then, in 2006, an "a-ha moment" during a volunteer experience at a North Shore children's camp made it clear he was never destined to work in an office. "I was lacing up my work boots and putting on my tool belt, and I just
realized – this is what I like doing," Jensen says. "I like creating. From there, it was no-holds-barred construction."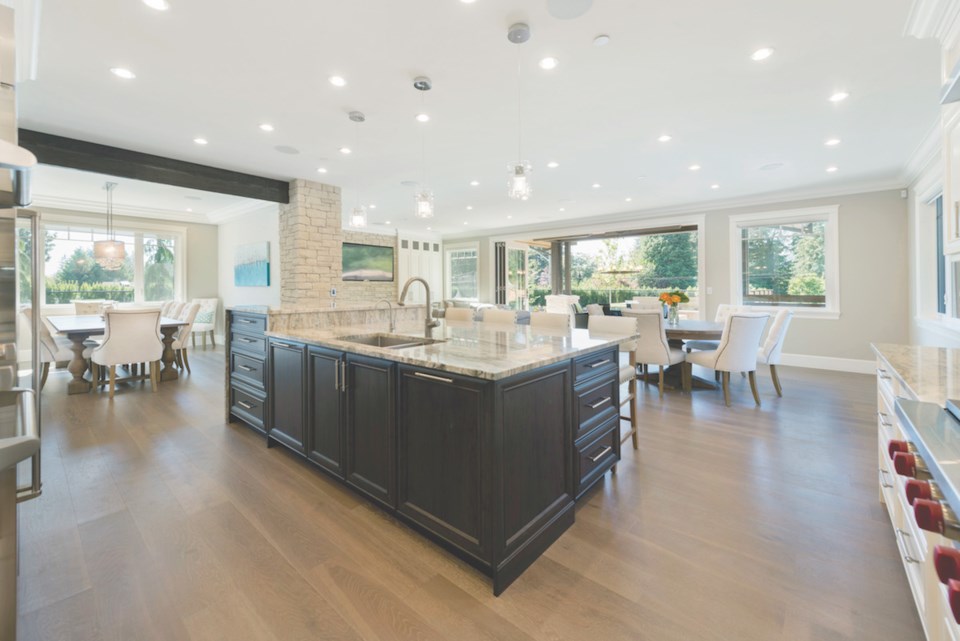 After honing his skills as a carpenter, Jensen launched Sprucehill Contracting in 2009. Since then, he has built and renovated custom homes for clients throughout the North Shore, but perhaps none more exacting than his own family.
Designing his new five-bedroom North Vancouver home, where Jensen lives with his wife, Lianne, and their two kids, aged nine and six, was a meticulous process, Jensen says, but it was worth it for the final result – a welcoming, family-friendly West Coast chateau-style home with dashes of "subtle awesomeness."
"I try not to take myself too seriously," Jensen says. "It's not about being flashy. It's more about making selections that are cohesive and work with each other. I want people to walk in and say, 'I can't put my finger on why it's great, but wow, this place feels and looks amazing!'"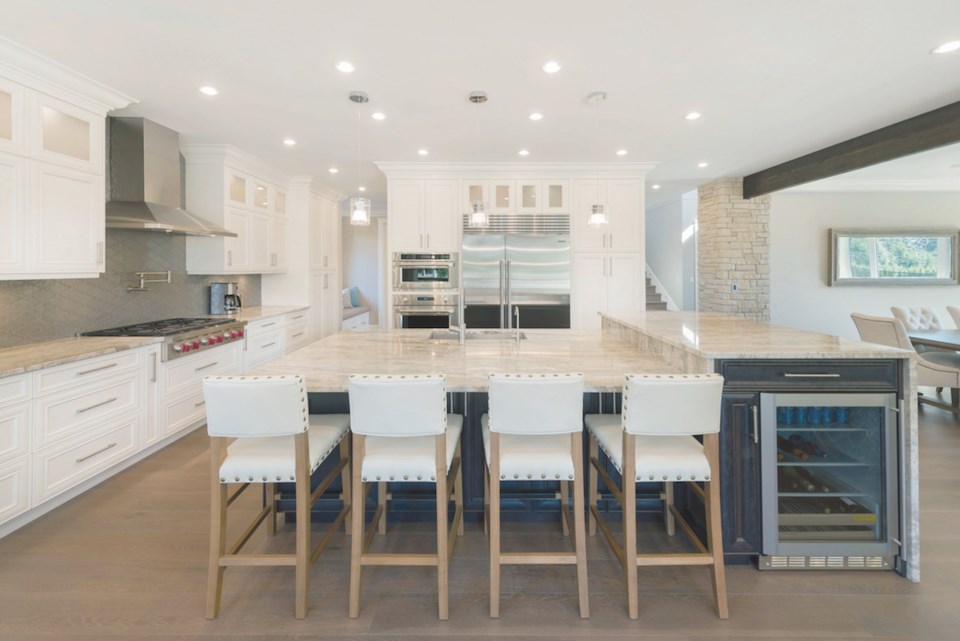 With dramatic envelope roofs backed by mature trees and views of Grouse Mountain, the house has incredible feel right from the curb. Inside, the home is dressed in earth tones and natural stone, from the floor-to-ceiling masonry in the two-storey grand entrance to the natural brown fantasy granite countertops and rift oak island in the kitchen, which is up for a 2017 Georgie Award for Best Single Family Kitchen over $100,000.
Designed for those who love to cook but hate to clean up, the kitchen features Sub-Zero and Wolf appliances, two ovens, two pantries and even two dishwashers. "They say the kitchen is the heart of the home," Jensen says. Here, that's true, with the kitchen island centrally placed for clear sightlines to the dining room, family room and, through a 16-foot eclipse door, the cedar-covered stone patio, fire pit and coloured concrete water feature.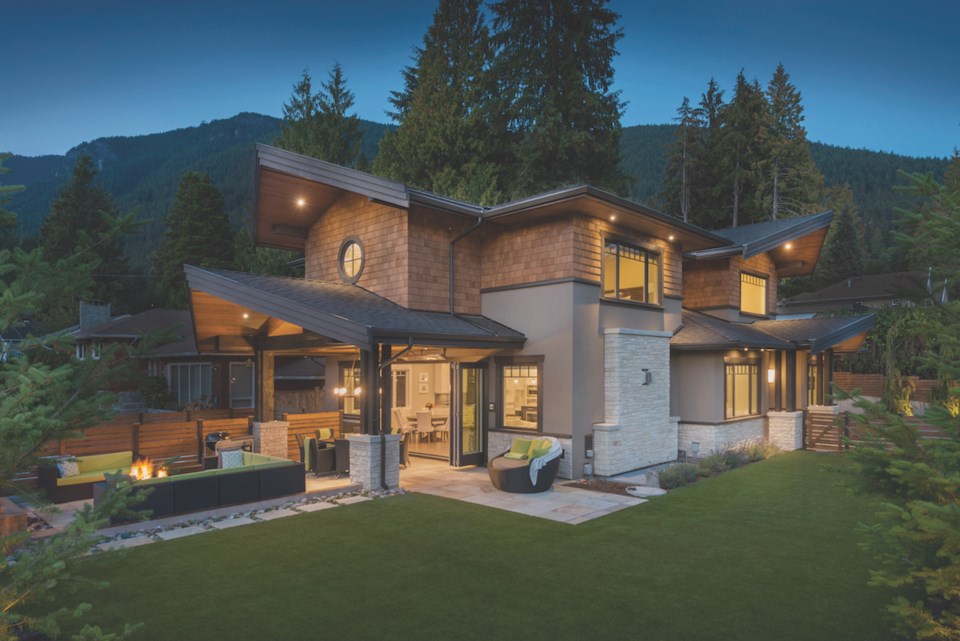 "It literally takes the outdoors indoors and the indoors outdoors," Jensen says. "During the summer, the door is open pretty much all the time and the kids and dogs can go as they please."
Beyond the patio, Jensen used 466 feet of retaining wall to create a level yard, maximizing the southern exposure and property space. Aiming for a beautiful yard that can withstand the annual summer watering restrictions, his landscape designers created a zero-water garden that incorporates native grasses and trees, lavender and artificial turf.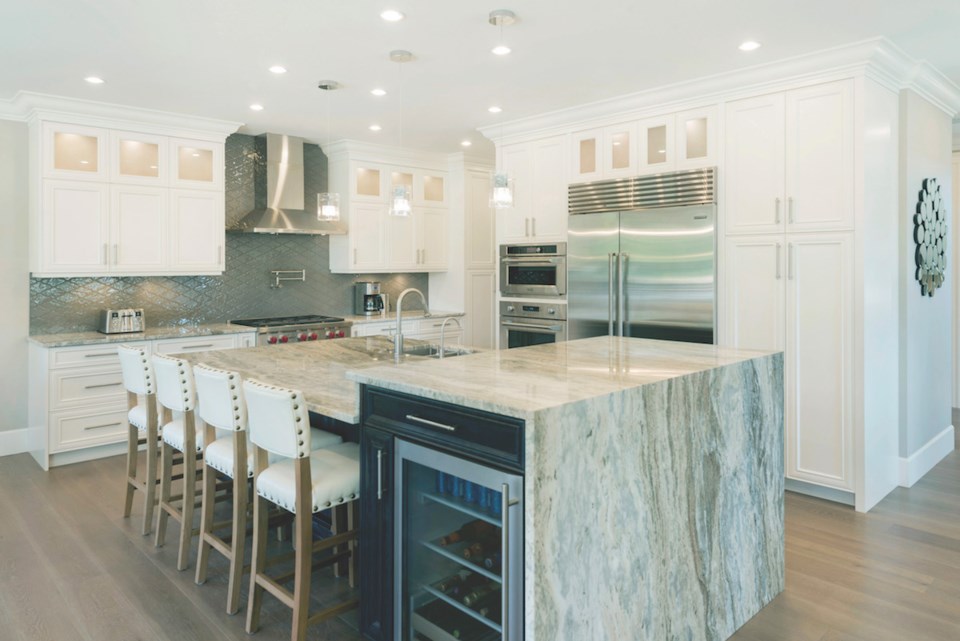 The low-water garden is an aesthetic choice, but an environmentally sensitive one, too – a focus echoed in the foundation-cooled, net-zero-energy wine cellar, the hot water recirculation system, and use of Control4-powered smart lighting, power and Nest thermostats.
"The audio, TV and lights can all be controlled on my phone anywhere in the world," Jensen says. "It's a great system for convenience, but also energy efficiency. And it's great to be able to turn off the TV on the kids when it's time for them to go to bed."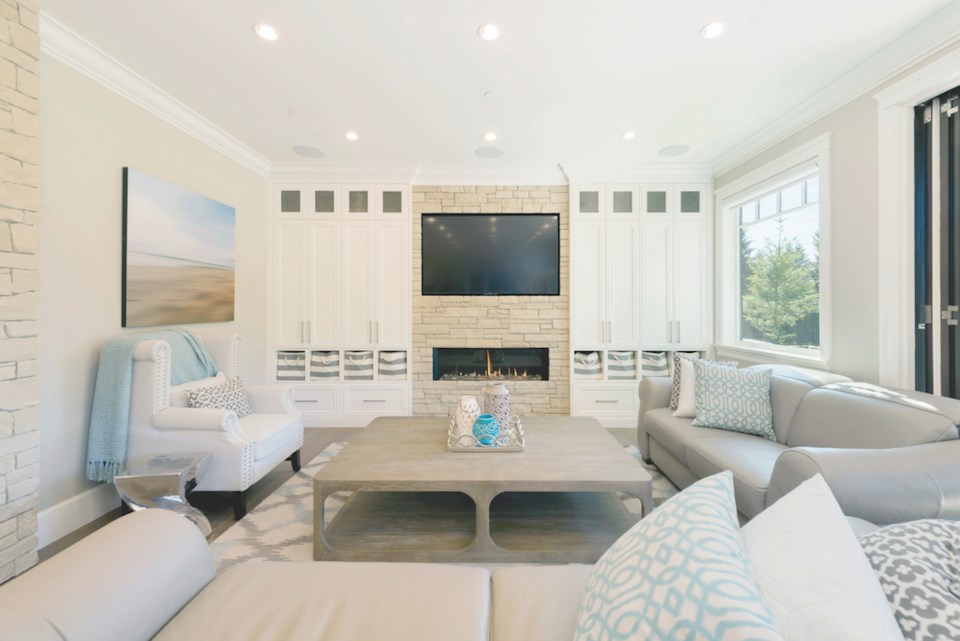 All of the technology is nice, but Jensen's favourite thing about the home is the 160-square-foot master bathroom with its crystal chandelier over the freestanding tub, its built-in speakers, and – most of all – its curbless walk-in double rainshower with marble accent tile.
"It's massive but super-comfy," he says, "and it makes our bedroom our own little oasis.
For me, it's a masterpiece."