Every trend has its moment and then, poof, it's gone. Avocado-green appliances ring any bells? Recreating rustic Tuscany? Mosaic backsplashes, too, have had their day.

As the heart of the home, the kitchen has star status. It's also the room that requires the largest budget to renovate. And as much as everyone wants the latest and the greatest in terms of style and gadgets, no one wants that gorgeous new space to look dated in a matter of a few years. 

Creating a fresh, contemporary kitchen can be simple by following certain approaches to design to create a space that has style longevity.
 
Designers categorize kitchens in three styles: traditional, transitional (combining elements of traditional and modern) and modern. For contemporary kitchens, most consumers are opting for transitional or modern, says Sandra Mendes, senior designer at Aya Kitchens and Bath.
Mendes says the easiest way to avoid a dated kitchen is to ignore trends altogether and stick to classic elements.

Vancouver's Kelly Deck, of Kelly Deck Design, says that modern, in the most classic sense of the style, has the greatest longevity.

"True modern is timeless," she states. "It's the stuff in between that is not.
It's about having nothing extra: a flat panel white door with a simple beautiful piece of hardware on it is going to look good in a decade, no problem."

For a transitional style, Mendes suggests, "using a Shaker-style door, or using more neutral colours like whites or greys."

Deck agrees that neutrals are key to keeping a kitchen looking fresh long term for either a transitional or modern look. For cabinets, if painted in a "white or a soft grey or a soft neutral, you're in the zone of timelessness and elegance," Deck explains.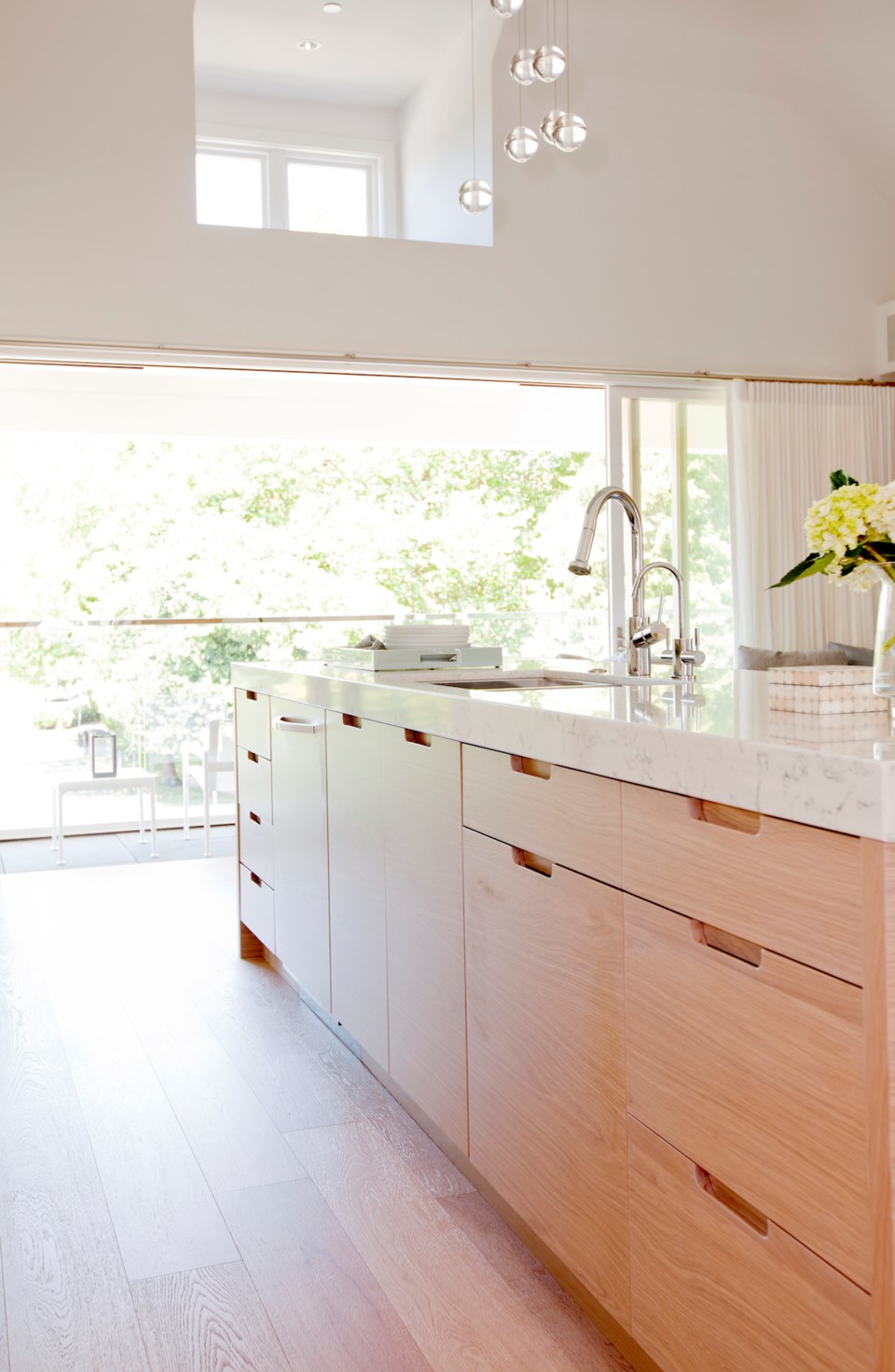 Elements for a timeless kitchen:

Restraint is a word that Deck invokes for all aspects of design. She says if you want to include trend-based features in a kitchen, restraint is key. If you love rose gold finishes, use it where it will be simple and inexpensive to switch it out if its popularity wanes. Most cupboard hardware is standard measure and so is easy to change without damage to cabinetry.

Open shelving adds interest in both transitional and modern kitchens but unless you are a complete minimalist, use it sparingly. "You don't need a lot of open shelving. With modern kitchens in particular—that single shelf going across the wall and you've got a beautiful finish going up the wall," says Deck.

Light natural materials have a timeless quality. Deck favours German white oak. Mendes says oak and walnut in natural finishes are always contemporary. She says that those types of materials provide the textural elements in the design when using neutrals in a monotone palette.

A subway tile backsplash is timeless in a transitional or traditional kitchen, Deck says. But, she adds that wrapping the countertop slab up the wall "is the safest approach usually if you're using a simple composite in a white or subtly mottled."

•   Cabinetry interiors are the way to embrace innovation, Mendes says. She points to integrated charging stations in a drawer or counter, roll outs or pull outs for integrated work surfaces, and dedicated storage for small appliances that pull out at counter height for easy access being some features to include.