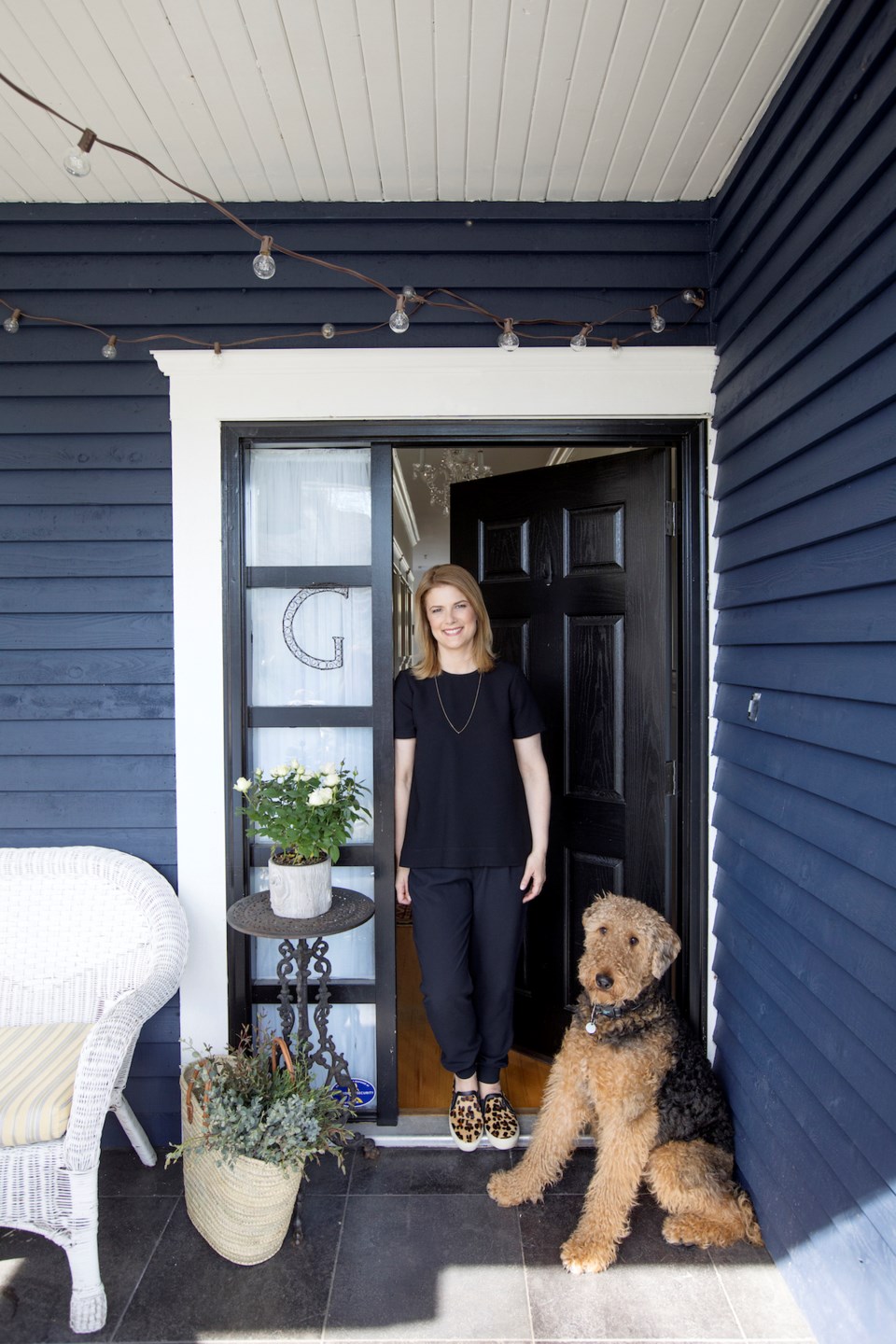 The first thing you notice when you step across the threshold of Tamara Taggart's house is that it's truly a home. Nestled on a quiet, tree-lined street in Vancouver's Mount Pleasant neighbourhood, this 2005-built heritage-style house feels welcoming the moment you step inside.
On the morning of our cover shoot, we are greeted by the confident news anchor, who is returning from taking her giant (and somewhat clumsy) Airedale, George for his morning walk around the block. With her perfect bone structure, blonde locks and deep-set brown eyes, she looks as beautiful without a stitch of makeup as she does every evening reporting alongside fellow anchor Mike Killeen.
Also joining us are Broccoli and Brussels Sprout, the two lovable (and somewhat crazed) kittens who have also recently become part of the Taggart/Genn clan. Husband Dave Genn—whose band 54-40 was recently inducted into the Canadian Music & Broadcast Industry Awards Hall of Fame—is not home, but a few of his guitars are proudly displayed in the light-filled living room. The couple's three children—six-year-old Poppy, eight-year-old Zoë and nine-year-old Beckett—are off at school, so the usually bustling house is ours for a few quiet hours.
Tamara says she knew this was the "Forever Home" she wanted for her family the moment she stepped inside back in 2005. At the time, she was already the proud mom of one-year-old Beckett and was eight months pregnant with her second child, Zoë. With four bedrooms upstairs, a front and back yard plus a completed basement, Tamara and Dave thought it was the ideal dwelling for their expanding family. What they loved most was the basement suite, which they envisioned as a possible future apartment for Beckett, who has Down Syndrome. The other plusses? The location, in walking distance from grocery stores, restaurants, parks and a pool, in the colourful neighbourhood known for its small-town sense of community in the heart of the city.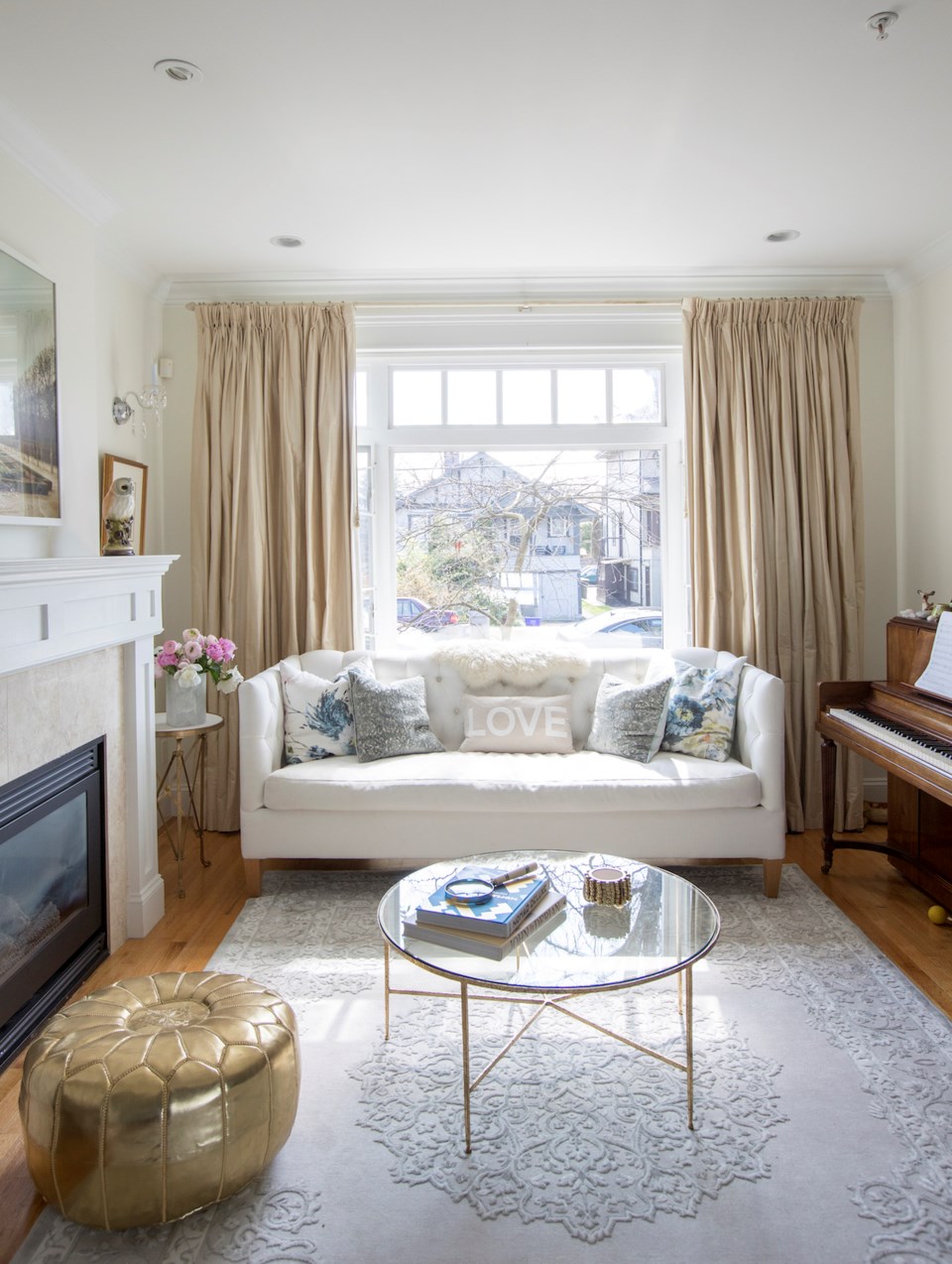 When asked what makes her house a home, without skipping a beat, Tamara exclaims, "The people in it! I think nothing is precious in our house. Everything is white, which may seem crazy with three kids, a dog and two cats, but everything can be bleached! White sofa? We just bleach it! We keep lots of Tide pens on hand. With white paint you can just cover it up. The kids will remember living in a cosy home they [had] fun in," says the TV personality.
Tamara's design style is easy, happy and whimsical. The home is a perfectly curated mishmash of baroque-style rugs, sofas and marble tables from The Cross injected with antique finds like a powder blue velvet armchair from Spruce Collective plus offbeat accents like a painting of Fast Times at Ridgemont High's Jeff Spicoli. She just buys what she likes and makes it work. And that it does.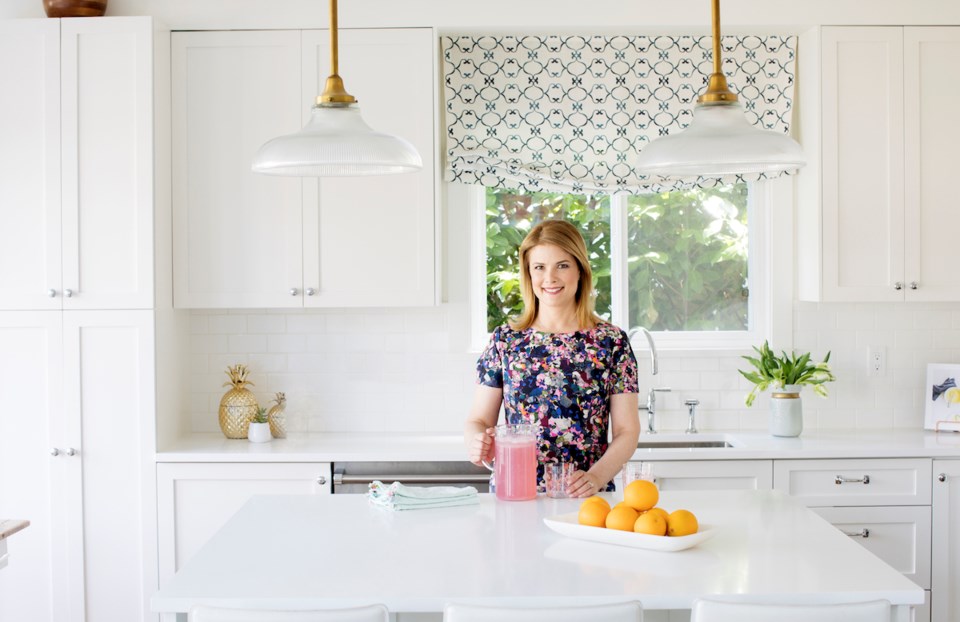 Tamara's most prized possession—a painting of Dave and his mom Carol that Dave's father, celebrated Canadian artist Robert Genn, gave to Tamara the Christmas before Robert passed away three years ago—hangs proudly in the living room. Robert's art can be found all over the house along with his daughter Sara's paintings, who has also found her career as an artist and musician.
Like many families, the kitchen is where the parents, kids (and pets) spend most of their time hanging out, cooking, doing art, reading, writing and of course, eating. Tamara redid the space a year and a half ago, repurposing the cupboards by adding cabinet pulls from Restoration Hardware and a new island, which was custom-designed from The Cross Décor & Design. The fireplace was taken out and replaced with a big comfy couch and armchair with a meticulously organized Stor-X Media wall housing books, chachkas and the TV, which is out of sight when not in use and just in the right location when the family is watching it.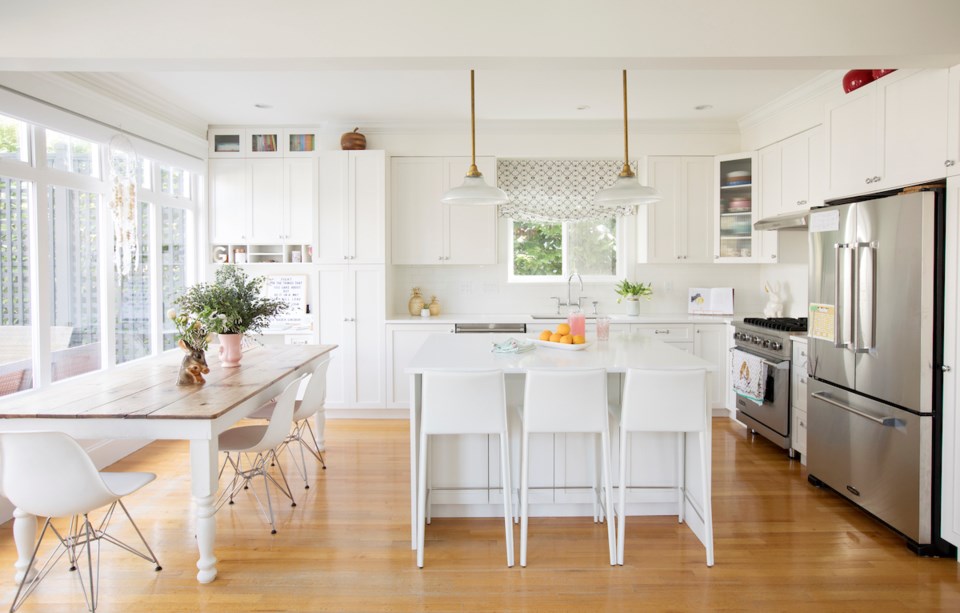 Tamara also loves to work in her garden, where a wonderful collection of gnomes and birdhouses have taken up residence. Looking out the window to the front yard from the couch in her living room, Tamara points out a happy little bird popping into one of its birdhouses perched in a newly budding cherry tree.
Though Tamara laughs that her home is a constant state of organized chaos, she says that she wouldn't change a thing. Managing her busy schedule anchoring CTV's 6 o'clock news and raising three kids may seem daunting, but Tamara attributes her ability to stay on top of things to making a weekly family calendar every Sunday night. "[It] helps to avoid panic! When things get too much, I call in Shelley Davies from Detail Modern Order. She's a professional organizer who will change your life. She reorganized our closets, kitchen, garage—you name it. Dave calls her "the woman who hides things on me." She's helped me put in systems at home that make sense."
Tamara's favourite thing is to create memories for the kids in the home. Now five years cancer-free, she spent nine days in the hospital when she was first diagnosed with a gastrointestinal stromal tumor and nearly died at that time. "When you nearly die, you think about things. I thought about fun things I would do for the kid's birthday parties. I had all these months of recovering and memories I wanted to create for them in our house. I never want it to be about the presents. We always do something over the top and fun." Last year, Beckett, who is a huge Star Wars fan, had a birthday dream come true. Tamara and Dave had "real" Stormtroopers show up on his birthday party—and it did not disappoint. Turns out, the guys behind the Stormtrooper's costumes were huge 54-40 fans who took off their helmets and snuck a few beers in the garage with Dave during the celebration. Great memories for Beckett and his pals (and for Dave!)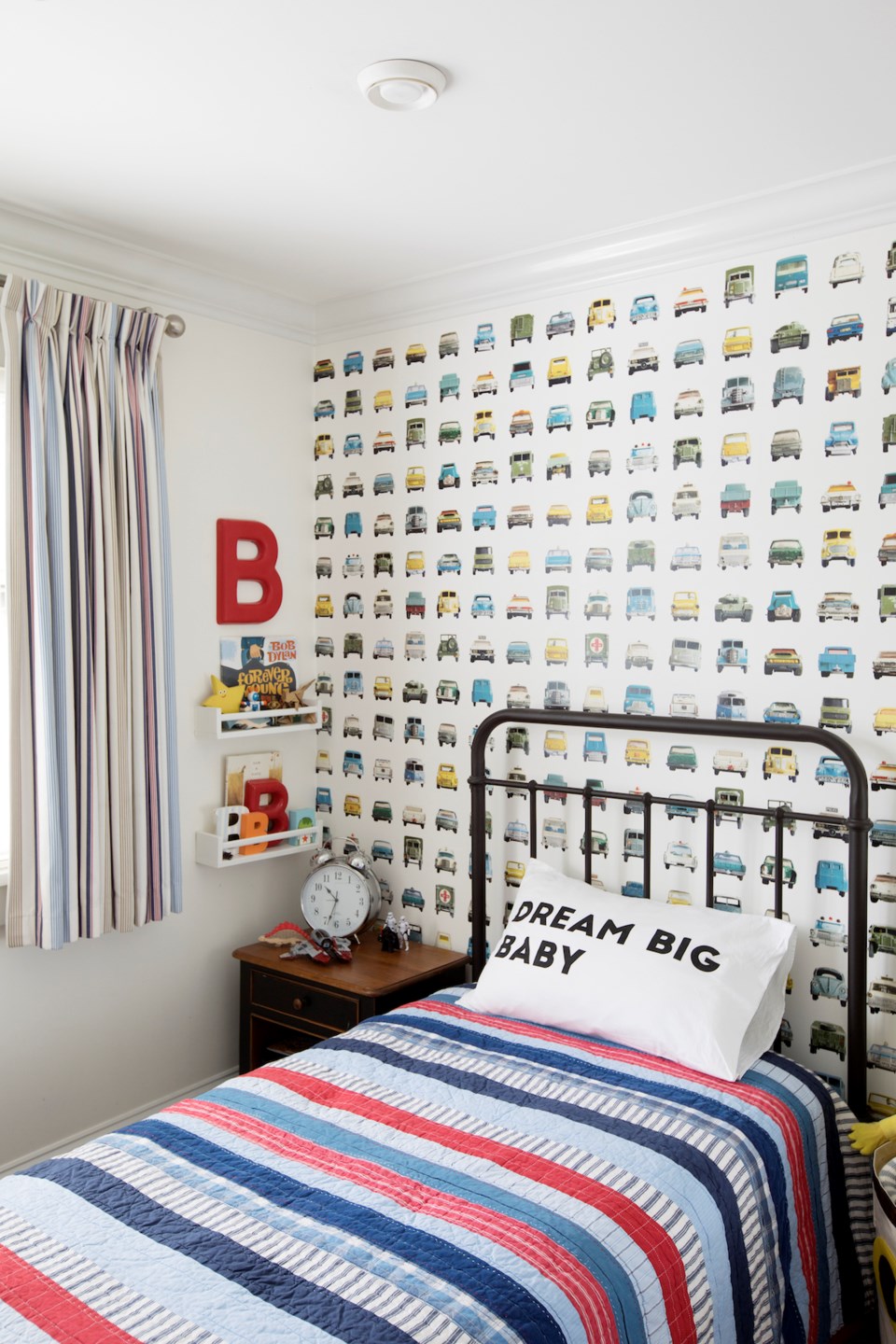 As we begin wrapping up the shoot, the spring afternoon sun is high in the sky, streaming through Tamara's oversized living room windows. We hear a car pull up out front and see that Beckett is arriving home from school. He trots up the stairs, wearing a cooler-than-cool old school Joy Division concert tee (I'm guessing that was a gift from Dad) and says a sweet hello. The din of the organized chaos of Tamara's homey abode is starting up again as we bid our farewells.