Cove Cliff Elementary students Claire and Sara Jaakkola aren't just siblings; they're successful entrepreneurs.
The two 11-year-old businesswomen have produced and sold products utilizing industry practices, like putting together a business plan and using market research to effectively reach their target audience. They also aren't afraid to make mistakes.
"Mistakes are crucial if you're trying to start a business," Claire explained during an interview with the North Shore News. "You need to know if you're actually capable of doing it. You can figure out what went wrong and fix those mistakes."  
It's obvious the sisters are wise beyond their years, but where did they learn these skills at such a young age? Well, they've both completed the PowerPlay Young Entrepreneurs program.
Currently offered in 25 districts across Canada, Young Entrepreneurs aims to equip students with the skills needed to be successful in a rapidly changing work environment. Students are encouraged to think outside the box, creating products that they will sell at an event at the end of the program.  
Founder Bill Roche operated the program as a business for 18 years, before launching it as a charity in 2017.
"I wanted to create a workshop so kids can start discovering who they are from an early age," explained Roche. "That's really the driver of the program. With this project, kids really focus on exploring their talents and abilities, and they also challenge themselves to really grow in areas where they need to develop."
According to Roche, 85 per cent of the jobs that will exist in 2030 haven't been invented yet.     
"We're in a period of really rapid change and it's critical that we prepare kids to be able to thrive in this new paradigm," said Roche. "From my perspective, if we can help young people start focusing on developing an entrepreneurial mindset, it really empowers them, regardless of what career they are going to go into."
Roche worked as an engineer before switching his focus to education. He says that unlike traditional learning methods that teach children to memorize and get the right answer, Young Entrepreneurs encourages children to make mistakes and learn from them.    
"With PowerPlay, we're moving away from striving to get that right answer, and focus more on the learning piece," said Roche. "The students see the learning and growth as the success, as opposed to getting the right answer."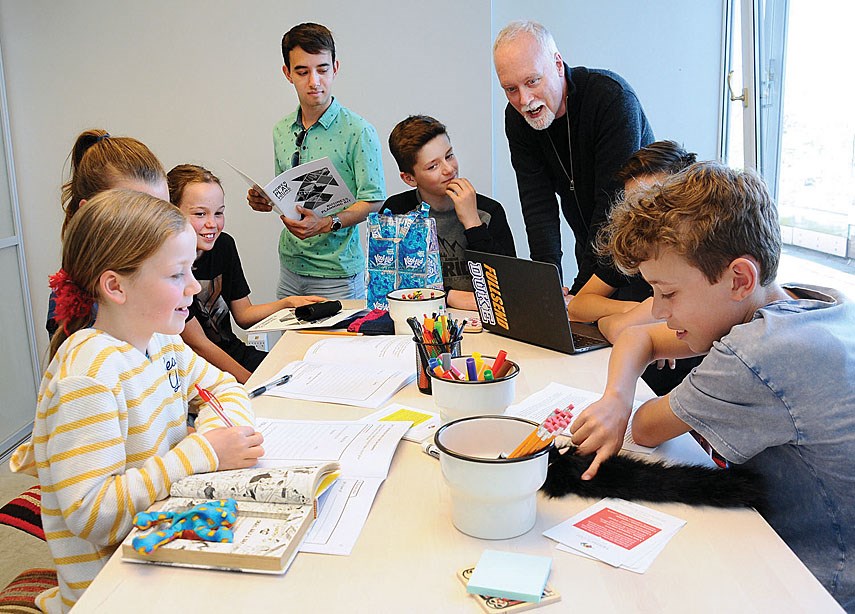 "What we're seeing is strong academic achievers do very well, but what's perhaps even more exciting is that students that sometimes struggle in school, kids with behavioral problems, kids operating below grade level, they are also experiencing success with the project. For families, it's really exciting to see students discover their own unique pathways to success."
The Young Entrepreneurs program is now being offered through HomeRoom Learning Centre, a newly opened facility in the heart of West Vancouver. HomeRoom provides private tutoring and support for students facing various learning challenges.   
Up until now, Young Entrepreneurs has always been run as a classroom activity, integrated into B.C. school curriculums to be instructed by teachers. The collaboration with HomeRoom marks the first time that the program has been offered in an extracurricular format.
"We're providing another venue for students that may have done it in school and want to build on the experience. Or for students where it's not at their school, it gives them an opportunity here." said Roche.
Recently, a feature documentary was put together about the Young Entrepreneurs program. The 45 minute piece follows the journey of four students, and the challenges they face as they work towards becoming business people.
"One of the things the filmmaker wanted was to work with a complex class," explained Roche. "This class had so many different learning challenges. There were three students that were English language learners, there were kids operating below grade level, there were gifted kids. So very diverse, but also very representative of what B.C. classrooms are like."
The documentary was actually what inspired the collaboration with HomeRoom, after two of the founders saw the first screening of the documentary.  
"When we saw the film, we saw these children really light up that were falling behind the cracks in a regular classroom," said Janet Alan, one of HomeRoom's Co-Founders. "It created confidence in these children as they created and sold their products and were successful. So we got really excited about it, and we approached Bill to see if he wanted to partner with us."
Roche says that the filmmaker really embedded herself into the lives of the film's subjects, which led to a really emotional piece.
"In one of the cases, the student was operating well below grade-level, he always struggled and fell behind when it came to writing. In his case, he made a video to create a business plan as opposed to writing it out. One of the big things for him was that he said 'I'm not behind now.' He described his whole learning experience as this factory in his brain expanding. It's really neat."
The program also incorporates a charitable component, with all students devoting a portion of their profits to the PowerPlay Young Entrepreneurs charity.
Sara and Claire have been through the program twice, and have some advice for other budding entrepreneurs.
"I would tell them to take the market research really seriously, because those are the people who are going to be buying your product. You want to make sure that they like it because otherwise you won't make any money." said Claire.
"I agree with Claire. Make a nice poster to attract people and have a good setup so people can see what you're selling." said Sara.    
Roche says that one of the things he hears most from students is that they enjoy collaborating with each other. 
"It could be planning the big sales event, but it's also giving each other feedback about how to perfect their business plans and their product designs," said Roche. "There's a real buy-in and it seems to be that collaboration piece. That connection between the students is perhaps one of the most powerful parts of the project."  
HomeRoom Learning Centre Young Entrepreneurs Program Dates
Spring Program May 30 – June 27-(5 workshops) Thursdays 4:30 p.m. to 7:00 p.m./ $495
Spring Program June 1 – June 29-(5 workshops) Saturdays 9:30 a.m. to 12:00 p.m./$495
Summer Program July 8 – 12 – Mon-Fri daily from 10 a.m.-3.30 p.m. course/$495
Summer Program July 29 – Aug 2 – Mon-Fri daily from 10 a.m. - 3.30 p.m. course/$495
Summer Program Aug 12 – 16 – Mon - Fri daily from 10 a.m. - 3.30 p.m. course/$495
Mindset Matters Screening and Community Dialogue event
When: Tuesday May 14th
5:00 PM – 7:00 PM PDT
Where: Kay Meek Arts Centre
1700 Mathers Avenue
West Vancouver, BC V7V 2G7

Interested in attending the next screening of Mindset Matters? Register here. 
This story originally appeared in the North Shore News Summer Camps special section, which highlights local summer camps for kids.