While Halloween may be celebrated a little differently this year, North Vancouverites have put in an extra effort to add COVID precautions to make sure no one misses out on a fright. 
Lindsay Dawkins is just one of many residents decking out her house for Halloween, and said she has set up a one-way path in the yard and a candy shoot to safely deliver treats.
"We felt this year was very important [to put up a display] with COVID, as it brings a smile to everyone's face and some happiness," she said, on keeping traditions going during a pandemic.
Dawkins, who decorates her house at 322 West 16th Street every year for all seasons, went with a pirate theme this Halloween. She said people were more than welcome to take pictures with the spooky but child-friendly display of pirate skeletons, buried treasures, and graveyards topped off with all the creepy trimmings.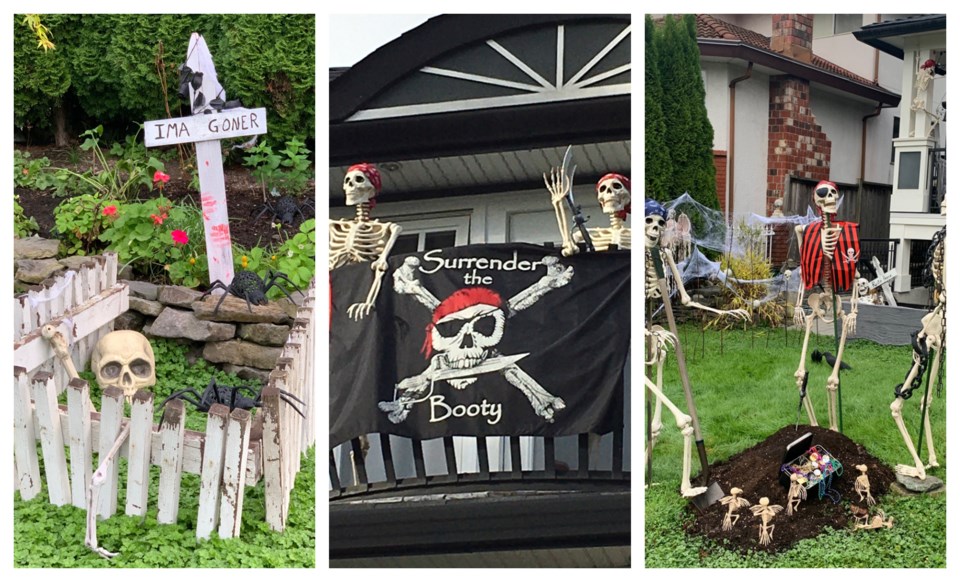 Dawkins said putting up the decorations brought some normalcy to a year that's been anything but.
"In this world of uncertainty, it is comforting to know that traditions can still take place," she said.   
BC Centre for Disease Control has recommended skipping large Halloween parties this year but said trick-or-treating in small groups could still be a safe and fun activity.
It stated it was best for residents to stick to their own neighbourhoods, to incorporate a mask into their costumes and to sanitize regularly. Other tips include using tongs or making a candy slide to create more space when handing out treats. On top of this, the CDC suggests handing out individual treats instead of offering a shared bowl.   
If you want to give your kids "pumpkin to talk about," take them for a drive or walk by some of the North Shore's best Halloween haunts. If you have a display you'd like to add, email a photo and address to reporter Elisia Seeber here.
PLUS: We're giving away four Grouse Mountain two-person prize packs (two SkyRide passes and two zipline passes), valued at $296 each at random for people who submit their displays. 
Check out the map to find a fright near you. 
Elisia Seeber is the North Shore News' Indigenous and civic affairs reporter. This reporting beat is made possible by the Local Journalism Initiative.