An organization started by West Vancouver students that pairs teens and older adults together through the boundless joy of art has found a new way to connect in the era of COVID-19.
Sentinel Secondary student Stephenie Liew founded Teens to Seniors Art Organization in 2018, a student-led non-profit group that brings teens and seniors together through arts and crafts projects.
Years ago, when Liew's grandmother was hospitalized after sustaining a back injury, she'd visit her in the hospital as well as the other elders she was sharing a room with.
Liew started bringing in arts activities for the group to do together. And amid chests of yarn, origami and bracelet-making supplies, an idea for a simple but extremely meaningful organization was born, according to Rosemary Gong, one of the student executives of the organization.
Each week for the past couple years, Liew, alongside fellow students Gong and Angela Peng, as well as steady slew of volunteers, would visit retirement residences and long-term care homes to a spend a couple hours making arts and crafts with local seniors.
"We'd usually visit different seniors homes or activities centres and we'd bring different crafts that were usually themed to a holiday that was coming up," says Gong, who will be entering Grade 11 this fall. "They have so much insight. … There's so much to learn from them."
It was a highlight when volunteers from Teens to Seniors Art Organization – which consists right now of mainly Sentinel students but has grown to include other North Shore students as well – could bring cheer, social interaction and an artistic outlet to the residents at Lynn Valley Care Centre, visitors to the West Vancouver Seniors' Activity Centre, and other places, says Gong.
"I really like doing art on my own, so why not do it with other people as well?" she says. "We benefit from getting knowledge from the seniors. We actually care about them and we need them now more than ever."
But visitations to essentially every seniors residence were put on hold this year as the COVID-19 pandemic swept the North Shore in March. With elders in the community at the highest risk of contracting the virus, the group couldn't continue their in-person art sessions.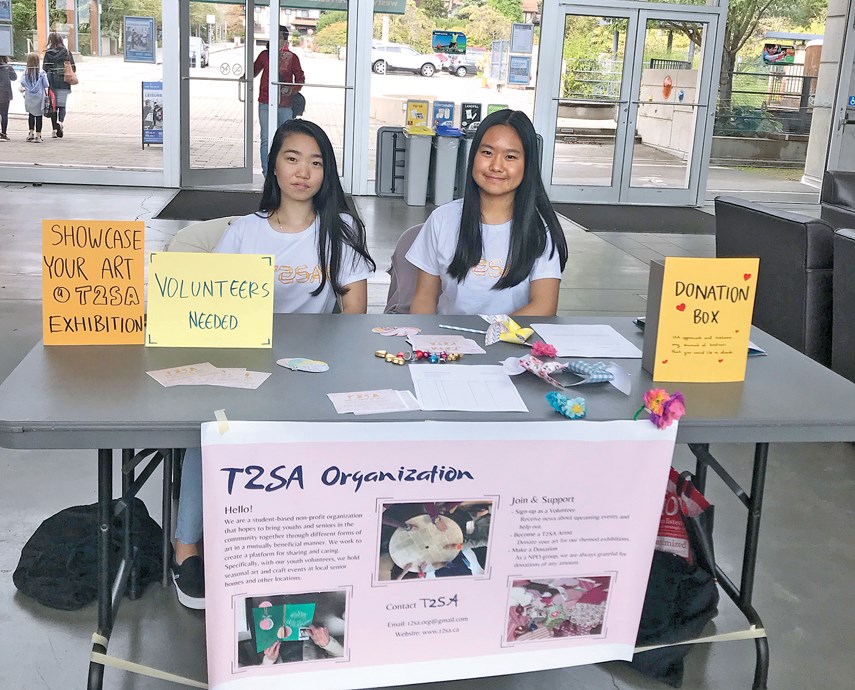 Although most seniors homes in B.C. are now accepting visitors, with residents allowed to have one designated visitor at a time assuming their care home has a COVID-19 safety precaution plan in place, organizations like Teens to Seniors Art likely won't be able to pay an in-person visit for some time, according to Gong.
However, that hasn't stopped them from trying to share the gift of art with local seniors, she says.
Due to physical distancing restrictions, the members of the organization came up with their Craft kits Project, a simple solution which has involved sending free arts and crafts kits to seniors residences which have included all the materials needed to put together a certain craft project, an instruction sheet, as well as a handwritten note of encouragement.
"Our goal is to not only give the residents a fun pastime – because we can't physically visit – but also to show them that they are still connected to and thought of in the community, when they may be feeling rather isolated," says Gong.
The organization has so far completed contactless delivery of 60 kits to places like Lynn Valley Care Centre and Revera Hollyburn House.
The kits have included projects such as canvas painting, rock painting, paper flower and fan construction, and more, says Gong.
Now, the organization is trying to connect with new homes to continue their mission to provide seniors with free art projects and some hopeful messages, as well as acquire new donations of materials, she says.
Visit t2sa.ca or email t2sa.org@gmail.com to connect with Teens to Seniors Art.
"Right now we're going off of a donation that we got a while ago. In order to sustain what we're doing, support would be great," she says.