The boy couldn't sleep.
A family of four – the boy, his older brother, and the boys' parents – had just moved into the old Gilbert House in Upper Lonsdale. At first they were buoyant: they'd taken possession of a heritage house, a Craftsman-style home built in 1925 in a beautiful part of North Vancouver, and were in the throes of adding their own renovations. But they soon learned some things are better left undisturbed. Although many other families had lived there before them, it appeared some had decided to stick around.
In the dead of night, the boy crept upstairs. His mother probably got a shock when she was roused to see her youngest staring back at her. The boy couldn't sleep, he told his mom.
For the past few nights, the mom had experienced some strange phenomena herself.
She already hadn't been sleeping well– the family had just moved in to the new house and she was just getting used to the idea of her two sons, ages three and six, sleeping downstairs. She was staying vigilant. At 4:30 in the morning a few nights earlier she'd been spooked after hearing the sounds of running in the downstairs hallway but when she jumped out of bed to investigate, she found her boys both fast asleep.
The next day, at the same early morning hour, she had discovered her youngest son in the driveway.
"She said there was no way he could have unlocked the door," explains Eve Lazarus, a North Vancouver-based historian and writer who interviewed the family for her book At Home With History: The Secrets of Greater Vancouver's Heritage Homes when they were the owners of the Gilbert House in the mid-2000s. "The next day he woke up and came upstairs and he told her that he couldn't sleep downstairs anymore because this little boy and girl were keeping him up and awake all night."
But there was no little boy and girl – right?
While Lazarus details other spooky elements the family encountered – including instances of doors opening and closing when no one else was around, or lurid faces appearing in windows – she notes that the family's experience might not have been so unusual considering how old the house was.
"It's not surprising that it'd had tons of residents – who may not have wanted to leave," she says. "They were also doing a renovation, and it's my understanding that when you renovate a house and do a lot of construction it upsets any ghosts. … They tend to get very active."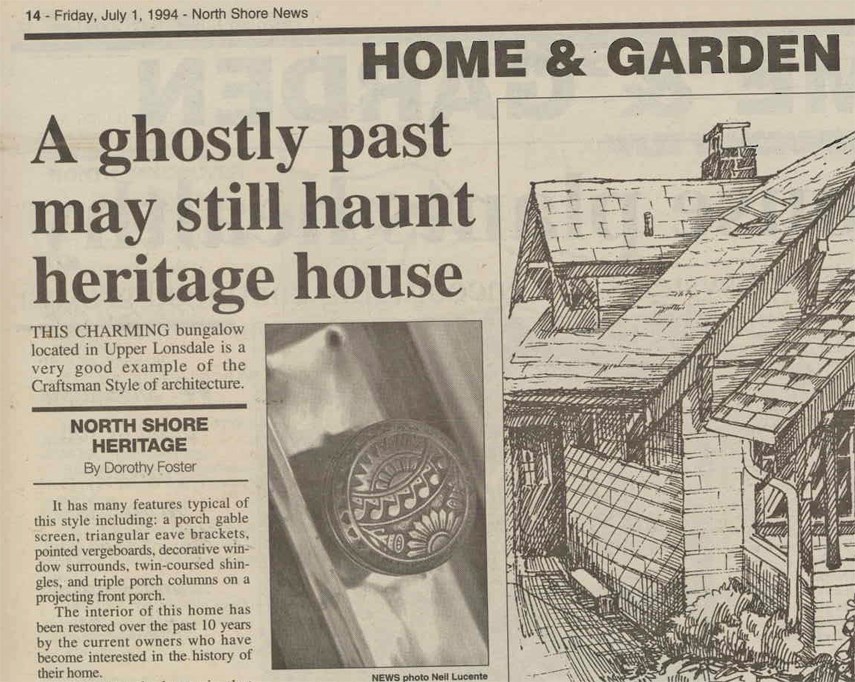 In the July 1, 1994 edition of the North Shore News, regular contributor Dorothy Foster, writing in the Home and Garden section, recounts a similar tale of haunting at the Gilbert House in an article entitled A Ghostly Past May Still Haunt Heritage House.
According to Foster's report, the owner at the time told her that she'd been working in the garden one day when a woman drove up and told her that she had previously lived in the house and she should be on the lookout for two "entities" that lived there as well.
"The woman went on to describe the first entity as a lovely young woman and the other ghostly figure was an angry old man. The owner didn't take it too seriously, though," wrote Foster.
Time went by without incident; however, the owner did remain aware that one of her friends in particular refused to come into the new house, citing a "strange feeling."
After the owner kept insisting, the friend eventually relented. As the owner went to make tea one day the friend had a look around. Then suddenly, the owner saw her friend running out of the house, getting in her car, and driving off without hesitation. She eventually told the owner that while exploring the house she had seen a vision of a pretty young woman dressed in black as well as an apparition of an angry old man.
"She told the owner that she had never experienced anything so vivid before," wrote Foster.
• • •
The North Shore may have other places where the paranormal abounds.
Patrons of the arts are used to witnessing performers conjure magic on stage at Presentation House Theatre, though some might be interested to know it's possible to conjure ghosts there as well.
Anecdotally, there are many stories from artists, production companies, and Presentation House staff of supernatural moments occurring during the building's long history, according to artistic director Kim Selody.
"There are stories internally that go back even prior to it being an arts centre," says Selody. "Things like doors closing in other parts of the building when there's no one else in the building. Flickering of lights, for sure; sounds coming from the third floor, or even the attic, of people walking across."
The building was constructed in 1903 as a school. Then, after it was taken over by the municipality, it served as city hall for a tenure.
"And then it did a stint as the police station," says Selody.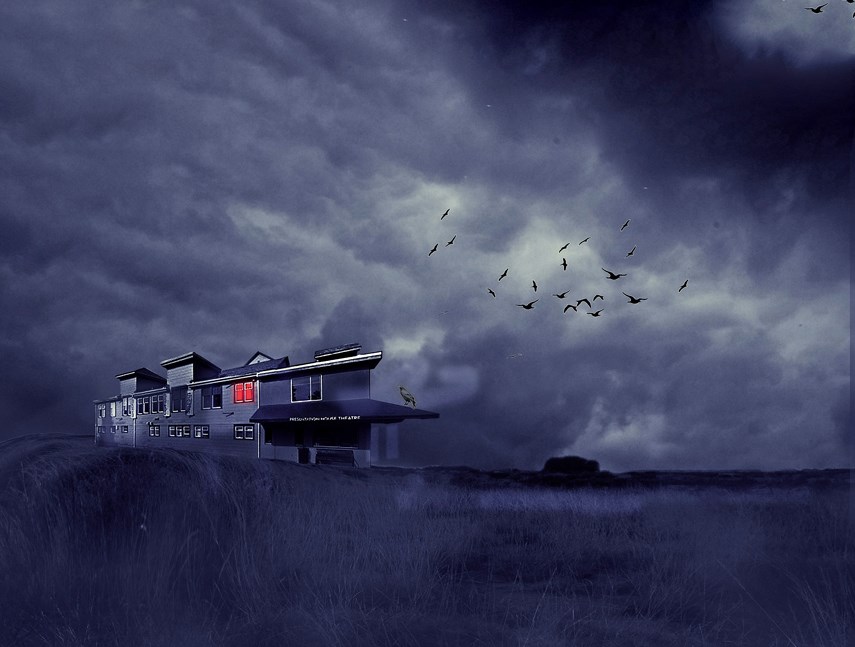 Presentation House Theatre (and the former Presentation House Gallery) were there starting in the mid-1970s. Many of the stories of hauntings occur from this period, when the building was being remodelled into an arts centre.
Selody claims that years ago he and some staff heard someone walk across the third floor roof, where the gallery was located, one night at about 11 o'clock.
"We're working down in the theatre alone, setting levels, and immediately we went upstairs – and it's all locked up and alarmed," says Selody, adding: "We've got people who will not work in our building alone at night."
This Halloween, Presentation House Theatre is opening its doors to the public for its first-ever haunted house experience.
HIVE Performance Collective, made up of nine emerging theatre companies, are planning to fill every nook and cranny of the building with innovative, creative and theatrical creepiness, says Selody.
"They each take a part of the building and they put on a short performance experience," he says, noting the haunted house will be open Oct. 31 from 6 to 9 p.m., and on Nov. 1 and Nov. 2 from 6 to 8 p.m.
A Vancouver-based paranormal society has also rented space at Presentation House Theatre four times, adds Selody. The group brings audio and video equipment and documents their findings as they search for the mysterious ghost, or ghosts, he says. "I think that's why we can say we're officially haunted."
But perhaps the foremost expert on Presentation House's paranormal phenomena was Cecil Halsey, who was the museum's caretaker for a quarter-century.
"Cecil was our go-to guy because he used to hang out in the building at night," says Selody. "He was obsessed with the ghost."
Sadly, Halsey, who was in his 70s, passed away this past summer.
Selody admits that Halsey would have been the ideal candidate to speak to with regards to Presentation House's supernatural entities, though in the end the theatre's ghosts are still a mystery.
"It's not the kind of ghost story where everyone goes this is the historical narrative and therefore that's the ghost, it's kind of the other way around. There's an entity in the building and no one really has been able to confirm where it's coming from or what it is," says Selody, though he relents that out of everyone, it was Halsey who seemed to know the ghost best.
"Cecil was the one who said: '…and his name is Frank.'"