Call it the right place at the right time.
It was two o'clock in the morning sometime last year when Ali Haghighatjoo, in need of a study break, was compelled to grab his camera. A passionate photographer for more than 20 years, he was moved in those early morning hours by the fog rolling across Metro Vancouver, blanketing much of the North Shore and Vancouver Harbour in thick white mist.
"I didn't get the chance to go grab my tripod, I just held the camera and shot it," said Haghighatjoo. "Photography is one of my passions. As soon as I grab my camera, I don't feel time, I don't feel places."
But in that moment, he did feel a sense of connection, of being part of a community, or something bigger than himself, according to Haghighatjoo.
The 13th floor apartment in North Vancouver he shared with his wife provided the perfect vantage point for him to grab the shot, which ended up being a serene portrait of the Lions Gate Bridge, awash in bright lights which were draped along the bridge's support beams like a glowing string of pearls, and ensconced in the early morning darkness and thick fog from below. It's as if, for a fleeting moment, the bridge stood tall as a majestic landmark of unity between the North Shore municipalities and Vancouver – not the traffic congested nightmare it's often associated with these days.
Haghighatjoo's photo, titled "Lions Gate Fog," is one of eight winning submissions which are part of a photo contest intended to let those who live, work or play on the North Shore share their story of belonging and their sense of place.
"The things that I was thinking of most of the time was the unity between humankind," said Haghighatjoo, who immigrated to Canada from Iran 17 years ago, about his award-winning photo. "That's one of the things that I'm thinking about all the time, no matter what."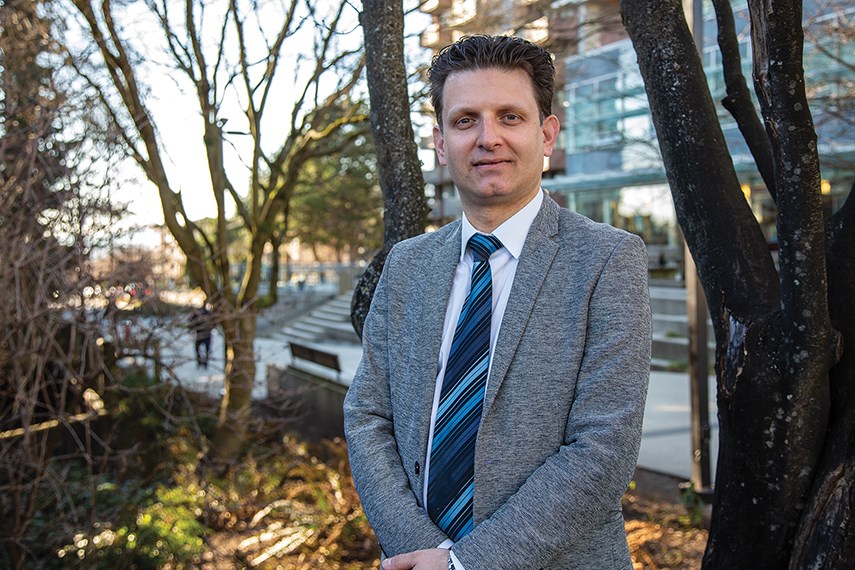 The competition, called This Is Us: Diverse North Shore Photo Contest, was a joint venture co-hosted by the North Shore Immigrant Inclusion Partnership as well as the Centre for Diversity and Innovation, which is a program of the North Shore Multicultural Society.
The contest built upon last year's North Shore Community Conversation Series, where more than 60 newcomers and longtime residents shared their aspirations for inclusive communities and the idea of a photo contest celebrating and exploring the concept of place was broached.
An evening of celebration was hosted last night honouring the eight winning photo submissions, along with their photographers, at North Vancouver City Hall.
Artists and photographers both novice and experienced were invited to submit their own images that "spoke to them about place and a sense of belonging," said Annwen Loverin, executive director at Silver Harbour Seniors' Activity Centre and co-chair of NSIIP, who spoke during the event.
The contest and subsequent celebration were also intended to coincide with the United Nation's International Day for the Elimination of Racial Discrimination held today (March 21) around the world, she added.
According to 2016 census figures from Statistics Canada, approximately 36.2 per cent of the North Shore's population is foreign born, with 44.7 per cent of West Vancouver, 31.2 per cent of the District of North Vancouver, and 38.2 per cent of the City of North Vancouver's populations being made up of people that immigrated to Canada, respectively.
Between 2011 and 2016, some of the leading countries of origin for recent immigrants to the North Shore included Iran (29 per cent), China (19 per cent) and the Philippines (12 per cent), according to the census data.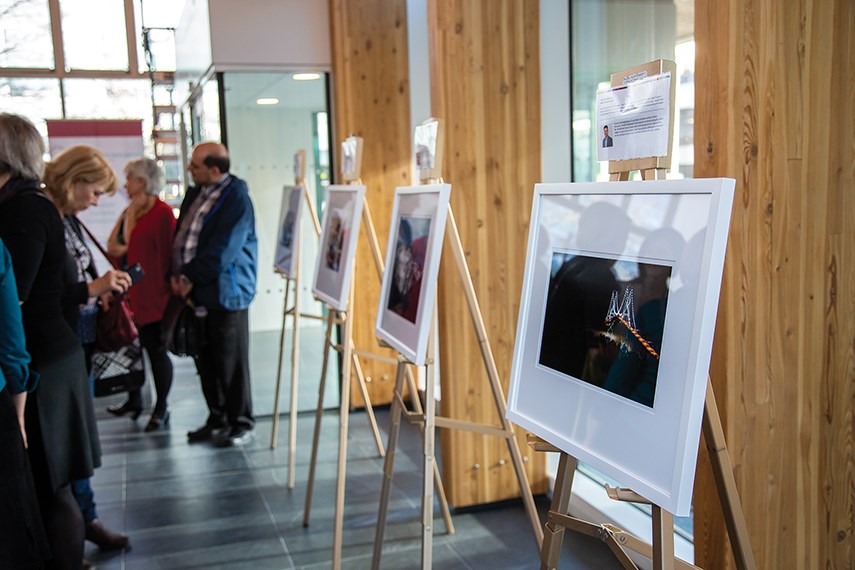 Citing the recent mosque shootings in New Zealand that left at least 50 people dead, communities need to "stand strong for justice and equity," said Wendy McCulloch, executive director at the North Shore Multicultural Society and co-chair of NSIIP. "We know that racism … has tremendous impacts on individuals, on families and on communities."
It's important to invite people to talk about their sense of place and belonging on the North Shore, said Squamish Nation hereditary Chief Janice George, expressing her reverence for the This Is Us photo contest and imploring organizers to make it an annual event.
"All of you artists that see and feel something about this land, just like we do, I think it's such a great idea and I think we should do it every year, see something different every year and talk about it," said George.
The eight winning submissions will be on display in the atrium at North Vancouver City Hall until April 4. In addition, digital displays of all the submissions to the photo contest are viewable for the next two weeks at four other locations: the District of North Vancouver municipal hall, Gleneagles Community Centre, the West Vancouver Seniors' Activity Centre, and North Van Arts' Cityscape Community Art Space.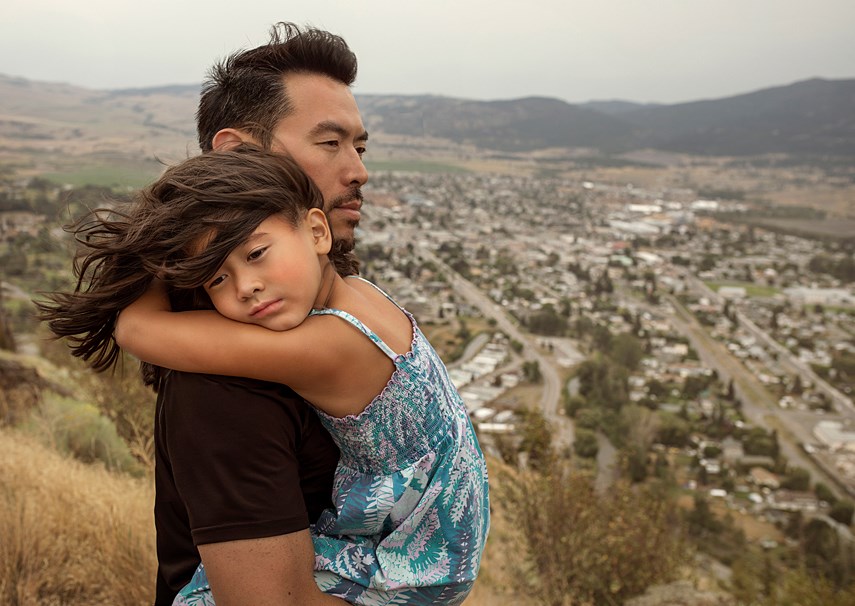 Yulia Bobrovskaya, whose winning photo titled "Feeling Home" was on display last night, was jubilant when talking about recently passing her citizenship test after living in North Vancouver for the past five years.
Born and raised in Russia, her submission is a candid portrait of her husband and daughter which she snapped in a moment of tranquil exploration during a family trip to Merritt, B.C. last year.
"All the hills were so beautiful and colours of the plants were very different and unique," said Bobrovskaya.
Asked what she likes most about living on the North Shore, Bobrovskaya said she reveres the sense of safety and goodwill she has experienced here every day.
"When you look at the picture I want you to feel what I feel when I'm taking it – safe, she's in her father's hands, she feels very safe. And the way he looks, I also feel very safe."