She prays on the water.
Stroke by stroke, Cassandra Baker – her ancestral name is HolÍya – finds pieces of herself and her past and, stroke by stroke, she heals.
In Feb. 2017 her mother, Challice Holly Baker, died at the age of 42.
Hoping to find some peace, Baker named her canoe after her mother. It's made of yellow cedar. There's no stain on the wood, and so, Baker paddles a golden-coloured Challice.
"Each canoe has a spirit," she says.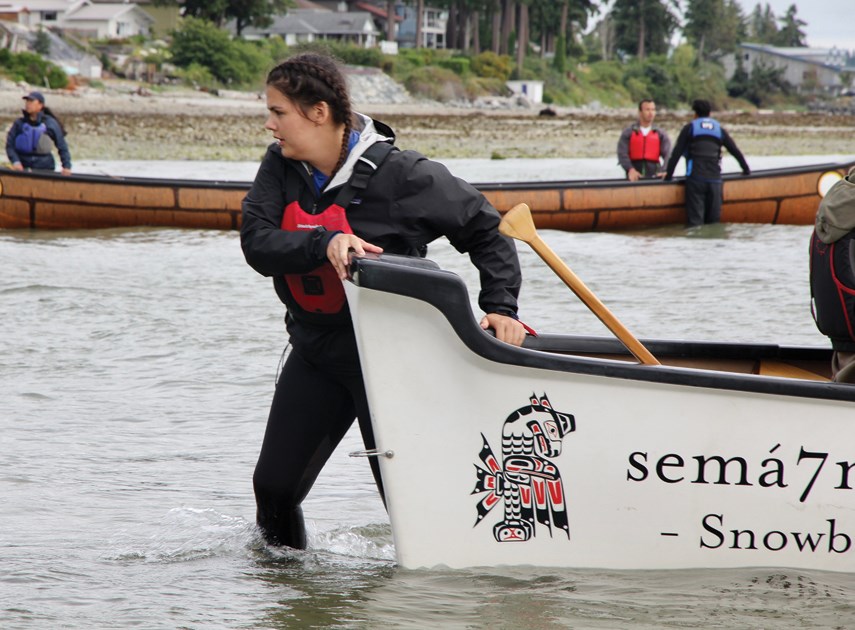 On the water, Baker thinks of her mother as well as her ancestors who journeyed those same, different waters since time immemorial.
Baker is currently a skipper on the Pulling Together, a 20-canoe, 300-person journey on the Tla'amin Nation outside of Powell River. The event is meant to foster respect and reconciliation.
Baker, who works with youth at the Chief Joe Mathias Centre, is hoping to get more kids – particularly those in the foster care system – involved with the journey next year.
The 16 or so paddlers who share a canoe become a community, she says. Youth need that. The trip also offers a chance to touch the past. Youth need that as well, she says.
"Even in my community, some families have kind of lost touch with the cultural aspect of our people."
This year's Pulling Together journey has drawn Indigenous youth, social workers and police officers, including event organizer (and effective recruiter) West Vancouver Const. Jeff Wood.
It's heartening to see police officers listening to the stories and observations of Indigenous people, Baker says, noting that it was Wood who convinced her to join.
"We need to bridge some gaps that have been created over the years between First Nations communities and police enforcement," she says. "Not all police officers know and understand the history and the trauma."
The last residential school closed its doors in 1996. Still, the horrors of officers taking Indigenous children from their homes live on as the stories are passed down the generations, she says.
After a week of paddling, "awful weather" and "so much laughter," City of North Vancouver librarian Mikale Fenton says she has become part of something.
"I've joined a canoe family," she reports.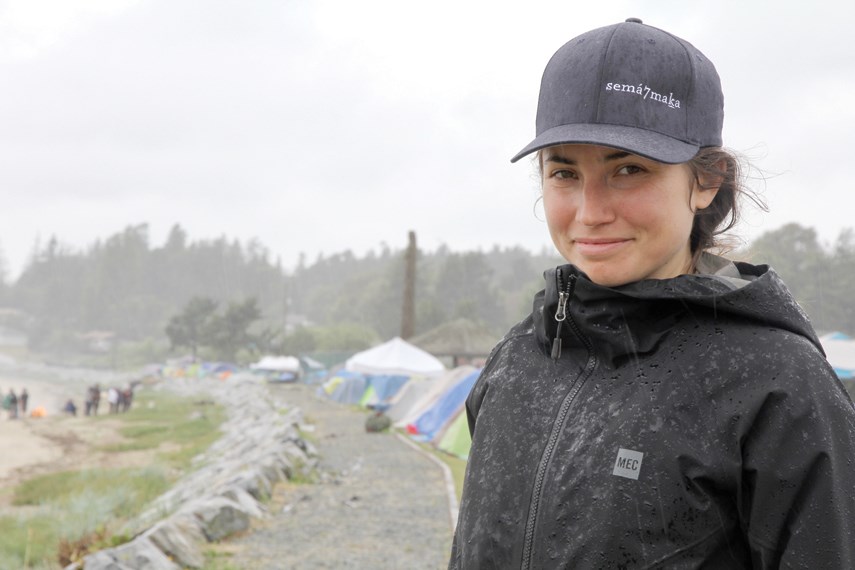 She came to listen and to meet her Squamish Nation neighbours. But what she's seen is that culture can be life-saving.
"Over and over, I'm talking to youth and to elders who have found themselves and their resilience through their culture," she says.
There have been nightly feasts, songs, conversations, and nightly check-ins with her fellow paddlers.
"It's a moment for tears it's a moment for laughter. It's a moment of coming together."
The event is set to conclude on Friday, although Fenton isn't sure it will end.
"I'm never going home," she jokes.