One North Vancouver couple has turned their neighbourhood corner into an ever-changing street art project featuring messages of hope and encouragement for these strange times.
Since the COVID-19 crisis started, the duo has hit the sidewalk outside their home, tucked away on a quiet street near a central North Vancouver high school, to paint intricate designs alongside inspirational messages that often echo the words of B.C.'s provincial health officer Dr. Bonnie Henry.
The pandemic pushed them down this creative path, says Brenda, one of the artists, who uses the name Bren.Vancouver when making her creations.
"I want to shout from the rooftop that despite everything, beauty is still thriving," she says. "My intention is to bring joy, inspiration and hope to everyone. With or without COVID-19, all sorts of people deal with stress and emotional turmoil. If I can take someone from a not so pleasant place and lift their spirits for a few moments, I am making a difference in this world."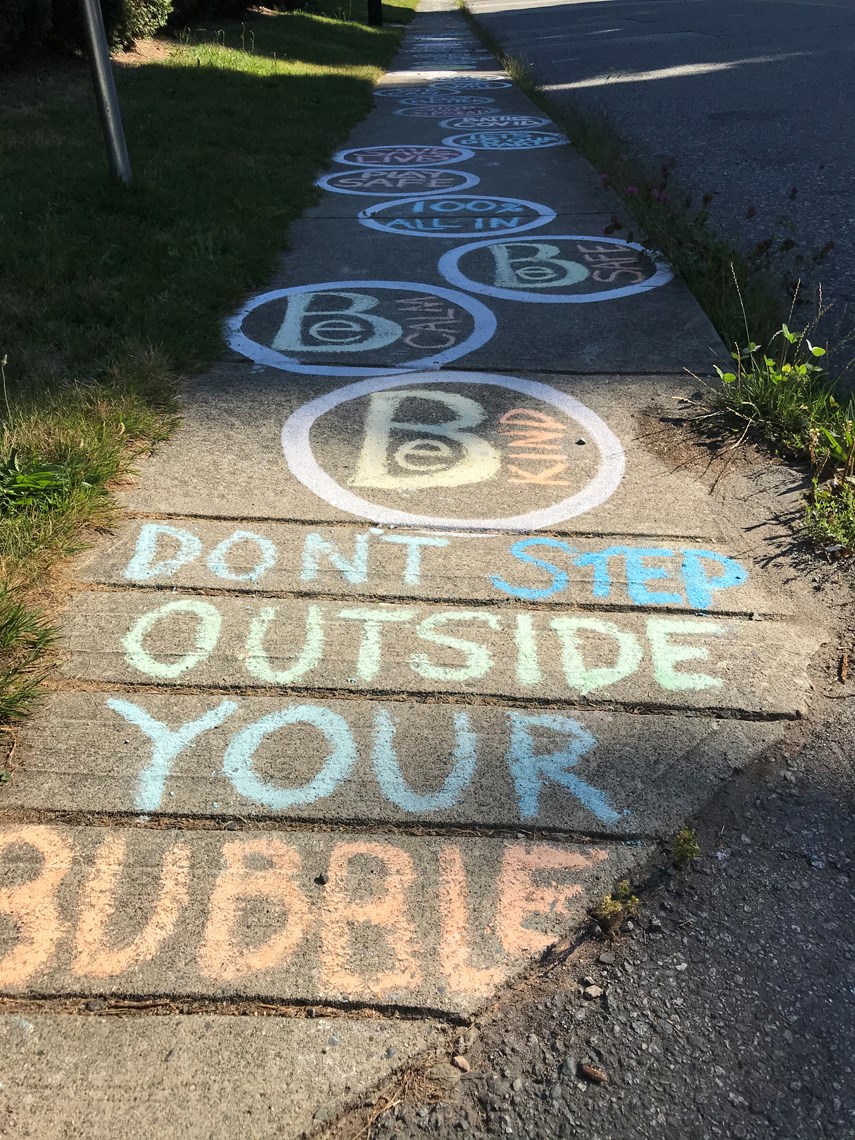 Bren focuses on chalk designs with inspirational messages – including some intricate two-metre-wide designs she has made in local parks to encourage proper physical distancing – while her partner Paul specializes in orcas and thunderbirds using watercolours. The ephemeral nature of their art is made clear every time it rains – the designs of chalk and watercolour wash away, leaving a blank slate to be filled once again.
"This impermanence reminds me of how delicate life is and the importance of embracing the now," says Bren. "Rather than get lost in the details and strive for perfection (admittedly a guilty pleasure), the impermanent nature of the chalk frees me to take risks and try something new. If the art doesn't work, it will be erased in a few days. When the art is good, and the rain washes it away, I honestly do get sad and go through a grieving process. I question if it was worth investing so much time on something that would not last. I reflect on the people I saw light up walking by my art and the exponential joy that was sure to follow for others … and so I begin again, to do my art, to do my part."
The couple has filled their corner with art, but they aren't interested in much fanfare – they were discovered when a reporter happened to walk by their work – and they don't want to broadcast the exact location of their creations.
"We would rather people find us unintentionally," says Bren. "To walk down a random street on a random day and have their heart spark joy when they come across some random art. An unexpected delight, a hidden treasure, something uplifting, a blissful moment, a welcome interruption from an intense thought. I think the unexpected element is what I love most about my backyard public art and why I am inspired to do more."