Sorry my little treasures – momma loves you, but it's choir time. That means you've got to go!
They may not all say it with such gusto, but that is the rule for a new North Vancouver choir made up entirely of moms.
"It's a kid-free zone," says Katy Cadman, the director and founder of MomChoir. Cadman laughs as she says it, but it's a serious rule for rehearsal time. "Even though we have probably a million children between us, we don't talk about our children all that often. It's just kind of a place to come for moms who love singing and have a passion for learning and performing to kind of carve some time for themselves every week and dedicate themselves to something else."
The group started at the beginning of 2018 when Cadman, who teaches music at Sentinel Secondary, was on her third maternity leave. She enjoyed teaching young students but she also had a growing desire to form a community choir. She put out feelers on a Facebook page for North Vancouver moms, not expecting much of a response.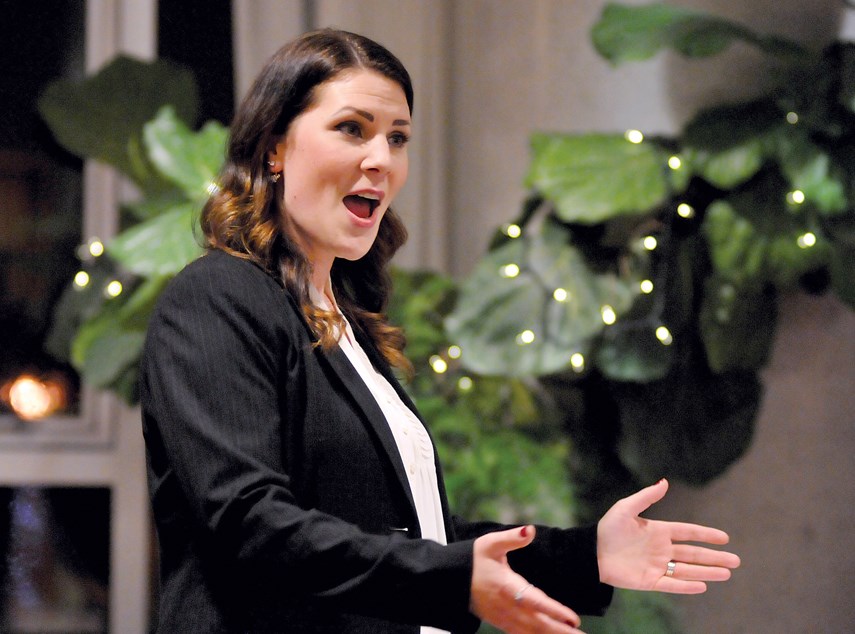 "I just chucked it out there thinking I'd probably get a handful of people interested and at least I knew I put my idea out there," she says. "I figured it wouldn't go."
It did go – more than 100 moms wrote back.
Cadman held auditions, and by March had a choir up and running with more than 40 moms. That number is up to around 55 now, and they rehearse one night a week at St. Martin's Anglican Church in Upper Lonsdale. The group has blown away all of Cadman's expectations.  
"It's been kind of a raging success," she says. "The energy that these women bring to rehearsal every week, it's just been terribly rewarding. … It's an amazing group of women. They all are positive and supportive and loving."
It's become a hugely important part of their lives, says Cadman. There is a lot of scientific research that shows how powerful singing in a group can be for one's physical and emotional health.
"They equate it to being even better than a team sport because it brings a sense of camaraderie but also what it does neurologically in your brain," says Cadman. "It brings up your serotonin levels and makes you happy. It just brings you joy, really. And even more so than that, I think just having some dedicated kid-free time – I have moms in the group who say this is the only thing a week that they do for themselves."
And it appears that these moms really can sing. Earlier this month MomChoir took part in Yule Duel, a carolling competition that pitted choirs against each other in a musical battle. The event was held in Gastown, with streets closed to accommodate all the revelry and rivalry. All funds raised during the event went to May's Place, a hospice that provides end-of-life care to vulnerable citizens in the Downtown Eastside.
MomChoir raised $2,600 for the event, then they raised their voices for the duels. Their street singing earned them a spot up in the final duel, a showdown up on stage against a girls choir from Vancouver's Notre Dame Secondary. The moms hit them with their "30-Second Fa La La," and that was it. Duel over.
"You never want to beat out kids, but it felt good nonetheless," says Cadman with a laugh. "Score one for the moms."
They followed up their Yule Duel win with their first big theatre show, opening up for Sweet Scarlet (a six-woman group that includes Cadman) at Capilano University's BlueShore Financial Centre for the Performing Arts. 
"I think they were super nervous, but they totally rose to the occasion," says Cadman. "It was their best performance yet. It was just a really high energy, fun crowd of people who love choir. It was a great first performance for some of the ladies – this was their first time up on the stage."
MomChoir isn't actively hunting for new members, says Cadman, but there is an audition process that is described on their website, momchoir.com.
Cadman says these moms aren't planning on slowing down anytime soon.
"The response has been really overwhelming from the women in the group. They've been talking about how much joy it's been bringing to their lives," she says. "I say we just keep rolling. Maybe one day this is going to have to turn into GrandMom choir. We'll cross that bridge when we get there."