There's bound to be a little confusion when the Beere Brewing Company opens their garage door and starts letting in customers to their brand new Lower Lonsdale space this month.
The liquids they'll have to offer look like beer, taste like beer … so what the heck is the extra 'e' for? In fact, head brewer Matt Beere (hint hint) has already heard from some confused craft beer connoisseurs.
"Some people don't actually know what Beere is, that it's our last name," says Matt, who co-owns the brewery with his father Craig Beere. "They're like, what's with that? That's kind of strange. They like it once they know what it is."
With a name like Beere, it seems Matt was destined to get into this business, although he admits it wasn't always good things brewing.
"I got teased when I was young," he says. "And then in high school it became cool to have that last name."
And it's still cool, judging by the immaculate tasting room about to open up on East Esplanade, complete with beautiful hardwood table tops, the heaviest barstools you've ever plopped down on, and a view out the front door of the sun shining over Burrard Inlet.
For years the building was used as a storage space for the Beere Timber Company, founded by Craig.
"This was just storing wood, this warehouse," says Matt while sitting in the new tasting room. "We decided to put it to better use."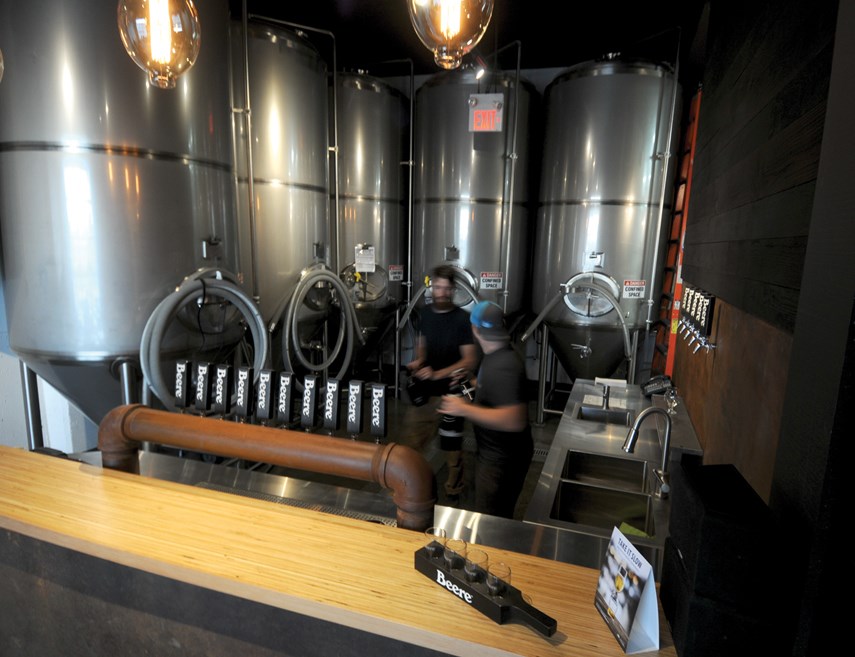 The idea for a brewery was born in the back of Mountain Equipment Co-op where Matt and his buddies Nick Murphy and Kevin Elliott – both now brewers at Beere – all worked as bike mechanics. They also made home brew, and would spend their days fixing gear shifts while talking about their latest brews and dreaming of opening up their own brewery.
"We just kind of bonded over beer," says Matt. "I've been home brewing for eight or nine years now, been making some pretty solid stuff, and we just decided to open up shop here. And it just got bigger and bigger."
Craig got on board and it wasn't a tough sell to convince him that the space could be used for more than just storing wood. Remodelling began in earnest in February of this year, and there were a few dicey moments.
"The funniest part was our size constraints," says Matt, adding that family friend Erik Benton, a chemical engineer, was on board from the start, helping them with the construction and equipment setup.
"Getting these tanks, which are 13-foot-six, in a 14-foot building and tipping them up – that was probably the most nerve-wracking thing," says Matt. "We literally cleared the pipes by a millimetre at one point as we were tilting them up. It was all planned, apparently."
The place came with its perks as well. Craig didn't have to look hard to find the wood needed for the table tops.
"He just had these in his warehouse, free of charge," says Matt, knocking on a thick slice of timber. And it was Matt who spied another spare part that now is featured prominently in the tasting room.
"That steel plate was covering up a mechanic's pit," he says, pointing at the bar. "I just lifted it up and noticed it was a nice sheet of steel. It's all rusted out already and I thought that's kind of a cool design aspect, so we kind of started from there. There's the bar."
Next came the most important part, the beer. Matt leaned on the experience he's gained brewing beer at home over the years.
"I've always liked cooking and gardening and doing everything myself, so craft beer naturally interested me as a young man," he says. "I enjoy the whole process of it, and just making beer that I like to drink. From there I just got better and better at making it."
None of the Beere brewers have any commercial experience, so they were a little nervous about taking their small-time trials into the big tanks. But, for the most part, it's gone smoothly, says Matt.
"I thought it was going to be really hard. The systems are somewhat of a challenge just to get the process right. The recipe translated pretty well, just with some minor tweaking after some research to figure out what to do."
When they open for good they'll have a dry-hopped pale ale, double IPA, rhubarb Berliner Weisse, cold brew coffee stout, and French saison with spelt ready to pour, with other flavours ready to join the rotation.
"We've got another 100 recipes ready to go, which we've made over the years and fine-tuned," says Matt. There's going to be a lot of variety here."
They must be doing something right – their double IPA won the Vancouver's North Shore Craft Beer Week Brewery Battle held Tuesday at the Lonsdale Quay Tap & Barrel.
The Beere crew may have been going head-to-head against other North Shore brewers last week, but they've received nothing but positive support from everyone in the tight-knit craft beer community, says Matt.
"The guys at Hearthstone, the guys at Deep Cove, Bridge Brewing – all the North Shore guys have been so helpful," he says. "We go over there with questions all the time. They're happy to answer."
It seems the greater community will also be happy to meet the Beere folks. While a North Shore News reporter and photographer were touring the tasting room on a recent Friday morning, a man walked in off the street with wonder in his eyes.
"I had no idea you were here, when do you open," he said. "I'm super excited."
It's definitely not the first time that has happened, says Matt with a laugh.
"I can't tell you how many people have just wandered by and waltzed in," he says. "We're just like, 'Hey you want a beer?' We have a little chat with them, and off they go. They'll be back."
For more information and for updates on the brewery's opening, visit beerebrewing.com.