A Lynn Valley wood carver has been making some noise with his latest creations.
Although some passersby raised an eyebrow when he revved up his chainsaw and applied it to a couple tree stumps off Pioneer Park, artist Ben Hemara says his neighbours have by and large appreciated what his guerrilla public art project has contributed to the community.
"I made a little bit of noise at the beginning," admits Hemara. "I just kind of pecked away at it and was getting nothing but positive feedback on it."
Hemara's recently completed wood sculptures can be found near the intersection of Allan and Draycott roads in Lynn Valley, as well as near a trail linking Ross Road with Draycott.
Both pieces were carved on dead wood that Hemara discovered while walking with his family along some of the area's beautiful local trails, he says.
Hemara, who has lived in North Vancouver for the last 10 years, discovered his love of wood carving after enrolling in a class several years ago. Recently, he ditched the chisel in favour of the chainsaw in order to create bigger, more impressive pieces in a shorter amount of time, he says.
"It's what I love doing and what I'm passionate about," says Hemara. "It's just so peaceful. I just go and it feels like time's not even there."
The first piece is reminiscent of the tree-like creatures, called Ents, popularized in The Lord of the Rings series.
"The one that's between Ross Road and Draycott, that's a tree spirit – a forest guardian," he says.
Hemara, who's from New Zealand originally and has an Indigenous Māori background, says he created the second piece, which features a man's face enmeshed on the side of a stump, to honour local First Nations.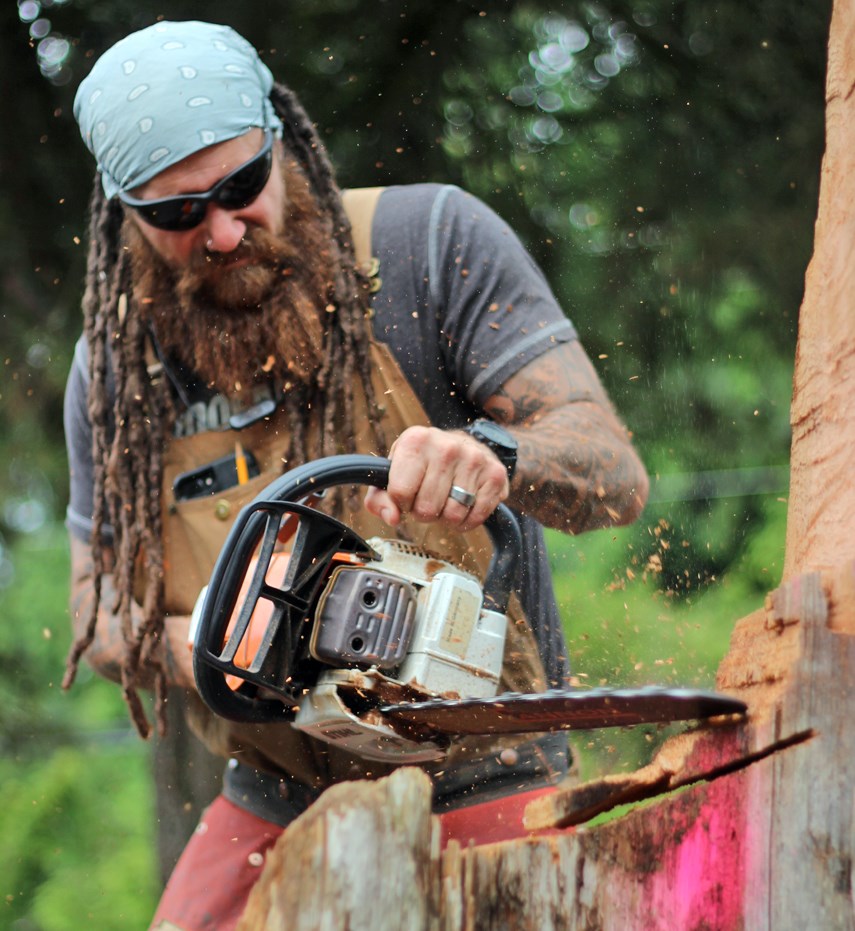 Although his "mystery" wood carving project has been mainly well received, Hemara has decided to put any future public works on hold for the time being, especially after the District of North Vancouver contacted him and asked him to put down the chainsaw, at least in public.
Hemara's art pieces are actually in violation of the parks bylaw because they were completed without a permit or prior discussion, and because chainsaw use is not permitted in forested areas, says Courtenay Rannard, district spokeswoman, in an emailed response.
"We appreciate that the intention behind these art pieces is to ignite a sense of positivity in the community," states Rannard. "We are not taking steps to change or remove the existing art pieces that have been added on public trails. We do request that no additional pieces of art are added due to environmental considerations."
Public art proposals are to be brought forward to the district's public art committee for prior consideration, according to Rannard.
For the time being, Hemara says he is content to continue chipping, chiselling and chain-sawing away on his family's property instead.
"They don't want any copycats or anything like that – and I totally respect that. I just wanted to do something nice and positive because of how the world is right now," says Hemara.