A three-year-old girl is happily up and running again after her broken wooden run bike was repaired by some handy woodworking students at Argyle Secondary.
Avelina and her mother, Gretal Montgomery, were walking from their home in North Vancouver on the way to collect Avelina's six-year-old brother at Upper Lynn Elementary last month when the energetic toddler's bike was the victim, whether intentionally or not, of a handlebar-snapping incident.
En route to the elementary school, they "parked" her bike alongside a wooden fence at the start of a big hill on the corner of Kilmer Road and Fircrest Place. After the trio returned to collect the bike – something they'd done countless times before – they were shocked to see that "someone had snapped the handlebar completely off on the right side," according to Montgomery.  
"She was devastated. It was crushing to see her so hurt," said Montgomery, adding that her daughter adored her small wooden run bike because she had personalized it by painting it herself. "It was hers."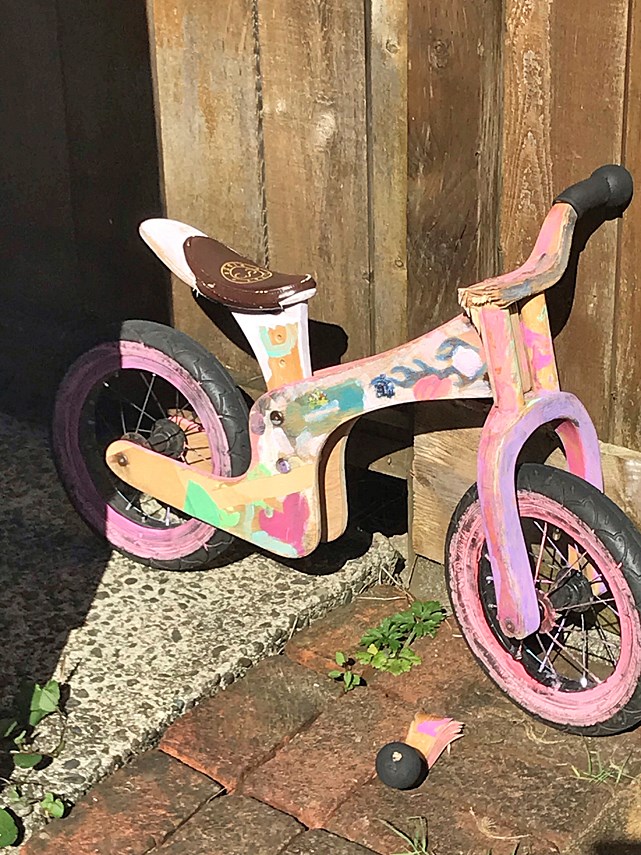 Seeking to do right by her daughter – and stop the flow of tears – Montgomery reached out to Argyle principal Kim Jonat and explained that the handlebar likely couldn't be repaired using glue or tape. Real skill was required to make it right again.
Jonat took Montgomery's request for help to woodworking teachers Mike Riml and Graham Robertson, noting that: "It's rare that we get these opportunities and it would be a great community service project giving back."
They took it to heart. Following the skilled efforts of woodworking teachers, staff and students, Avelina was reunited with her newly repaired wooden bike on June 6.
"She was so excited. She was just thrilled. She hasn't been able to use it and she uses it every day," said Montgomery. "She got on it right away at the school and just took off."
Montgomery was moved by the school's generosity in repairing her daughter's bike. She said she believes all the students' hard work is part of a larger encouraging message.  
"I just think recognition is important," she said. "It's really nice to be able to compliment them and be able to spread a message that they're a great future generation."