Members of the North Shore pickleball community are celebrating the opening of a new dedicated space in which to play their racquet sport in West Vancouver.
The grand opening celebration was held at the new outdoor courts at Marine and 29th Friday morning. Guests were invited to play pickleball starting at 9:30 a.m. followed by a ribbon cutting at 11.
The celebratory event was organized by the North Shore Pickleball Club, which boasts more than 250 members according to its website.
Pickleball practitioners were technically already able to play the game at Marine and 29th due to an hours-sharing agreement with the former tennis courts on site. But following a public consultation, the District of West Vancouver determined there was sufficient need for  permanent, dedicated pickleball courts in the area.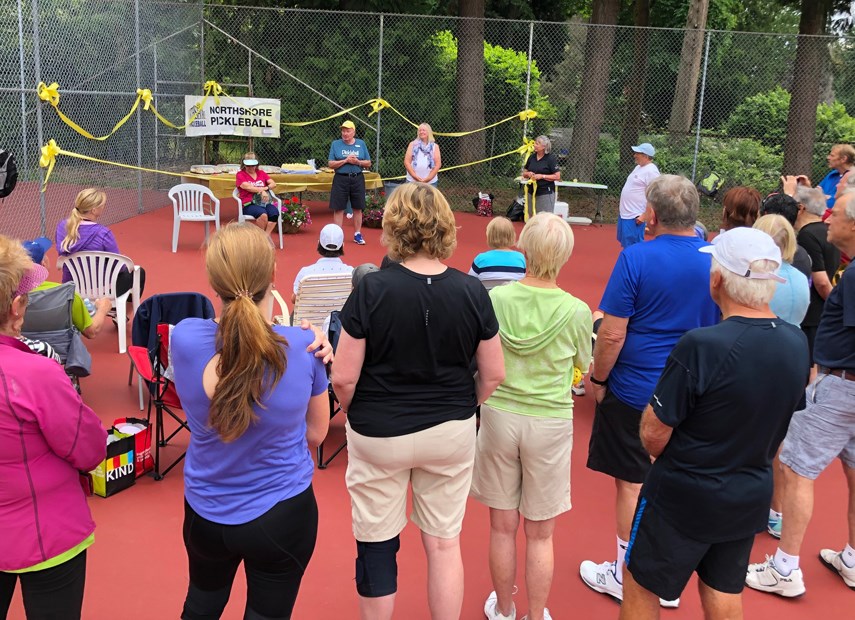 The North Shore has three outdoor areas and five indoor areas for those looking to give pickleball a whack. Outdoor areas include Murdo Frazer Park, Little Cates Park, and Marine and 29th in West Vancouver. Indoor areas include Delbrook rec centre, John Braithwaite Community Centre, Parkgate Community Centre, West Vancouver Community Centre and Gleneagles Community Centre.
For more information about the sport of pickleball, places and times to play, or about becoming a North Shore Pickleball Club member, visit northshorepickleballclub.com.