This is the second in a 12-part series of North Shore neighbourhood profiles. We'll be shining a spotlight on one neighbourhood per week, giving our readers some insights into what makes each area unique.
North Vancouver's Norgate/Lower Capilano neighbourhood is an interesting place, to say the least.
While some communities give off one distinct vibration, Norgate provides a palate of many distinct flavours. After all, in how many neighbourhoods can you drop your car off to get fixed, walk five minutes for an authentically made fish taco and then another three minutes to browse through a massive array of 19th and early-20th century memorabilia? Exactly.
It's a mishmash all right, but one that works. Located in the shadow of the great green giant we call the Lions Gate Bridge, Norgate is a collection of comfortable, well-kept, modest homes - mainly small, mid-century ranchers built during the post-war building boom. It's one of the few remaining residential sections in the area that feels like "the old North Van" before area homeownership became something just for the financially elite.
To the south, the neighbourhood butts up against the North Shore's light industrial section, containing everything from welding to landscaping to industrial baking companies. Pemberton Avenue forms the eastern border with its assortment of mechanics, diners and a litany of other eclectic businesses, including the large consignment store, Consignment Canada, which has two floors of furniture, trinkets and other household fixtures from yesteryear. For fresh, authentically made tacos, join the lineup just up Welch Street at the recently opened La Taqueria Pinche Taco Shop, sandwiched in among businesses in a light industry complex. How does the pescado sound, made with zarandeado fish, radish, chipotle mayo and pepitas?
In the background, train whistles occasionally blast in conjunction with the honks and moans of the nearby Port of Vancouver. Flanking the western border is the Squamish Nation Reserve.
"There's a great community feel," says real estate agent and Norgate resident Mark Pelesh, who has sold more than 100 homes in the neighbourhood over his career. "The integrity of the neighbourhood has pretty well remained the same. It's not a place you can come in and subdivide lots. A lot of the original ranchers are still there."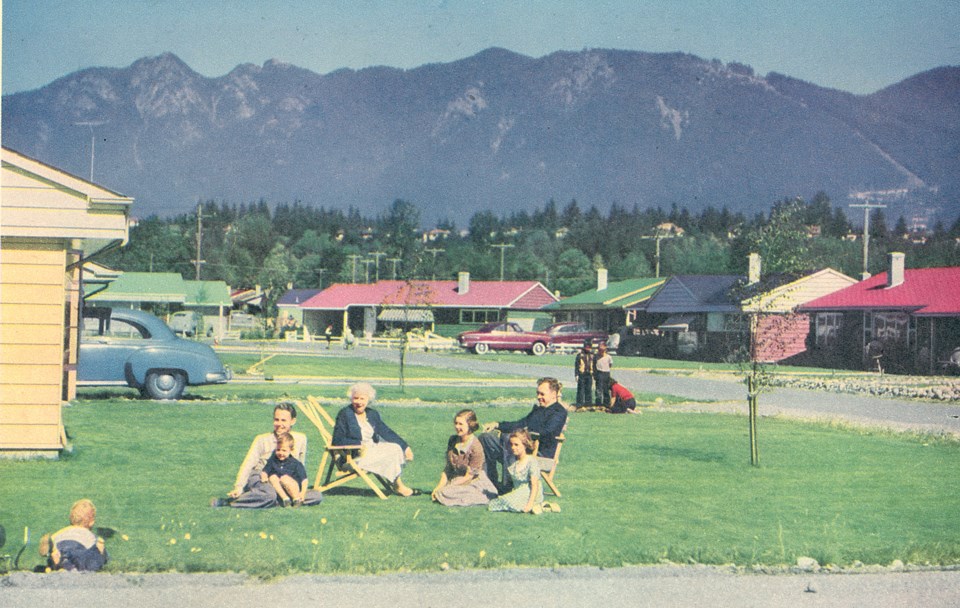 Built between 1949 and 1952, Pelesh explains Norgate was originally intended to be two airstrips, of all things, with developers pushing to construct what was known as the Capilano Air Park. The idea didn't take flight.
"They were going to have, the first would be a 3,000-foot aircraft landing strip and then they were going to have a 2,500-square-foot runway for heavier craft," explains Pelesh, who has documented the neighbourhood's history in a calendar and provides historical pictures of the area to the North Vancouver Museum and Archives.
A lack of funding and changes to rules in local politics, however, meant the idea never got off the ground and by 1948 a man by the name of Norman Hullah purchased the land that was to become the Capilano Air Park.
Originally modelled after a typical California subdivision of the time, Hullah and his company, Hullah Construction Company, built Norgate's homes on a mass scale of 50 at a time. The neighbourhood was built under the Henry Ford premise, with different stages of construction performed by different builders, according to Pelesh.
"They actually had a little mill down here that they milled wood. They had people come in to do the cabinets, they had people come in and do the walls and the trusses."
Although produced in this fashion, the homes were still quite state-of-the-art for the time, with a majority coming equipped with radiant in-floor heating, natural gas instead of oil tanks and built on concrete slabs.
At the time, Norgate was originally looked down on by other neighbourhoods for its smaller homes, according to Pelesh, who says those perceived feelings never held the community back from becoming the tight-knit "go to" neighbourhood it has become today.
"There's blue collar people here, there's CEOs of major companies that live here. It's just a quiet kind of confident community here and it's very tight-knit," he says "When people move from Norgate, yes they like the house they move to, but they miss the community."
Rachel Yoon, who runs the popular café The Lunch Bucket on Pemberton Avenue, says the businesses in the neighbourhood as well as the residential areas make for a good array of customers. Yoon's freshly made sandwiches and hearty homemade fare are popular among both residents and the many workers employed by local businesses.
"The people come from Seaspan. .. the Auto Mall. Near Norgate there's a whole bunch of small businesses there."
Yoon estimates her café sees between 10 and 15 people a day that live in the neighbourhood, as well as many residents from the nearby Squamish Nation land.
She adds, however, that weekends don't see nearly as many people coming to her business due to the high proportion of clients they serve who work in the area.
"Our place is only open on the weekdays. . . it's not that big and the people are like a family."
Next time you're in Norgate, check out some of the amenities this unique neighbourhood has to offer. You surely won't be disappointed.