Allan Danks proudly reveals that his son Mike was three months old when he first climbed Mount Seymour.
"That was on my back I must admit," he adds with a laugh.
Allan was an avid outdoorsman who was involved in climbing and caving before he moved to the North Shore from his birthplace of London, England, in 1965. He taught his three kids everything he knew about the outdoors, and those skills are now being put to good use as his sons Mike and Glenn follow in their father's footsteps as members of North Shore Rescue.
Allan was 31 years old when he joined the team in 1971. He spotted an ad in the North Shore Citizen, the local paper at the time, asking for volunteers. In its earliest inception, North Shore Rescue was more involved in civil defence, but soon evolved into a search and rescue team, and that's what appealed to Allan.
He knew he could put his skills to good use in the service of search and rescue. Allan admits it was a challenge at that time to be a father, work full time, and volunteer with North Shore Rescue. Quite often he also lost wages when he was on a call with the team because his day job was an hourly paid position.
"It was a little bit of an economic disadvantage but overall the benefit outweighed that," says Allan.
Allan took his family hiking and taught them the layout of the local mountains, and Mike in particular was a willing participant. It wasn't a complete surprise then when Mike applied to join the NSR team at the age of 19, which was the youngest an applicant could be.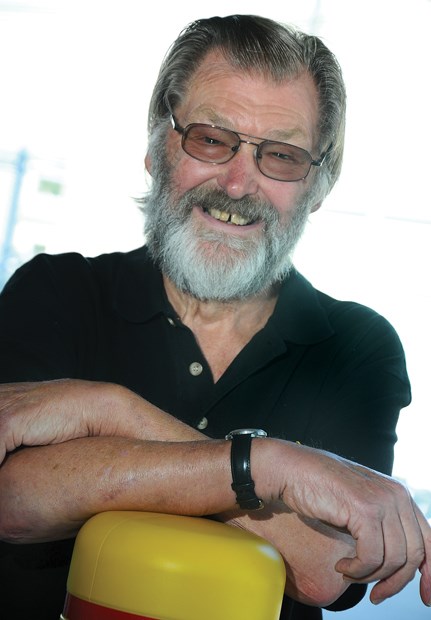 "It was just kind of how I grew up," says Mike, noting he always knew he wanted to join the team thanks to his dad's involvement. "It just became a way of life for me"
Over the years, Mike has served as a team member, a field team leader, and an air operations co-ordinator. After the unexpected death of team leader Tim Jones in January 2014, Mike took over as team leader. Jones had become the face of the organization and a mentor to many members. And Mike says he has benefited from both his dad's input and his time with Tim.
"Tim mentored a bunch of us to be leaders on this team but I don't think any of us anticipated him leaving us so soon," says Mike, noting that Tim set them up for success.
Although he is no longer actively involved in call-outs with the team, Allan still participates when he can, such as helping with the recent open house event, and says he and Mike do talk about operations. As a dad and a former team leader, he can't help but want to give his son some advice.
"I love to give advice but I've started to find it unnecessary," says Allan, adding he is surprised and impressed by his son's growth on the team. "He's certainly a man of his own calling now."
Allan's other son Glenn is a resource member for NSR and does lots of the equipment repair and maintenance. "So while he's not necessarily in the field, he's helping them to do their work in the field," explains Allan.
And there is a good possibility that the Danks legacy will continue beyond the three already involved, as Mike has three young daughters who are already interested in the work he does.
Although Mike was the first of the team's sons to join, he isn't the only one. Tim's son Curtis is now a member, and Greg Winter, son of Karl Winter, one of the team's founding members, is also on the team. He currently serves on the search and rescue team and the rope rescue team, and is on the helicopter longline rescue team (HETS). Greg was 31 when he applied to the team. "It took me a bit longer to mature than some people" he admits with a laugh.
He had been volunteering with the Cypress ski patrol at the time but felt wanted to do more. "I had sort of this unanswered sort of hunger," says Greg.
He has now been a member for 16 years, and says his dad's involvement served as a big influence on him. His dad often took the family on various outings up mountains or into the bush, and he learned a lot from him. When asked if he understood as a kid what his dad was doing with the team, Greg says he saw his dad in photos dangling at the end of a longline, or read about his involvement in rescues, and knew what was going on, but his dad had been a member for Greg's whole life, so it was all he knew.
"It was just kind of a given," says Greg.
These days his dad is still active on the team but his participation level isn't as high, partly due to being treated for a recent illness. Karl is still involved with maintenance, equipment, and logistics for events, and the Winter men did work together many times on rescue operations over the years.
His dad is more of a doer than a talker, though, so they didn't engage in long conversations out in the bush, but rather their presence together spoke volumes. "My dad and I have this relationship that we actually work well together," reports Greg.
And just like the Danks, the Winter name may continue to be a part of the team for many years to come, as Greg has video of when he caught one of his two young daughters dressed in his NSR gear and pretending to use his radio for a rescue. Perhaps it's in the genes.
Greg and his dad still talk about various NSR operations, but Greg notes that his dad often saves his tales of the good old days for other people, so he listens in when he can.
Both Mike and Greg say they appreciate the contribution their dads and other earlier members put forth to build the team into what it is today, but things are quite different now than they were then, with technology and the use of helicopters bringing the most change in the way search and rescue operations are carried out.
One thing that hasn't changed, though, is the challenge of being a father, and a husband, working full time, and volunteering for NSR. But for Greg and the others, the effort is worth it.
"I feel fortunate that I can be part of North Shore Rescue with my dad as well as all the other people that come from different, unique backgrounds. It's like family really," he says. 
Contact Rosalind Duane at rduane@nsnews.com.