Break time at work these days has become a much more musical affair than it was when Katie Bender worked downtown up until only a few weeks ago.
Like many trying to find their way through the new realities of work and play during the ongoing COVID-19 crisis, Bender has been working and playing from home for the last three weeks.
A legal assistant by day, Bender, who lives with her family in North Vancouver's Delbrook neighbourhood, has joined the chorus of many who have taken up new hobbies or rediscovered old pastimes as they look to fill their socially distant days at home between work, family time and down time.
"Before I was a legal assistant I was a classical musician down in Seattle," says Bender. "It's nice to get back into it again."
She's gravitated towards her flute during breaks while working remotely from home, she says, taking five to 10 minutes to run through some scales or belt out a traditional Irish tune before returning to her computer.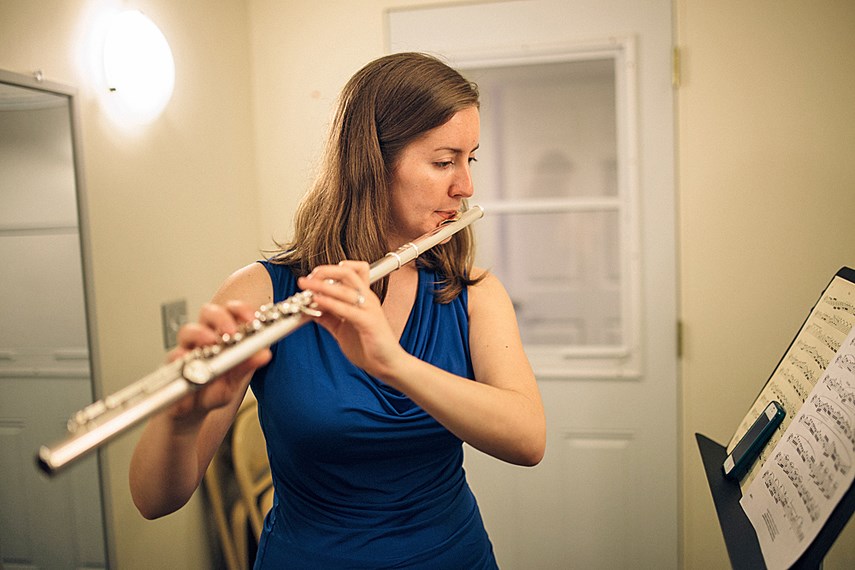 "My youngest likes to dance along," she adds. "My oldest is very interested in trying it for himself."
When she's been able to do a nature walks, Bender has also been recording peaceful water sounds at places likes Mosquito Creek and Cleveland Dam, a practice she first engaged in when she was pregnant a few years back.
When things get a little too stressful, she just plays one of her environmental videos and the calmness seems to seep in, she says.
A calming video of gentle waves in #WestVan for you today, friends. pic.twitter.com/YgGJMDWgbJ

— Elinor Diamond (@DiamondElinor) March 16, 2020
"In terms of a silver lining, it has definitely been nice to have a little more time at home, between childcare and work, to have some time for myself," says Bender.
While people all over the world are contending with the threat of a pandemic which has already reshaped all facets of society, some simple, possibly comforting questions have also emerged: namely, how are people passing the time?
There's plenty of stories out there of people's forays with sourdough starters and video game escapism. (In fact, the North Shore News' own Mike Wakefield has been busy milling and pickling things, describing the "hisses and squirts emanating from the hall pantry as the sourdough starter ferments," as he holes up in Lynn Valley during the pandemic.)
Pemberton Heights resident Cryssie Roberts is another office worker who has taken to working at home.
"I do miss my co-workers," she says. "I miss seeing everyone everyday."
Usually at this time of year Roberts would find herself in the nursery buying plants. Instead, she's only making sporadic runs to the grocery store – however, she did recently buy some pansies and tulips from her local supermarket in a bid to do something other than "endlessly watching stuff on Netflix."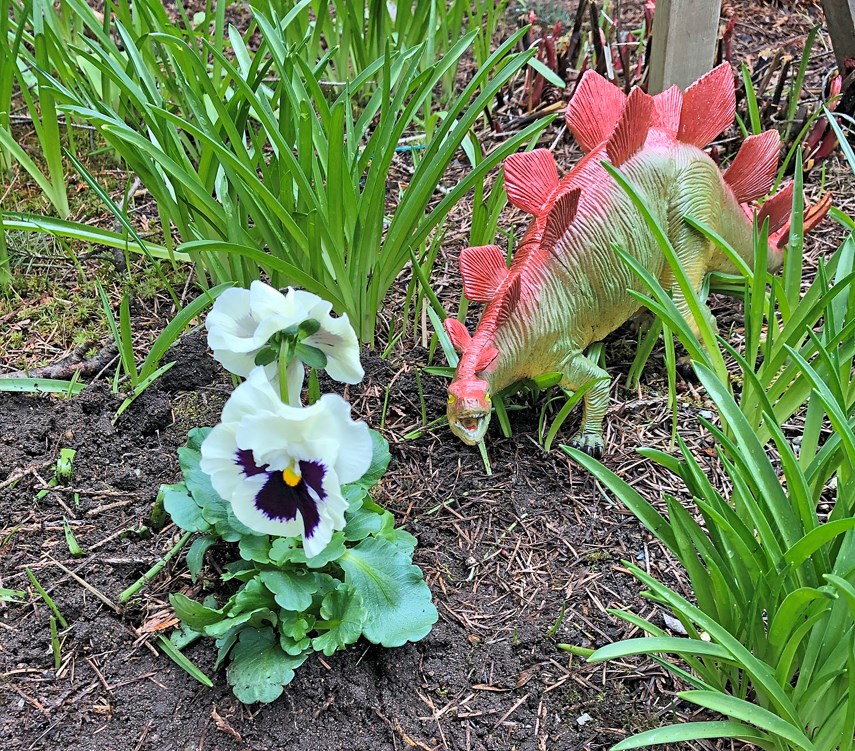 She then had the zany idea to populate her garden patch with a bunch of toy dinosaurs she inherited with the goal of creating some fun scenes.
"I decided since garden gnomes are ridiculously expensive and shipping's super slow right now, I'd just repurpose the dinosaurs for decoration," says Roberts. "It just seems funny, they have such surprised looks on their faces. The stegosaurus looks super proud of his pansy."
She's posted some of her dino scenes on Instagram to provide her friends with a bright spot amid the dark times, she says.
For Morgan Mallett and her partner Corey Brennan, providing people with a bright spot amid the chaos and quarantine has involved some physical punishment for the Lynn Valley duo.

Mallett recently performed the unthinkable task of rollerblading up Mountain Highway, starting from Frederick Road until the highway turns to gravel.
"They both broke," she says of her skates. "It was pretty hard, it becomes an endurance exercise very quickly."
Brennan filmed Mallett's escapade for a series they're hoping to keep showcasing on Instagram called Quar-Olympics – what they describe as a series of uncanny activities, that are appropriately social distanced, and will help brighten people's day, along with their own.
"We thought it would be nice to do something fun and hopefully put smiles on random people's faces in the neighbourhood, because we all need that right now," says Mallett.
She also has some advice for those looking to keep busy with a new hobby or passion amid the ongoing pandemic: "Keep it weird and embrace the moment. It's a very weird time."
What are you doing to keep busy during these times of remote working, social distancing and self-isolation? Email bbengtson@nsnews.com with your story and we'll try to include it.