First Nations cultural workers would like to see a drum in every classroom in the North Vancouver School District and, on Nov. 29, teachers at Sherwood Park Elementary in Deep Cove made 30 of them to be used for cultural learning and healing.
Drums are already in classrooms at Norgate and Lynn Valley elementary schools, and now they have some for Sherwood Park, explained Gordon Dick who was helping facilitate the drum-making session, bringing the total to about 150 throughout the district.
"It's going to strengthen the relationship between Squamish, Tsleil-Waututh and the North Van School District," said Dick, whose Indigenous name is Tchilaqs7tchila – pronounced "chilixchila" – and means "five surprises."
Making the drums will build leadership skills and confidence in the students and help them break out of their shell, and empower Indigenous students, Dick said. It's part of reconciliation, moving forward, he added.
Dallas Guss, otherwise known as Swalklanexw, who is Squamish and Tsleil-Waututh, is a cultural support worker with the North Vancouver School District.
He was also on-hand at the drum-making session at Sherwood Park last week and talked to the teachers gathered there on their professional development day.
Drum-making is part of the truth and reconciliation process, Guss explained, and helps local teachers learn about Indigenous people's ways of life.
"(The teachers) really learned this isn't just a musical instrument, it's a gift from the creator to bring us medicine and share love with one another – it's a connection for the non-Indigenous to be able to have a relation to our culture, to our ways of life," Guss said.
The drum cover is made from deer hide, and the deer sacrificed its life so that the drum could be used to bring honouring into their community, Guss explained.
"A drum isn't like a piano, isn't like a guitar, isn't like a snare drum, or a tambourine – it's medicine, and it's to help honour whoever you're singing for and singing with," Guss said.
The drum is like a heartbeat of the mother and of Mother Earth that has a grounding effect.
"When the drum beats, our spirit understands that and it takes us back to comfort and safety of the womb – that's the way it's medicine," he said.
Songs that come from the drum are created to honour either the animals or people or Mother Earth, and drumming brings people together, no matter what race they are, especially something like a dancing song, Guss said.
"It brings us all together and unites us, makes us all equal, despite title or class or race or background – all that matters is we're coming together to have a shared experience and to honour each other and show each other respect that way," he said.
Henry Schooner, a.k.a., Q'puts ("net or web from heaven") who is from Bella Coola and Tsleil-Waututh and who teaches Nuxalk (Bella Coola) language and dances, said the drumming is a "beautiful way to reconciliate."
For First Nations people, drumming is medicine that brings people back to the beginning of time, he said, and having drumming in North Vancouver schools shows the school district recognizes the importance of First Nations culture.
"It means a lot – we talk about reconciliation, coming together and moving forward as one," Schooner said.
Schooner would like to see the Coast Salish anthem be sung alongside "O Canada" in schools, and he wants the entire school district to learn the anthem.
He teaches students the word "smawtisilqilh" which means "one heart, one mind" – being one and being connected.
When making a drum, the process must happen with feeling, Schooner said.
"When you're making a drum, you always want to bring good energy," Schooner said. "If you're not in a good way, you're transferring your energy (to the drum)."
Some teachers at the drum-making session tried to be too technical when they were making their drums, Schooner said, something he explained doesn't work.
"You're going to confuse your drum – whatever you feel, don't overthink it," he said.
Making drums and celebrating First Nations culture within the school is a way of moving forward and becoming equal with the culture around them.
"We've been always below, 'Oh, we want to pamper them, they've been through so much' – now we're coming to a more level (place) – we want to move forward and educate," Schooner said, adding that while they're not quite there, "we'll get there."
Schooner said he has experienced this throughout his life, but he wants to move forward and rebuild, especially in a place like the North Shore where the Indigenous population was almost wiped out – there's been a lot of loss, but now it's time to move forward, he said.
Part of that is being available spiritually and emotionally for students.
"I look at them and think, as a child what did I need from a leader – I needed someone just to be there and show that they care," he said.
Drumming takes place in a circle, and the circular shape of the drum is symbolic of something that is never ending, said cultural worker Sydney Doucet.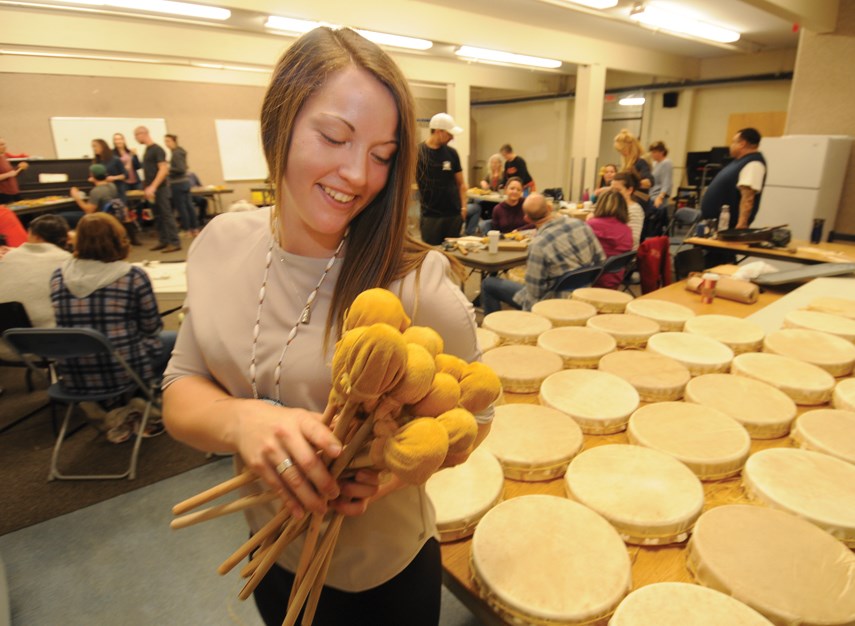 Doucet pointed out that every drum is different, some have 12 holes, others, 10, and each is woven together in their own unique way.
Every child is different and has different needs, she added, and they need to be able to express themselves differently and learn differently.
Dick will be painting the drums after they are blessed – just one of the art projects he's involved in in the school district.
Another project Dick is working on involves  Indigenizing school logos, including the Lynn Valley Elementary lynx logo.