A whimsical sledding bears drawing done by a North Vancouver Grade 10 student will be sliding into mail boxes this December as the winning design for the Lions Gate Hospital Foundation's Christmas card competition.
Windsor Secondary's Kaylin Kim said her winning design, chosen amongst drawings submitted by students across the North Shore, was inspired by some classic local motifs.
"The card needed to embody cheerfulness," Kim said in a note to the North Shore News. "I also wanted it to represent North Van in some way, which is where the sledding bears came from. Sledding is something many of us do in the winter season, and bears are frequent visitors of the North Shore. Why not draw both?"
The hospital foundation's 2020 Charity Christmas Cards are now available on their website, at the foundation's office in Lions Gate Hospital, as well as at all four North Shore Save-on-Foods locations.
"The card made everyone who saw it smile," said Lions Gate Hospital Foundation event co-ordinator Jennifer McDonald. "It's warm-hearted and cheerful. Kaylin's dramatic depiction of our North Shore mountains also impressed the judges."
Kim said she has been drawing since she first learned how to hold a pencil.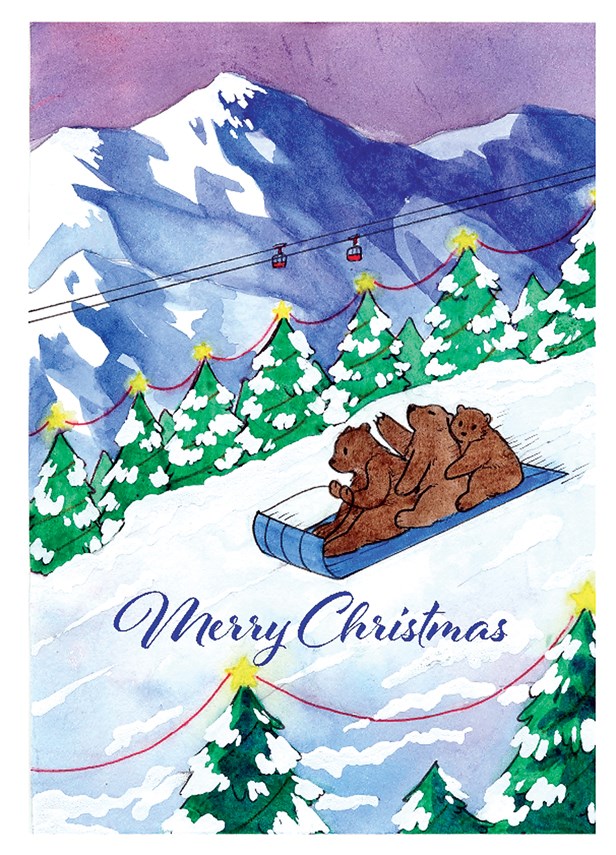 "When I was younger, art was the only thing I cared about," she said. "Now, it is both a hobby and something I hope to pursue in the future."
Her winning design, however, doesn't exactly match her preferred style these days.  
"[My art] tends to be inspired by people, fashion, the internet, nature, and some anime that deal with darker themes," she said. "Not to say what I draw is edgy, if it could be described. Most of the time I pour abstract ideas into drawing people."
For this scene, though, bears were the perfect fit.
"As for why there are three bears, I originally planned to draw just one and thought it looked lonely," she said. "Then I added a second. And a third to add to the second. There was no more space left on the sled, and three seemed to be a fitting limit, so I left it at that."
Click here for more details about the card and for ordering information.