"What is the most resilient parasite? Bacteria? A virus? An intestinal worm? An idea. Resilient . . . highly contagious."
– Inception, 2010
Emily Kelsall is hoping to change minds about climate change one stamp, envelope and postcard at a time.
The West Vancouver environmental activist recently embarked on a year-long quest to influence public policy via spam. Kelsall is planning to send one postcard a week to every British Columbia member of Parliament as well as Justin Trudeau.
"I don't want him to feel left out," she explains.
Each postcard is set to feature a different person holding up a sign that makes the simple statement: I Am a ___ Who Cares About Climate Change.
They can fill in the blank however they like, Kelsall explains. There's been a marine engineer, a dancer, homo sapiens/alien, and one "aging rock star," Kelsall notes.
The thrust of the project was to display the diversity of the movement and the depth of the discontent, Kelsall explains.
A lot of environmental protests are dominated by, "young kind of hippie-ish type people – which is awesome," Kelsall says. "But I realized in order to actually make a movement it needed to be really inclusive."
She initially experimented with doing photos of different groups of professionals who care about climate change but soon abandoned the idea.
"Organizing a bunch of orthodontists, per se, is kind of tricky," she says.
Following a friend's advice, Kelsall started haunting Granville and Burrard streets and the SeaBus with her camera and placard.
The project was emotionally draining, according to Kelsall, who said she got rejected a lot.
"If I stood on the side of the road . . . like I was going to sell something, it didn't work," she says.
But if she explained the purpose of the photo project, Kelsall says most people were receptive
Out of the hundreds she approached, only a handful wanted to debate the impact of climate change or assert that it didn't exist, she says.
"The only people that don't are in denial or aren't very educated about it."
Rather than mixed opinion, Kelsall found most respondents had given a fair amount of thought to climate change when discussing the reasons for their concern.
"The most common answer I got was: because it affects everything."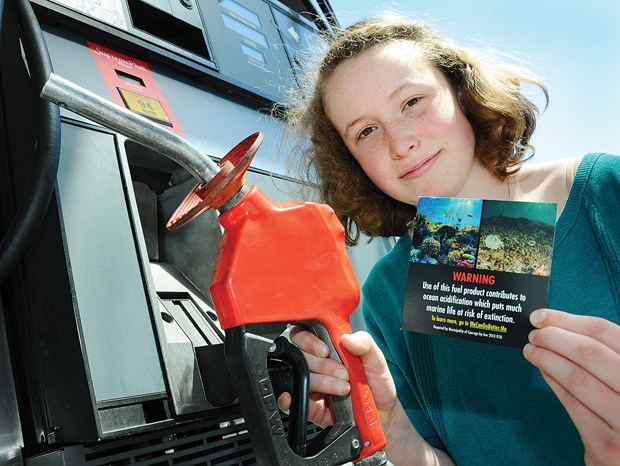 Kelsall toyed with the idea of turning the photographs into a project on Instagram but she quickly warmed up to the notion she should: "turn them into postcards and spam politicians."
"I think everyone cares about climate change but it's a lot for people to sit down and write (to) politicians," she notes.
Kelsall, who previously was part of a campaign to affix West Vancouver gas pumps with warning labels while still a teenager, is currently working as a one-woman letter-writing campaign.
We are at a critical junction, Kelsall notes. If climate change isn't reversed – or at least dramatically slowed – the projections are catastrophic.
Author and environmentalist Bill McKibben, who's been writing about climate change since it was called the greenhouse effect, recently penned a New Yorker essay that emphasized the inescapable nature of global warming.
"The planet's diameter will remain eight thousand miles, and its surface will still cover two hundred million square miles. But the earth, for humans, has begun to shrink, under our feet and in our minds," McKibben writes.
As habitable land vanishes, Kelsall wants to ensure that policy makers aren't able to escape from the need to address climate change.
"We don't talk about it over dinner a lot. It's must easier to talk about Donald Trump," she says. "It's easy to point fingers."
But there is a widespread "silent discontent with the status quo," Kelsall says.
Kelsall sees herself giving voice to that silent majority and hopefully starting a conversation.
People need to be able to "hold their heads high" and define themselves as environmentalists just as they might classify themselves as believing in racial equality.
"It should just be a standard," she says.
The project has had its hiccups, as many of Kelsall's postcards were returned and marked Postage Due. It turns out it's free to mail a letter to your MP in Ottawa but not to their local constituency office, she says.
Currently, the plan is to send 28 of the 52 postcards to Ottawa. "But for the remaining 24, I'm on the hook for a hefty amount of postage dues," she writes on her blog.
She's hopeful she can get people engaged.
"In an ideal world, I think I would like to be able to plant the seed of change in the politicians' subconscious," she says. "Sort of like Inception."
"Everybody cares," she says.  "We just need to mobilize behind that silent discontent."