For nearly 150 days, the Polar Prince has undertaken an epic journey along the Northwest Passage, part of a signature project on behalf of Canada's 150th anniversary.
The icebreaker ship, decked out in red and white colours, has transported a diverse cadre of Canadians across the country who have been committed to learning and absorbing what the country has to offer. The ship set sail from Toronto June 1.
When it docks in Victoria Harbour Oct. 28, officially concluding its 15-leg, three-coast tour of Canadian society, it will have been one of the most large scale and nationally-focused projects undertaken for Canada 150.
The idea behind the expedition, which has been dubbed the Canada C3 expedition by organizing group Students on Ice Foundation, is to explore themes of environment, diversity and inclusion, youth engagement, and reconciliation, explained Peter Wall, communications lead and spokesman for C3.
"The participants onboard are really the eyes and ears of the country," Wall told the North Shore News after the Polar Prince pulled into its scheduled stop at Vancouver Harbour en route to Victoria Monday. 
"They're acting as ambassadors for the rest of us, for the rest of the country, that doesn't necessarily get the chance to go on an expedition like this."
More than 400 participants have boarded and exited the ship at some point over its nearly 150-day journey that started in Toronto, went east to the Maritimes, before circling Baffin Island and entering the Northwest Passage which took the ship around Alaska and then down the B.C. coast.
Wall said that participants have represented a large cross-section of Canadian society and have included everyone from artists, youth ambassadors, Indigenous elders, scientists, outdoor adventurers, and more.
"I think it's important because many of us as Canadians live in our own neighbourhoods and our own communities and we don't necessarily always get a chance to meet Canadians outside of those circles," he said.
"This type of project, one: physically brings Canadians together on the ship from very diverse backgrounds and they have these great interactions with each other, and then, two: it virtually brings the country together because we are telling the story of places that don't often have their stories told."
As the ship has progressed through Canada, stories have been told and shared from the communities visited during the voyage via C3's website and social media channels.
The voyage has been a chance to connect with Canadians of all stripes, and Wall said the group has been well received by people as it has made its journey in the Polar Prince along the Northwest Passage.
Wall said that one of his favourite places they have visited was a community in Newfoundland called Francois.
"It's a community of 73 people and it's not a place that gets a lot of visitors. It's very isolated, you can only get there by ferry. It's a four-hour ferry ride to the nearest road. We stopped in Francois and just had an amazing welcome."
While the impetus for the Canada C3 expedition was largely one of celebration, Wall explained how that has changed to a degree as the journey has progressed.
"It's become a voyage of much, much more," he said. "Not everyone wants to celebrate the last 150 years, there's particularly lots of First Nations, Inuit, Métis Canadians that have suffered, to put it frankly, over the last 150 years. … Reconciliation has really become more than a theme, it's become the thread that's tied everything together. We've been very fortunate to have visited many different Indigenous communities along the coast."
Wall also said that the ship itself has also been a focal point of the journey, noting how it's a ship with a "great Canadian history."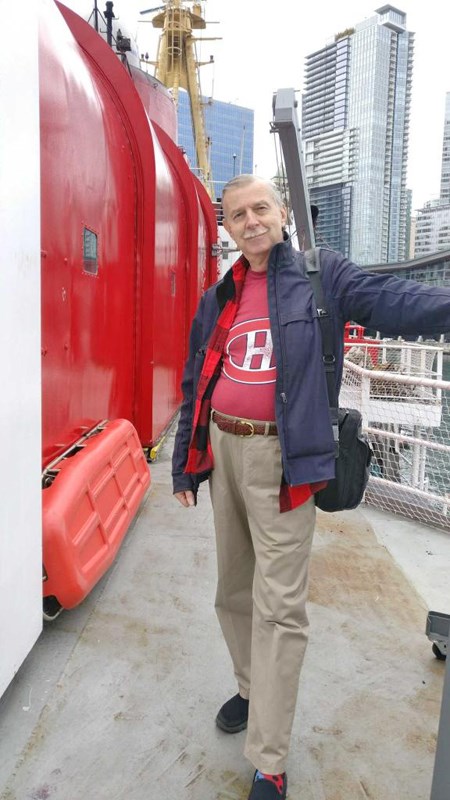 Peter Lowery likely wouldn't be surprised by that news – his father, Richard, who spent the last several decades of his life living in North Vancouver, built the ship. Lowery said he was thrilled to see it being used for such an expedition.
"I couldn't believe it," Lowery said. "He's smiling in Heaven, he's so proud. It's unbelievable."
Lowery's father, Richard, was a renowned ship builder and naval architect who built the ship in the late 1950s while living in Quebec.
The ship was originally christened with the name Sir Humphrey Gilbert and was used by the Canadian Coast Guard for several decades.
When the ship was taken out of service in the early 2000s and bought by a private company, it was renamed the Polar Prince before being temporarily rechristened the Canada C3 for the Canada 150 expedition.
 "I only found out about it about a week before they were leaving Toronto. I try and follow all of my father's ships that are still operating, so every now and then I'll check the ship tracker or the news to see if any of the ships have hit the news," he said.
Sure enough, he was in luck.
The elder Lowery was born in England in 1910, during a period where, as his son described, the two main vocations available to young men were coal mining or shipbuilding.
Richard started studying draftsmanship before he was eligible to become a naval architect.
His career brought him to Singapore where he worked as the assistant manager at the harbour there until the Japanese occupation of the area during the Second World War forced him
back home.
He was then headhunted by a shipbuilding company based out of Montreal, where the family later moved.
Lowery's parents retired to North Vancouver in the mid-1970s.
Richard was awarded the Order of Canada in 1985 while living in the Lonsdale neighbourhood.
Although the icebreaker ship Lowery's father designed was originally built for the purpose of assisting the coast guard in search and rescues, clearing paths through minor ice and distributing buoys, he said his dad would be thrilled to see the ship now being used as a way to bring Canadians together.
"He was very proud to be a Canadian," he said about his father, who passed away in 2000.
"Seventeen years after his passing and he's still contributing. It's incredible."