Drawing Enrichment 2019-20: The Cultural Significance of Edible Wild Plants in British Columbia. Artists: Cease Wyss and Mehran Modarres-Sadeghi. Art Educator: Veis Dokhani.
Photography Enrichment 2019-20:  Self. Artists: Birthe Piontek.  Educator: Sean Clancy and Daylen Luchsinger. AFK Studio Technician & Visual Artist:  Emily Neufeld. AFK Alumni Volunteers:  Sophia Boutsakis and Kim Hipol. Grade Levels: 10, 11, 12. Student work will be displayed in the Gordon Smith Galley March 2 to 5 (gordonsmithgallery.ca/Artists4Kids).
Before they could take in what the artist had to say, they had to head out.
A small group of promising North Shore artists still in grade school set off for a visit to Squamish Nation's Harmony Garden, located on the Capilano reserve in West Vancouver, earlier this month.
Artist and ethnobotanist T'uy't'tanat-Cease Wyss, who started the garden in order for community members to cherry pick their produce from a variety of fruits, berries, vegetables and other traditional Indigenous plants, led the students in an educational workshop around the site, the first stop in a three-session Artists for Kids enrichment program.
"The students were privy to hear about these stories," says Allison Kerr, director of Artists for Kids. "Cease was really generous with walking them through the garden in terms of why it's there, what's its purpose."
After learning about the botanical significance of these plants from both cultural and edible perspectives, the students went back indoors and had their newfound knowledge honed into beautiful works of art.
Back in the classroom, visual artist Mehran Modarres-Sadeghi and Sutherland Secondary arts educator Veis Dokhani, along with Wyss, instructed the students on drawing and developing their pieces into stunning botanical works of art.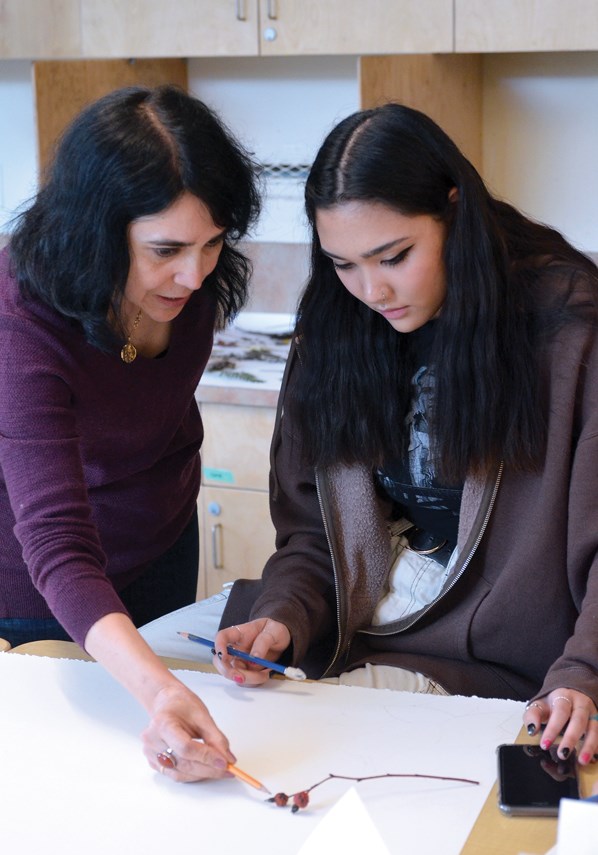 "Today, they're using watercolour and they're also using threads to actually sew in the plants that they harvested," notes Kerr. "These students are really having wrap-around support of three very accomplished visual artists and educators really leaning in."
Artists for Kids has been operating for more than 30 years and hosts a plethora of programs, from after school art programs to summer art camps and much more. Its select enrichment program affords a small group of students from across North Shore schools, nominated by their school, the opportunity to take a break from their regular classroom and learn from professional artists at the Artists for Kids Studios.
"It's quite a niche group," says Kerr. "The enrichment is about really looking closer."
Artists for Kids hosts three enrichment courses per year in different artistic mediums, such as painting and drawing, collage and ceramics, and even sculpture and photography.
Perhaps what's most important about the enrichment program, and about Artists for Kids programs more broadly, is the way everyone involved ends up influencing each other, according to Kerr.
"All of this is happening and the kids are watching this, and of course, they're getting this mentorship. It's really important to understand everything with Artists for Kids is about mentoring each other – for our kids, for art educators, and our artists. In turn, it really supports everyone," she says.
Student artwork produced from Artists for Kids' recent botanical drawing workshop, which focused on Indigenous cultural plants, is set to be displayed at Gordon Smith Gallery at 2121 Lonsdale Ave. from March 2 to 5.
Noting the importance of artistic mentorship when it comes to helping young people reach their creative heights – something that was hugely important to revered painter Gordon Smith, who passed away at 100 last month – Kerr says Artists for Kids programs serve to help build a creative community.
"These kids will then go into their school and they'll share their story," she says.