At Cove Cliff Elementary, students and staff are breathing new life into an ancient tradition.
A goal was set last spring to intertwine a lesson into the curriculum that offers students a tactile lesson in First Nations culture.
Every grade at Cove Cliff is having a literal hand in creating a work of art using the historic skill of Coast Salish weaving. At the same time, the school community is strengthening their Indigenous students' sense of belonging.
"We're just starting on our adventure," says Cove Cliff Elementary principal Katherine Kee.
Given Cove Cliff's close proximity to the Tsleil-Waututh Nation, both communities are weaving a relationship – one thread at a time.
The crafting project started about a year ago when accomplished Squamish weaver Spelexih (Angie Dawson) imparted her knowledge on the teachers at Cove Cliff.
Grade 3/4 teacher Catherine McAllen and Jennifer Butterfield, a Grade 2 teacher, were then inspired to take a Coast Salish weaving course together last fall at the Museum of Vancouver.
They trained under Skwetsimeltxw Willard 'Buddy' Joseph and his wife, Chepximiya Siyam' Chief Janice George, accomplished weavers and teachers from the Squamish Nation.
"The Salish Wool Weaving tradition has been reclaimed in a major way," states George on her weaving blog.
"For the last twelve years, we have been teaching all the way to top of Salish speaking territory. I see this as a responsibility, and am passionate about reclaiming this art."
George has integrated teachings from her late grandmother Kwitelut-t Lena Jacobs who was directly connected to precontact times, along with other Squamish ancestors.
" … Their breath is carried on in the teachings I pass on," writes George. "I feel and see the pride that comes from reclaiming our inheritance from our elders and ancestors when we weave and when we wear our beloved weavings. We are taught spiritual protection is part of what we are wearing and feel the love that is put in each hand movement it takes to make a robe."
To date, the Squamish couple has taught the Coast Salish weaving technique to more than 2,400 people, including the Cove Cliff teachers, saying it's "such an honour."
On a Professional Development day in late January, Cove Cliff teachers sat in groups in front of looms in the school library, stringing together their creations.
McAllen and Butterfield presided over the lesson, while offering insight into what they have learned about the ancient art form.
"It is challenging," both teachers agree, "but it's also very relaxing and very tranquil."
McAllen enjoys the sensory aspect of weaving and working with her hands.
"There's something very calming about working with your hands and not thinking about anything else."
Working with Joseph and George has offered the teachers a layered look at Coast Salish culture, and how positive energy from the weaver is channelled into the ropes.
"They talked about how weaving was done even precontact, and the meaning that it meant in terms of culture for our local community," says Elspeth Finlay, a Grade 3/4 teacher at Cove Cliff. "The whole idea is to put positive thought into the garment you are making. The cloaks they made were used almost for spiritual protection."
A devastating disruption in the culture during the residential school era almost caused Coast Salish weaving to become extinct. The Cove Cliff teachers learned that Joseph and George went to museums in England that had these Coast Salish ropes in their collections.
"It's almost like doing a forensic [examination]," says Butterfield "to study them, to figure out how they were constructed."
Prior to this school year, the students would have learned about First Nations weaving mainly from a textbook.
Two initial classes at Cove Cliff were presented the hands-on weaving lesson last fall, and they were hooked.
"Oh, definitely. They were really engaged," says McAllen.
Grade 4 student Max Naiman-Bobroff can attest to this.
"During this period of learning, my class has made so much weaving and a video that even amazed me – and I worked on it," explains Naiman-Bobroff. 
Grade 3 student Julia Mortimer is also excited by the project.  
"I thought that it was very nice of Chief Janice George and Buddy Joseph to use their time to teach weaving. I learned a lot and now I can teach my family and they can teach their friends," says Mortimer.
Adds fellow student Eli, "I never knew that the Coast Salish used plants and bark to dye wool. I learned a lot."
The next step is to have these Grade 3 and 4 students and their teachers move outwards and instruct other students in the school on Coast Salish weaving – with the ball of yarn to keep rolling from there.
Thirty table looms have been ordered for the students to help create a school-wide legacy weaving project.
There are three set Coast Salish techniques the students will be following – twill, twine and tabby.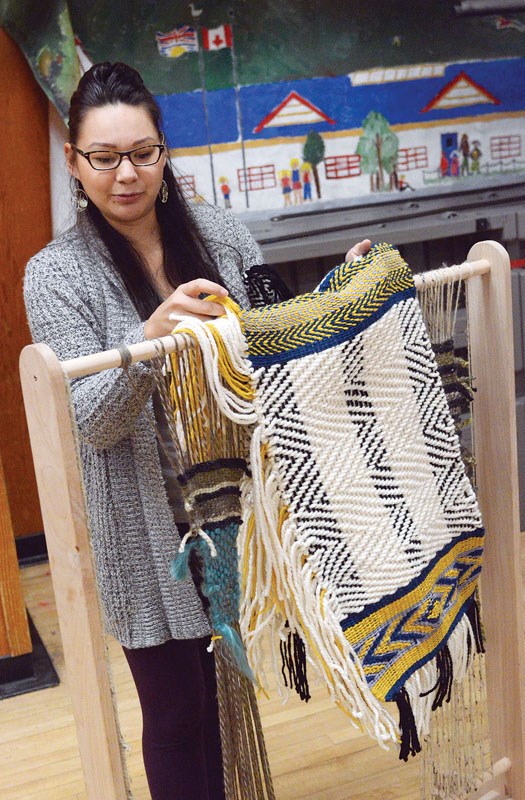 The students will be using wool and possibly cedar to weave, while also exploring the techniques of dying wool with natural materials found in the environment.
At the same time, Cove Cliff is incorporating drumming lessons from Q'Puts (Henry Schooner), who is a North Vancouver School District First Nations support worker, into the weaving program.
There's a strong student empowerment lesson entwined in this project, as the students teach their peers how to weave.
"That student-to-student learning can be so valuable," says Butterfield. 
"I mean that shows true mastery of something, when you are able to teach it to somebody else. So, if kids are able to teach it to other kids, that is the highest level of understanding."