Field B at Ambleside Park goes by a more unique name these days.
During a District of West Vancouver council meeting last month, it was announced that the grass sport field, a well-known spot for eager youngsters to try their hand at soccer or baseball, was being renamed Fred Jopson Field in honour of the longtime local resident and pioneer in youth sports.
"Fred Jopson spent 20 years volunteering at Ambleside's Field B, as a coach, referee, umpire and sports organizer," stated Mayor Michael Smith. "He really was an exemplary community member who made a difference in the lives of thousands of our young athletes."
Jopson passed away last year at the age of 97, but not before West Vancouver Soccer Club made the proposal for the commemorative renaming to recognize his legacy in helping to set the stage for West Vancouver and Canadian youth soccer.
"It's really rewarding being able to provide Fred with a lasting memory in the community. I was just disappointed we couldn't get it done before he passed," said Bill Sparling, the soccer club's current president.
Described by Sparling as "the spark that made that happen" with regards to youth soccer in West Van, Jopson's resume as a local – and then a provincial and national – sports leader is extensive.
He settled with his family in West Vancouver in the late 1940s. In 1955, he helped further establish the West Vancouver Youth Soccer Association, and became its president.
"What really got me was the fact he took the club from basically no teams whatsoever in '56 to 50 teams by the time he moved on," Sparling noted. "Ambleside B is almost where youth soccer in Canada began. We're talking about the mid '50s and this guy was such an unbelievable volunteer."
Whether he was refereeing, organizing, or hustling to get matching uniforms for his suddenly thriving club, he was driven by a desire to see boys and girls have the opportunity to play sports.
His daughter Sherry Sayers said it's an honour to see the field renamed for her father.
"West Vancouver is just in our hearts and my dad just raised us to love it, to really take pride in where we lived," Sayers told the North Shore News.
"When they decided to give my dad this honour, it was overwhelming to me. There's going to be a piece of West Vancouver that my great grandchildren are going to know was my dad's."
Jopson's passion for youth sports, however, extended beyond the North Shore. He also led many youth soccer teams at the provincial and national level, serving on the board for the BC Youth Soccer Association for 35 years and, in 1969, he helped found the national Canadian Youth Soccer Association.
One of Jopson's proudest achievements, Sayers said, was helping to develop and grow the BC-Washington Soccer Exchange, which she described as an annual "weekend of camaraderie between Vancouver and Washington State" where B.C. teams would head down to Washington for a weekend of soccer competition followed by a group of Washington youth coming to Canada to compete later on.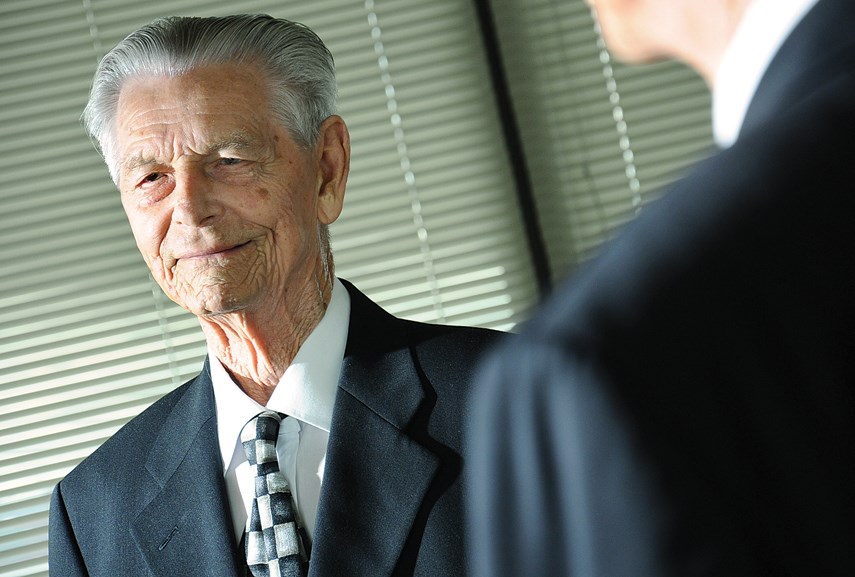 "My dad tells me stories about how they had to contact the border patrol because there was 1,500 kids coming down. They had to get more staffing to get them all through," she said.
Jopson was made an honorary lifetime member of many sports-related organizations during his lifetime and he was given a Lifetime Achievement Award from the West Vancouver Soccer Club shortly before he passed away in April 2017.
"Half a century ago (he brought) that field to life, and all those boys and girls playing the game that he loved," Sparling said.
Jopson's son, Brad, said he was also proud that his father's name was being cemented at Ambleside Park, the place where both father, son, and the whole family had spent so much time throughout the decades.
"I think he believed that youth sport would develop personalities in youth, very positive attributes through association with other youth in the community," Brad Jopson said.
"Right up into his 90s he was attending meetings and things. His heart was always in it. He was very proud of West Vancouver and a very proud Canadian."
An official unveiling of the park's newly named Fred Jopson Field at Ambleside Park is planned for Sept. 8 at 11:30 a.m. with many community dignitaries.