Several Metro Vancouerites captured awe-inspiring images of the northern lights dancing in the inky-black sky this week.
But opportunities for viewing the aurora borealis may get even sweeter, provided the clouds can clear for the heavenly display.
The National Oceanic and Atmospheric Administration (NOAA)'s Space Weather Prediction Center issued a "severe geomagnetic storm alert" for Friday, March 24, noting that G4 -- severe storm levels -- were first reached just after midnight EDT.
The center also observed a G3 (Strong) geomagnetic Storm on Thursday, which is when locals were able to view the colourful manifestation.
Friday night's aurora forecast shows a widespread reach, with the solar activity stretching down into the United States with its vibrant glow.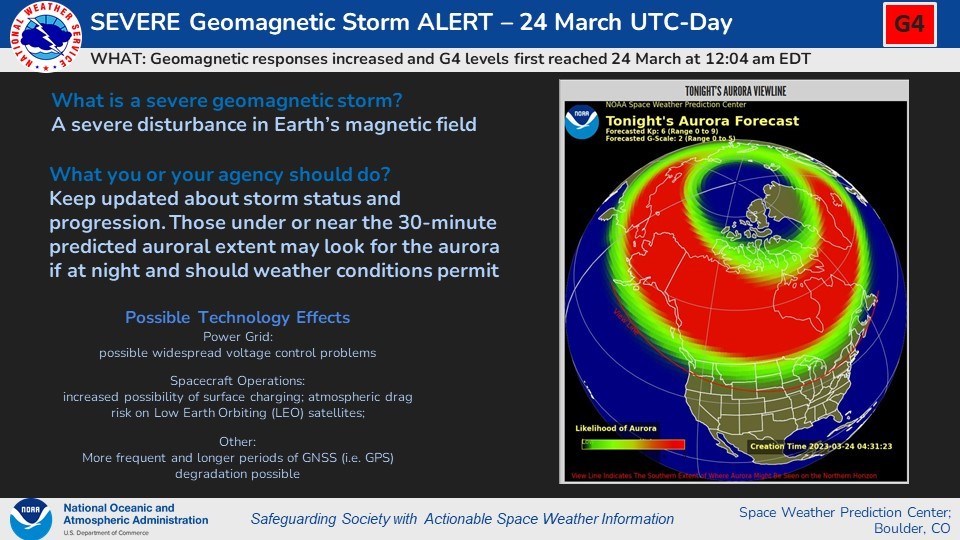 According to the University of Alaska Fairbanks (UAF), the auroral activity is expected to be "very high" on Friday, which will make vibrant displays possible overhead from "Inuvik, Yellowknife, Rankin, and Iqaluit to Juneau, Edmonton, Winnipeg, and Sept-Iles, and visible low on the horizon from Vancouver, Great Falls, Pierre, Madison, Lansing, Ottawa, Portland, and St. Johns."
The university's online aurora monitor map shows what regions the aurora's green glow will likely reach, as well as other areas where there is less of a possibility. Additionally, there is a brief description below the map of the aurora activity on that particular day. You can switch to other days to see the forecast, too.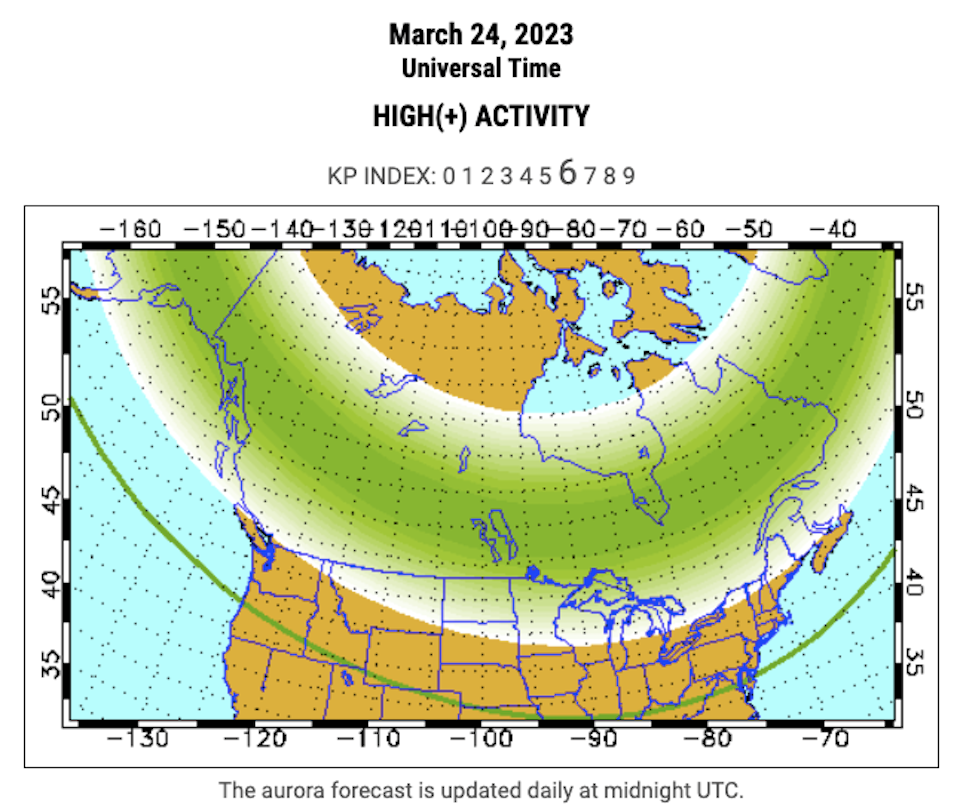 How to view the northern lights with peak Metro Vancouver weather conditions
While auroral activity is also expected to be high Saturday night, it isn't expected to be as intense as Friday's display.
"Weather permitting, highly active auroral displays will be visible overhead from Inuvik, Yellowknife, Rankin and Iqaluit to Juneau, Edmonton, Winnipeg, Thunder Bay and Sept-Iles, and visible low on the horizon from Seattle, Des Moines, Chicago, Cleveland, Boston, and Halifax," writes the UAF.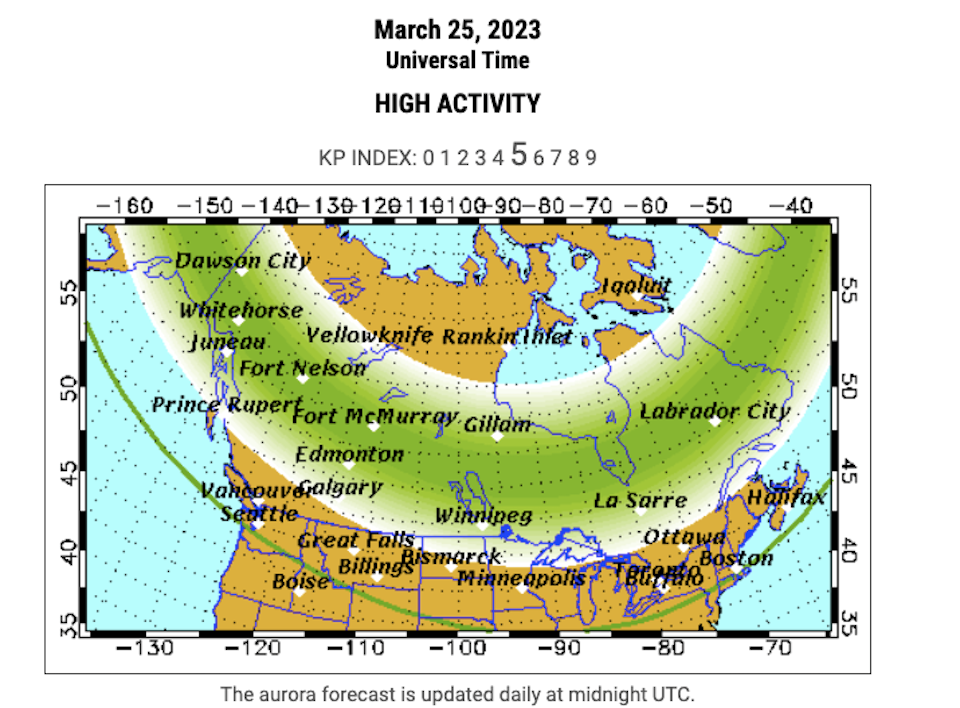 But the viewing opportunities don't end on the weekend.
Locals might be able to catch other auroral displays on Monday or Tuesday, provided the weather forecast stays its course.
Metro Vancouver is expected to see a string of bluebird days next week with double-digit daily highs. While chillier, the nights are expected to be equally clear, providing the ideal canvas for mother nature's paintbrush to illuminate the sky.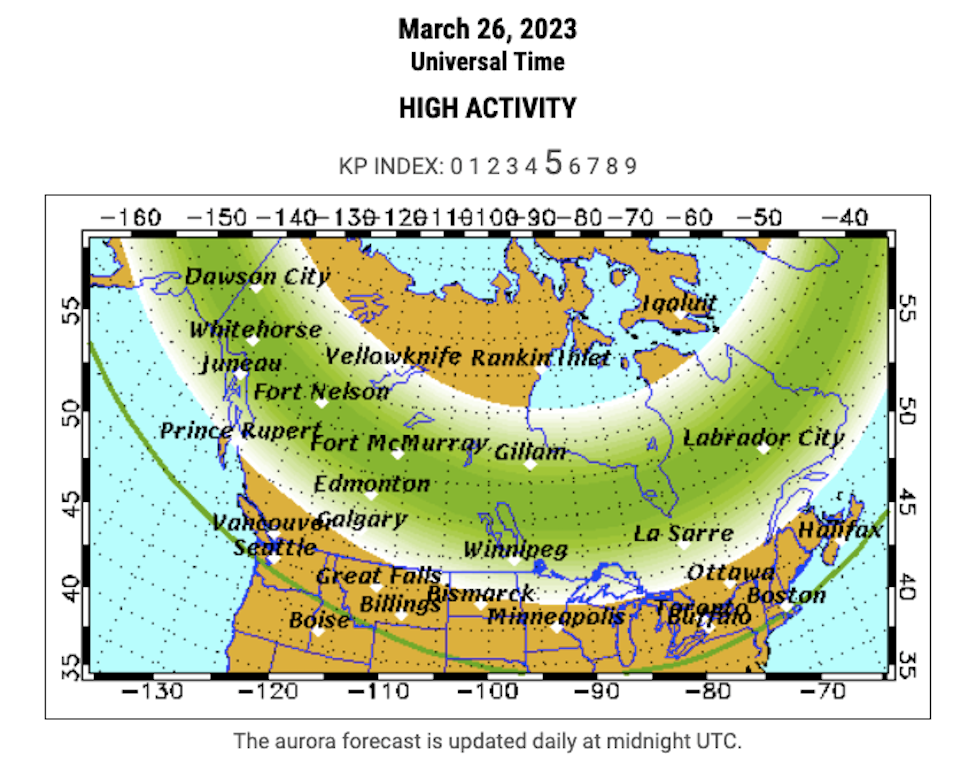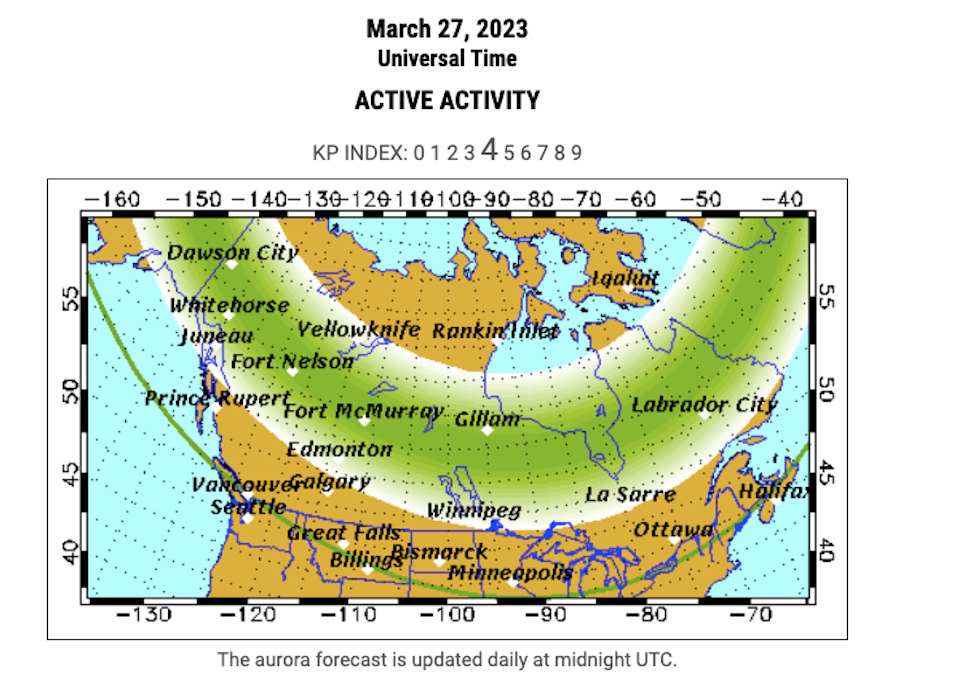 Light pollution in large cities makes the aurora borealis difficult to observe, but not impossible, given the right circumstances. But your best bet for viewing that hypnotic green glow is up north or outside of the city.
Of course, when you do spot them, they likely won't appear green or any other colour. Instead, you'll see the arcing, milky manifestation moving in the sky. In order to capture that green glow, you'll need to use a camera with a longer exposure.
Find out more northern lights information and viewing tips with our comprehensive guide.