A haunting green glow may appear overhead in Metro Vancouver this week, provided the clouds clear.
The Metro Vancouver weather forecast looks decidedly stormy starting on Tuesday, Sept. 19, but the skies are expected to clear by Wednesday afternoon.
The National Oceanic and Atmospheric Administration (NOAA)'s Space Weather Prediction Center observed a "strong geomagnetic storm" on Tuesday following the arrival of a coronal mass ejection from the sun.
On Monday night, people from across the Lower Mainland observed the aurora borealis, particularly in areas located farther outside of the city.
That escalated quickly! #AuroraBorealis exploded within a minute at #PittLake on the #Coquitlam/#MapleRidge border just East of #Vancouver #BC!
Wow!!#northernLights #AuroraWatch @TamithaSkov @RandySmall @jwhittalTWN pic.twitter.com/sOn2k3mxSb

— Ryan Voutilainen 🇨🇦🇫🇮 (@RyanVoutilainen) September 19, 2023
Northern lights in Vancouver
According to the University of Alaska Fairbanks (UAF), the auroral activity is expected to be "highly active" on Tuesday, which will make vibrant displays possible overhead from "Inuvik, Yellowknife, Rankin and Iqaluit to Vancouver, Helena, Minneapolis, Milwaukee, Bay City, Toronto, Montpelier, and Charlottetown, and visible low on the horizon from Salem, Boise, Cheyenne, Lincoln, Indianapolis and Annapolis."
The university's online aurora monitor map shows what regions the aurora's green glow will likely reach, as well as other areas where there is less of a possibility. Additionally, there is a brief description below the map of the aurora activity on that particular day. You can switch to other days to see the forecast, too.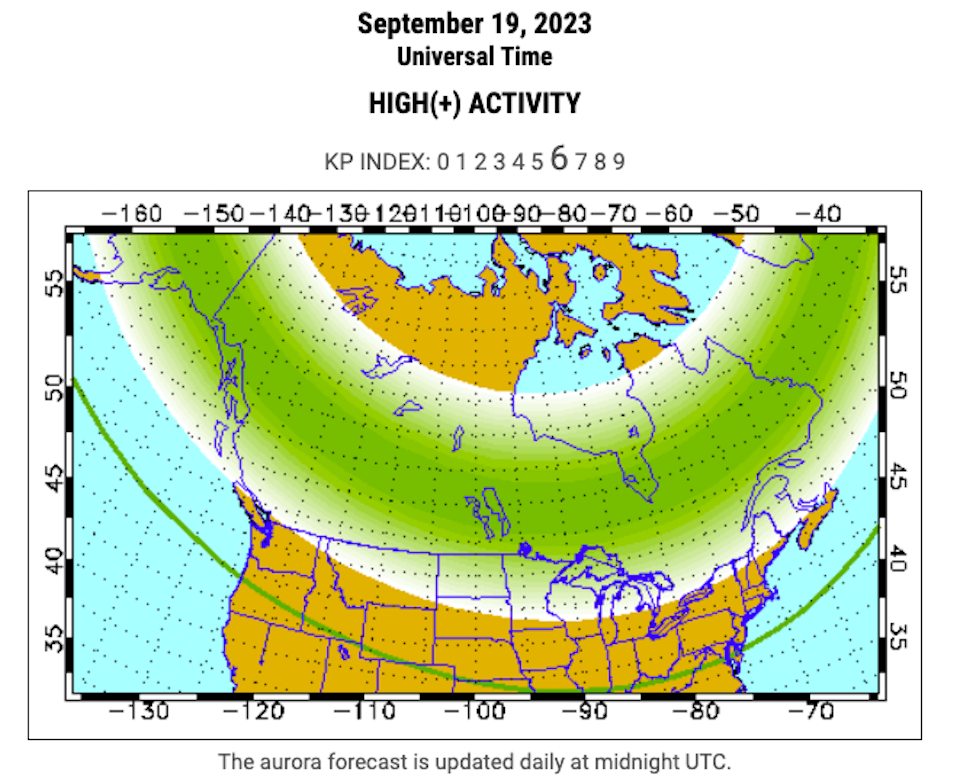 On Wednesday, the sky is expected to be clear overnight, meaning that locals will have more opportunities to view the aurora's green glow. However, the display isn't expected to be as intense, with displays possible on the horizon locally rather than overhead.
Light pollution in large cities makes the aurora borealis difficult to observe, but not impossible, given the right circumstances. But your best bet for viewing that hypnotic green glow is up north or outside of the city.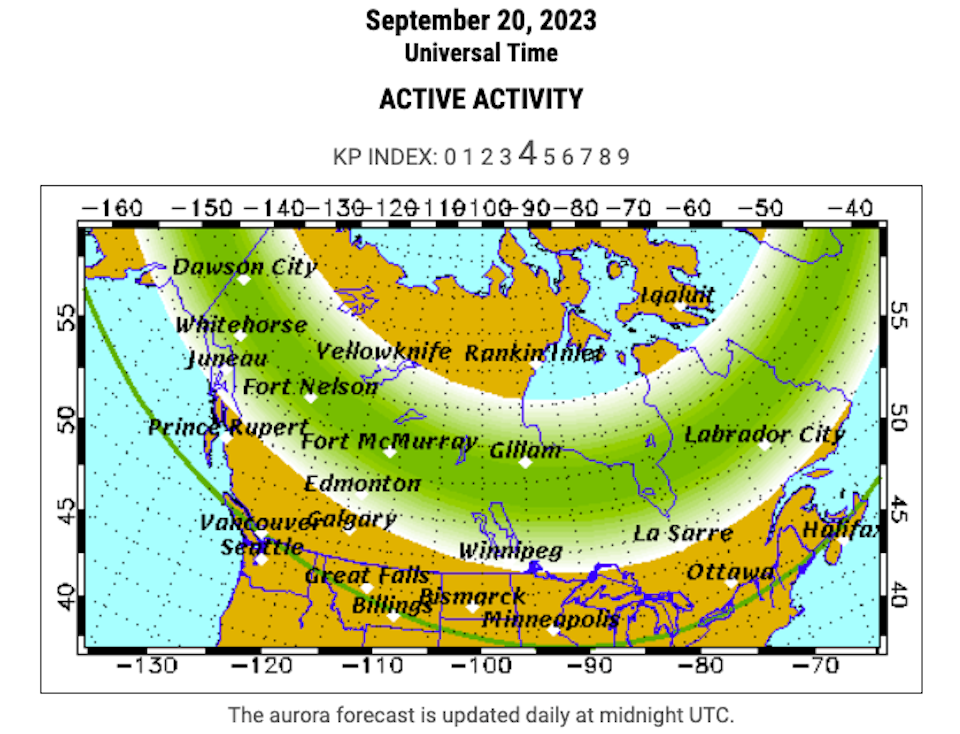 Metro Vancouver weather forecast offers ideal conditions for viewing northern lights
Environment Canada calls for the possibility of thunderstorms in Metro Vancouver late Tuesday evening and after midnight. However, many places across the Lower Mainland might not see any of the decidedly tempestuous weather.
V.I.A.'s weather forecasting platform, Weatherhood, provides detailed, neighbourhood-specific forecasts for places across the Lower Mainland that include metrics like temperature, precipitation, air quality, humidity, and wind pressure.
Heading into Wednesday, the forecast includes a 60 per cent chance of wet weather during the day but the evening and overnight look clear.
When you do spot the northern lights, they likely won't appear green or any other colour. Instead, you'll see the arcing, milky manifestation moving in the sky. In order to capture that green glow, you'll need to use a camera with a longer exposure.
Find out more northern lights information and viewing tips with our comprehensive guide.