A new documentary exploring conservation and restoration efforts in Howe Sound is set for a community screening at the Bowen Island Public Library next week.
Uncharted Waters, from director Molly Dennis and producer Hannah Siden, focuses on the work of several people actively working to improve life in Howe Sound for all living beings who call the area home. Filming of the documentary began on the island last year, with the final edits completing late this summer.
"It's such a big topic of restoration and conservation in Howe Sound, and there's so many ways to tell that story," says Dennis, who is currently in the United Kingdom. "So we tried to focus it on this new generation of stewards, this new generation who are carrying on the efforts."
Uncharted Waters' highlighting of this new generation introduces viewers to four main characters leading the charge in this regard: Fiona Beaty, a marine ecologist, well-known Bowen artist Di, and Jonathan Williams and Nolan Rudkowsky from Squamish Nation.
While the four all have their own ways of tackling their goals, a common link among them all is the Howe Sound Marine Reference Guide, a project through the Marine Stewardship Initiative.
Beaty is a key spearheader of the guide, and instrumental in making sure it's developed with community involvement. This includes collaborating with artists like Di, who made the guide a theme of her 'Art for Sea to Sky' exhibit at the Hearth last year, and donated some proceeds to the project.
The interactive map – available at howesoundguide.ca – is an incredibly detailed look at hundreds of different life forms in the region and where they make their habitats. It also shows natural and man-made influences which may impact these regions, including sewage systems, rail and shipping lanes, or moorages. The ability to select and overlap any combination of natural, human, and general mapping zones leaves endless combinations of what the guide offers to discover.
"You can add a filter on and see just where Whales go in Howe Sound, or you can see just where Orcas go, or Herring. There's so many things you can learn just from one object," says Dennis.
"I thought that was really fascinating, and the future of conservation. If you can apply that to the whole world, or the whole of Canada, that would just be amazing. You could see exactly where ecology is, and exactly where industry is, and say to industry well don't go here because this is where there's a really important ecological area," adds the director.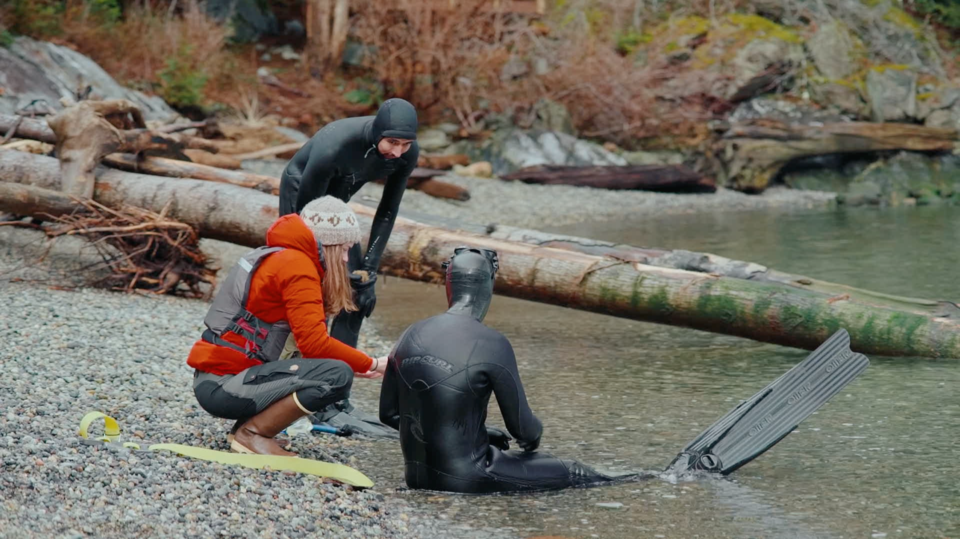 Dennis says the guide also seeks to address some of the historical problems which have impacted maps for centuries. "I've always loved maps, but they can obviously be quite biased and quite political… But this map acknowledges that, and purposefully had so many different layers and so many different languages, which you never see in maps. It's normally just very European language-centric. So the fact you had Squamish language (is important)," she says.
While working on the map, Beaty felt it was important to branch out from the traditional ways that similar projects were created, so that everybody could have an input on it. Fieldwork, lectures, artwork, and more were some of the ways she pursued this, and attracted artists such as Di, or Williams and Rudkowsky, who performed extensive fieldwork with young Squamish Nation members.
Dennis says this is another major focus of the documentary, "this idea of holistic conservation, that you don't have to be a scientist to understand it or get involved, you can be an artist, you can be interested, you can be a volunteer."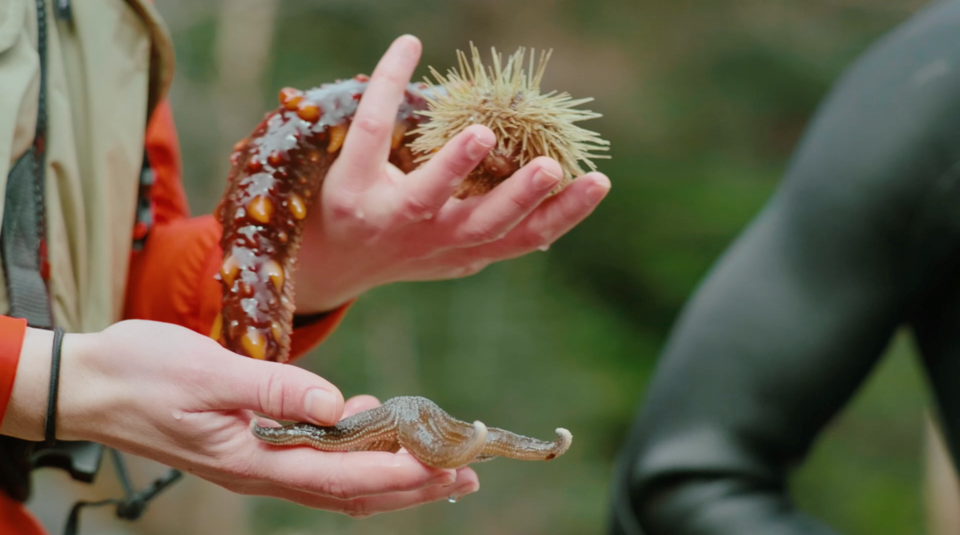 The film is already receiving praise, and has been selected to several festivals including the BC Environmental Film Festival, Wildlife Conservation Film Festival, and Sustainable Stories Film Festival. The filmmakers are planning community screenings around Howe Sound in the future, but felt Bowen was the right place to start things off.
"We really wanted to do a community screening because Bowen was the inspiration for the film, we filmed a lot of it on Bowen, and it just felt the right place to have it," says Dennis.
The film runs about 25 minutes, which Dennis says is a short time to try and fit in all the encounters and interviews experienced during filming. Ultimately, she hopes people will come away inspired by the progress the new generation has already made.
"I hope it's enjoyable… And I hope that people can learn something, and see that if they are involved in this community effort, a bit of acknowledgement in their work and that it is having an impact and there is positive change going on. That would be the best thing," says Dennis.
"And just showing off that it is a success story for Howe Sound – there is tangible improvement you can see. And that it should be celebrated," she adds.
The screening is taking place Wednesday, November 30 at 6:30 pm in the Library Annex. Admission is free and no registration required. Film members will be in attendance, along with messages from Dennis and Siden, and an opportunity to explore the Marine Reference Guide, and some glass sponges too.
Bowen Island Municipality, the Marine Life Sanctuary Society, and Marine Reference Guide all helped make the documentary a reality, and are helping to present next week's screening.