On Nov. 28, 2020, Marten Geertsema got a message from a friendly colleague at Columbia University in New York City — a global seismic tracking network had picked up an anomaly in a remote area on B.C.'s Central Coast.
A researcher studying natural hazards at the University of Northern B.C. (UNBC), Geertsema set out to track down what could have caused the earthquake-like signal.
"We were looking within a 50-kilometre radius," he said. "I looked at all the recent satellite images and stuff and I just couldn't find it."
Two weeks later, wild footage started circulating on social media. A pilot from the Campbell River-based charter and flight school, 49 North Helicopters, had done a flyover of a valley at the head of Bute Inlet.
Massive flooding had torn up the land, depositing plums of rock, soil and timber in all directions.
"We kind of put two and two together," said Geertsema, who also works as a geomorphologist for the B.C. government.
Last month, Geertsema and his team of researchers finally revealed a terrifying confluence of events in a study published in the journal Geophysical Research Letters.
Up valley, glaciers that had hung over Elliot Lake for thousands of years have steadily receded with a rise in global temperatures.
In one catastrophic moment, slopes the ice had once held together failed, triggering a 50-million tonne landslide — roughly equal "to the combined mass of all Canadian automobiles," as the authors put it.
More than half of that rock slammed into the two-kilometre-long alpine lake at almost 175 kilometres per hour, triggering a tremor equivalent to a magnitude five earthquake.
In an instant, a tsunami climbed more than 100 metres into the air.
The initial wave rolled across the lake and burst through a glacier-deposited dam at the far end. As the torrent of water filled the tributary below, it annihilated 8.5 kilometres of salmon-spawning habitat, scoured the channel floor 40 metres deeper and sent floodwaters and sediment 60 kilometres down the Southgate River.
Four minutes later, the up to 50-metre deep morass poured into the sea.
Homalco First Nation chief Darren Blaney, on whose traditional territory the event occurred, said his cousin watched rafts of busted up timber nearly 200 metres long and 100 metres wide float into the Bute Inlet, plugging up a whole bay.
"Long ago, our people would be up there every fall. My great-grandfather would go up and get about 800 chum, travel over land and sell them to the Squamish," he said.
Blaney says all the spawning ground below the tsunami was basically wiped out.
"The salmon have taken a pretty big hit already. Now, they're taking another hit with climate change," said Blaney. "We've got a whole cascade of events that we have to manage so the salmon can try to rebuild."
Blaney says the nation already has a proposal submitted to the federal government for $3.5 million in funding to study and rebuild salmon stocks in the area.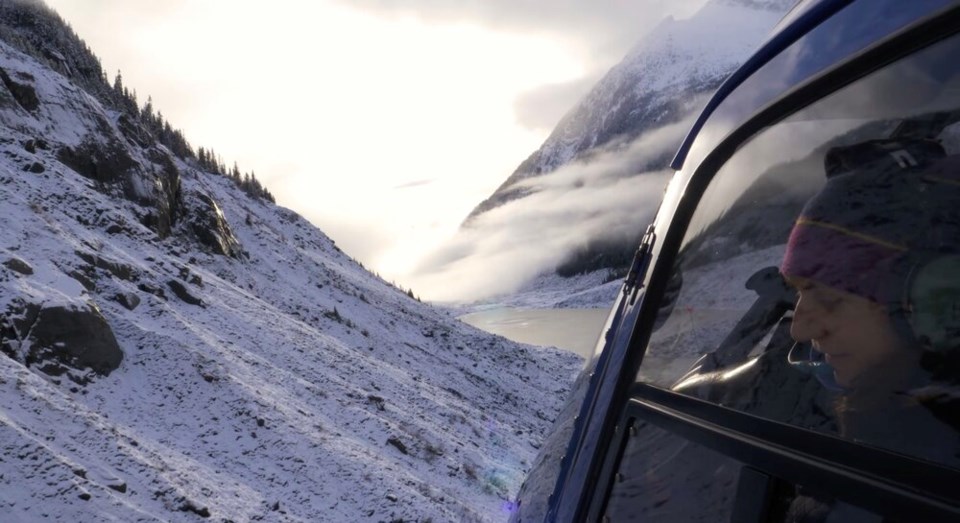 And while the chief says he's worried another landslide could threaten the valley again, it's far from the only place in B.C. at risk from glacier retreat.
"It's to nobody's surprise that we have introduced enough greenhouse gases into the atmosphere to change the energy balance," said UNBC glacier expert Brian Menounos, who co-authored the study.
"And so we know that these glaciers will continue to retreat and that retreat will accelerate really in mid-century, even under moderate emission scenarios."
Since 1900, more than 1,000 glacier lake outbursts have been recorded across the world in places like Alaska, Greenland and the Himalaya. Altogether, they have led to more than 12,500 fatalities, according to the study. In some parts of the world, infrastructure and farmland have paid a heavy toll.
To date, none in Western Canada have been lethal to humans. But that could soon change as settlement and tourism creep into alpine areas, warn the researchers.
In response, Geertsema and Menounos are part of a growing group of researchers looking to expand risk monitoring in British Columbia's alpine landscapes.
Across many of B.C.'s ice fields, Menounos and colleagues have already mapped the surface of ice fields with lasers beamed from aircraft. That gives them a way to estimate what the ground looks like underneath. As the ice recedes, researchers can then get an early sense of where alpine lakes will form.
Combine that information with terrain maps, and Menounos says you can estimate which mountain valleys are most at risk to landslide-triggered flooding.
"I think what we're now working towards is sort of a systematic mapping of alpine geohazards," said Menounos.
"There are some lakes in the Sea to Sky corridor… there's certainly enough alpine lakes that could pose an issue."
Beyond catastrophic events like the tsunami in Elliot Lake, the slow melting of B.C.'s icy environments has big implications for wildlife and humans.
Heat waves like that experienced in June 2021 can melt away seasonal snowfall early in the summer, leaving many watersheds without a cool source of mountain water — water both people and fish rely on.
"And then that can be followed by extreme precipitation that can actually cause instability," Menounos said, pointing to the flooding and landslides that knocked out huge sections of land in the Fraser Canyon last November.
"We're starting to see, not surprisingly, compounding of these individual hazards that taken collectively are greatly affecting infrastructure. And unfortunately, like last November, the loss of life."