Metro Vancouverites continue to see the highest rental costs in the country—but certain neighbourhoods generally have a little less impact on your wallet.
Liv.rent, a rental platform based in Vancouver, creates monthly rent reports for the region and finds that Metro Vancouver's rental prices "can't be slowed," increasing from already high figures in January. Prices have continued to climb this February across the region.
The region continues to see the highest rent for one-bedroom unfurnished apartments in the country in February 2022 with prices rising slightly this month over last. This month, locals can expect to shell out an average of $1,840, up from $1,827 in January.
Now, the company has added data for over 30 individual neighbourhoods across Metro Vancouver to provide a comprehensive summary of the area's rental averages.
Cheapest rents across Metro Vancouver
Liv.rent's rental map breaks down unfurnished and furnished apartments by cities and municipalities as well as neighbourhoods. In Vancouver, Kitsilano had the highest rental prices for unfurnished units, with prices starting at $2,230. But one-bedroom units in Downtown Vancouver were only slightly less expensive at $2,217 for the month. Further, Kitsilano's two-bedroom unfurnished units cost significantly less than those in the downtown area, at $2,740 and $3,185 respectively.
Arbutus one-bedrooms cost a whopping $2,158 per month while Fairview's cost $2,161; Mount Pleasant's one-bedroom apartments cost an average of $2,114.
No Vancouver neighbourhood averaged under $1,500 per month for their unfurnished one-bedroom units. For those kinds of prices, locals will need to venture out to Surrey, Richmond or Langley.
In Richmond's Steveston, one-bedroom units cost an average of $1,345 while Golden Village units average about $1,350 per month. Similarly, Langley's Willowbrook prices average $1,46.
Where will locals score the cheapest rent?
Surrey's Fleetwood area has the most affordable rent for an unfurnished one-bedroom, which costs an average of $1,200 per month.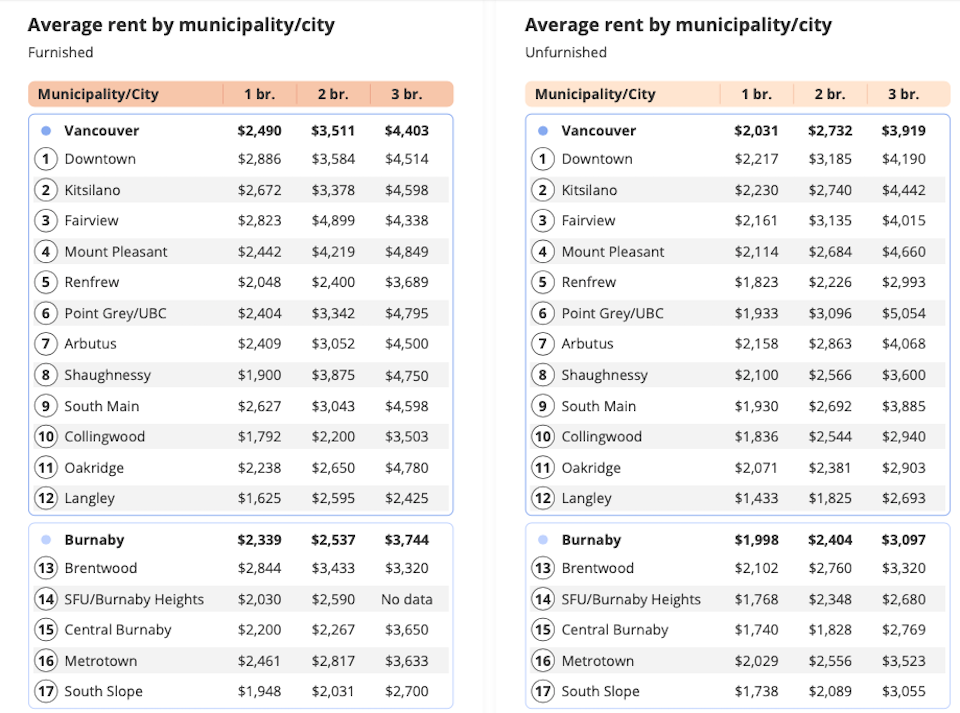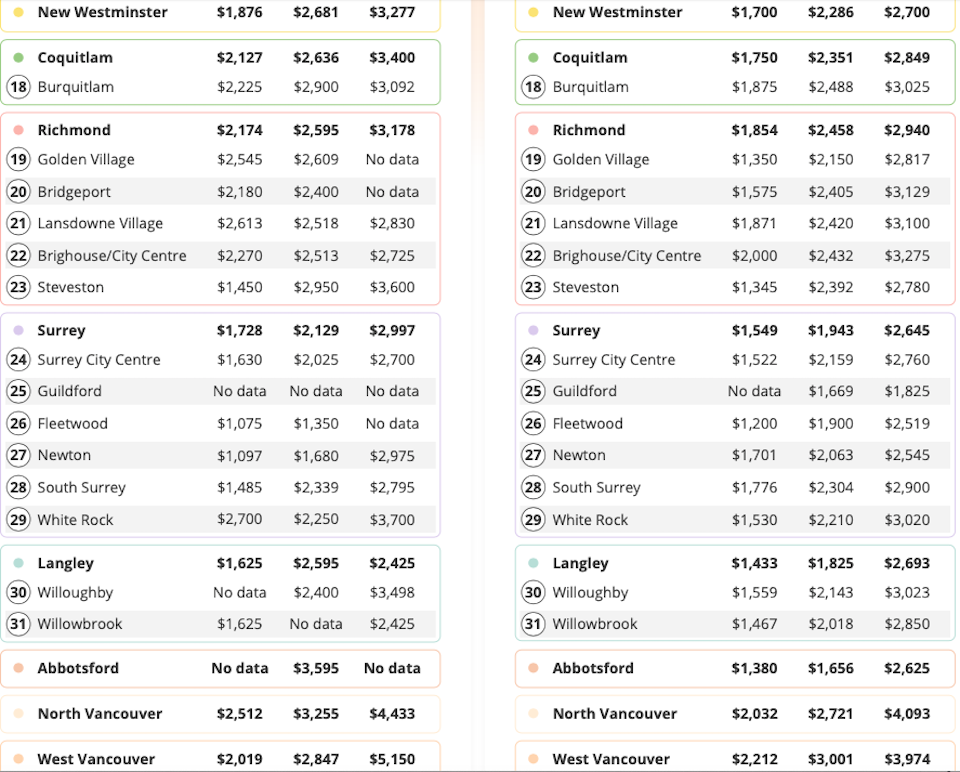 Rent per square foot
Where's the cheapest place to rent in Metro Vancouver by how much space you get?
In February, the most affordable places for square footage are Surrey, Langley and West Vancouver while the most expensive is, unsurprisingly, Vancouver itself.
Overall, the average rent per square foot in Metro Vancouver is $2.59 while in Toronto it's $2.11.