The environmental group Greenpeace has filed a complaint with Canada's Competition Bureau against a coalition of the country's six largest oil sands producers for running what they allege is a "misleading" and "anti-competitive" advertising campaign.
The complaint, submitted this week, targets the six companies forming the Pathways Alliance — Canadian Natural Resources Limited (CNRL), Cenovus Energy, ConocoPhillips Canada, Imperial, MEG Energy and Suncor Energy — and their "Let's clear the air campaign."
Greenpeace claims the Pathways Alliance misled Canadians in several advertisements representing its plan to achieve net-zero emissions by 2050. Those ads ran across television, major Canadian newspapers, their website, podcasts, social media and at least one billboard in Vancouver, B.C.
"They're claiming to tackle the climate crisis. But in reality, their plan doesn't work. And so they're misleading both the public and the politicians because of that," said Salomé Sané, a climate campaigner with Greenpeace's investigation team.
Fossil fuel companies misled Canadians through major advertisement spending, alleges complaint
The 46-page complaint to the Competition Bureau turns on four claims. In the first, Greenpeace says the advertising campaign fails to include Scope 3 emissions — those produced when you burn fossil fuel.
"Their plan doesn't account for more than 80 per cent of their emissions. Even without a full emissions accounting, their own calculations do not result in them achieving net zero," writes Greenpeace in its complaint.
Pathways Alliance has spent money widely to get its message out in recent months. According to the complaint to the Bureau, the six oil and gas companies ran television ads during the FIFA World Cup, the Australian Open and the 2023 Super Bowl.
"From November 2022 through January 2023, the 30-second Pathways Alliance ad aired 929 times on the TSN Network, totalling more than 7.5 hours of air time," says the Greenpeace complaint.
The six companies forming the Pathways Alliance account for 95 per cent of Alberta's oil sands production — Canada's largest single human source of carbon emissions. But the companies' footprints don't stop there.
Cenovus, ConocoPhillips Canada and CNRL all say they have significant existing natural gas operations or plans to develop drilling in the Montney Play, a geologic formation traversing the Alberta-B.C. border and ranked by one recent study as the world's sixth largest "carbon bomb."
On B.C.'s coast, Suncor owns the Burrard Products Terminal in Burnaby and Port Moody, a facility that has the capacity to export 40,000 barrels of fossil fuel per day. And Imperial Oil has several retail locations across B.C. and three distribution terminals in Burnaby, Nanaimo and Port Moody.
So perhaps it's not surprising, said Sané, that the ad campaign targeted Canadians from coast to coast. Over three months ending in January 2023, the alliance spent $325,025 on Facebook and Instagram advertisements, making the group Meta's third-highest ad buy in Canada during that period after YouTube and the Canadian Association of Petroleum Producers.
In at least one instance, the industry group placed an ad on an electronic billboard lit up outside of Vancouver's BC Place in November 2022.
"Let's clear the air," suggested the Pathways Alliance ad.
A net-zero promise through new tech
The subtext of the ad often pointed to the companies' plans to become net-zero carbon producers by mid-century.
In one full front-page ad in the Feb. 18, 2023, edition of the Toronto Star, the industry alliance claims, "We're making clear strides to net zero." Three days later, a banner ad on the CBC News website states, "Oil sands are on a path to net-zero emissions."
Such statements, the Greenpeace complaint alleges, suggest the companies have a "transparent and concrete plan" to achieve net zero emissions when they are expanding oil production.
"We know that to limit the worst effects of climate change, we actually need to reduce production of fossil fuels and not extend them," said Sané.
The complaint to the Competition Bureau also cites "speculative future technologies" such as Carbon Capture and Sequestration (CCS), one of a handful go acronyms used to describe machines that scrub carbon from the smokestacks of coal power plants, steel makers, or other fossil fuel-heavy industries.
"This technology, there's a lot of questions that hang around us. We're not really sure if it's going to be ready on time. We're not really sure how efficient they're going to be," said Sané. "And yet they're an essential part of their net-zero plan."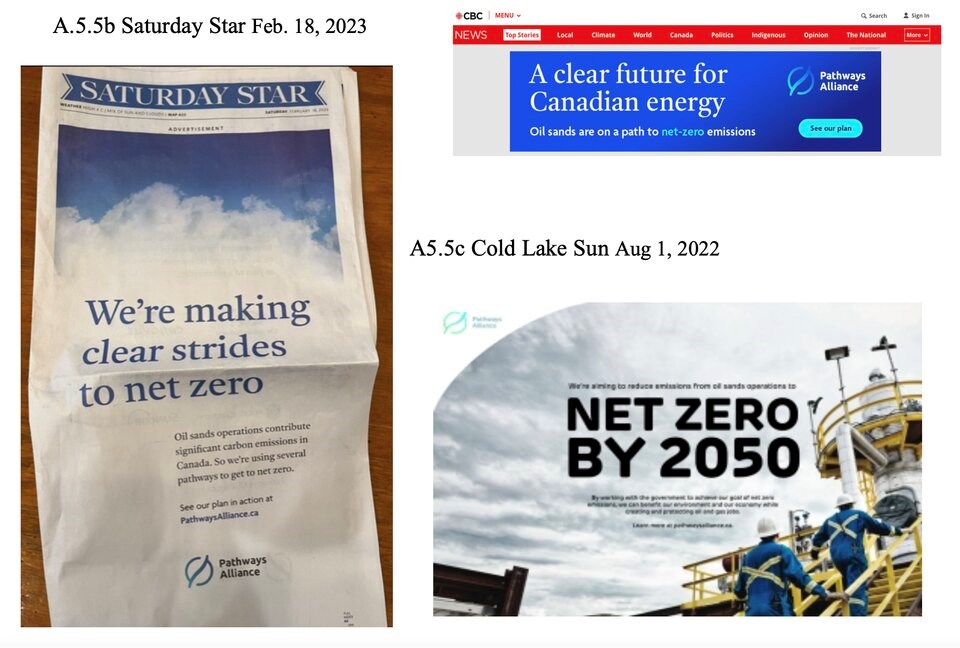 Companies positioned themselves as 'Climate leaders' while pushing for more fossil fuel production
On several occasions, Sané says the Pathways Alliance has positioned oilsands producers as "climate leaders." But that doesn't align with the group's industry affiliations and the lobbying they have done more widely in Canada, she said.
"We recorded that at least four of the Pathways Alliance companies have been opposing emissions reduction, and they've been advocating for fossil fuel expansion," said Sané.
"That kind of behind-closed-doors lobbying that they're doing doesn't match with the image that they're trying to present to the Canadian public."
Mark Cameron, Pathways Alliance vice-president of external affairs, said the group is taking time to review the complaint and won't directly comment on it until it is finished.
"What I can say is our campaign acknowledges the oil sands represent a significant share of our country's emissions and that we must work collaboratively, including with governments, to achieve our goal of net zero from operations and deliver the world's preferred barrel of responsibly produced oil," Cameron said in a written statement.
"We will continue to speak on behalf of one of Canada's most important industries and show how we're addressing the climate challenge."
Latest complaint flurry of 'greenwashing' allegations
Sané says that in submitting the complaint of "greenwashing" to the Competition Bureau, Greenpeace is asking the industry watchdog to consider the general impression of the advertising.
It comes on the back of a number of complaints filed with the Competition Bureau alleging false and misleading statements in which several companies — including banks, oil and gas companies, and forest certification programs — have been called out for alleged greenwashing.
The Bureau itself has warned that companies falsely alleging green credentials have significantly increased in recent years. But few big complaints against large fossil fuel companies or their financiers have been decided on yet.
Sané said she hopes the latest case against the Pathways Alliance will set a precedent to deter other companies from evading meaningful action on climate change and engaging in tactics that might mislead Canadians about their green record. That's especially important, she said, when it comes to complex climate pathways heavy on jargon and data that non-expert would struggle to decipher without significant effort.
"A lot of companies are actually presenting an image that doesn't reflect their action once the mic is turned off," she said.
"It shouldn't fall on the public to question whatever companies are telling us. Normally, they should be telling them the truth."