The avalanche season is only halfway through, and already B.C. is above the 10-year average for deaths this season.
"We are now at 12 avalanche fatalities, which is more than our seasonal average of 10," says a spokesperson with Avalanche Canada. "Which is remarkable considering the exponential increase in winter backcountry use since that same time."
This season's latest victims were three heli-skiiers from Germany, who were killed in a March 1 avalanche near Invermere in southeastern British Columbia.
Police say 10 people were caught in the slide Wednesday, including the three fatalities and four injured people.

RK Heliski, the company operating the tour, says they are heartbroken.
"It is impossible to put into words the sorrow that we feel and the sadness that is shared by our guests, their families and all of our staff. Our thoughts and prayers go out to everyone involved, their loved ones and the community," said the company.
Avalanche Canada says the size three avalanche was a "deep, persistent slab avalanche that ran on basal facets" and was big enough to destroy a building, break trees, and bury a car.

While this year has been deadlier than recent, it's certainly not the worst avalanche season in the last few decades when there were 17 fatalities during 2015-2016.
In the last two decades, the 2008-2009 season (26) and the 2002-2003 season (29) were the most deadly.
Dangerous snowpack structure continues to exist in B.C., specifically in the Interior, where large human-triggered avalanches are possible.
"This year's avalanche season is plagued by a deeply buried weak layer across much of western Canada, making it a very difficult snowpack to safely manage," says the spokesperson. "This weak layer has caused many high-consequence avalanches since its formation and has already claimed numerous lives."
Can the back-country be closed?
Previously, Glacier Media asked Bowinn Ma, the Minister of Emergency Management and Climate Readiness, if the backcountry would be closed due to the high risk of avalanches.
"Any decision to close a backcountry area would be informed by the advice provided by Avalanche Canada," says Ma.
Avalanche Canada says it is not their jurisdiction nor is it feasible.
"We do not have the jurisdiction to close the backcountry and would never seek to do so," says a spokesperson. "We are deeply saddened by the high number of tragic avalanche fatalities this winter, but closing the backcountry is not a feasible solution."
Avalanche forecaster Mike Conlan expects to continue to see consequential avalanches releasing on buried weak layers and thinks people going into the background should be critical thinkers.
"Your mindset going into the mountains should be that this is not the season for high-consequence objectives," he says. "Be the critical thinker in the group during any decision, stay disciplined, and please have a safe remainder of this avalanche season."
A drawing on Avalanche Canada circles a large section of B.C., showing that the "deep, persistent slab" problem spans much of the province.
To see the avalanche risk based on location, visit this website.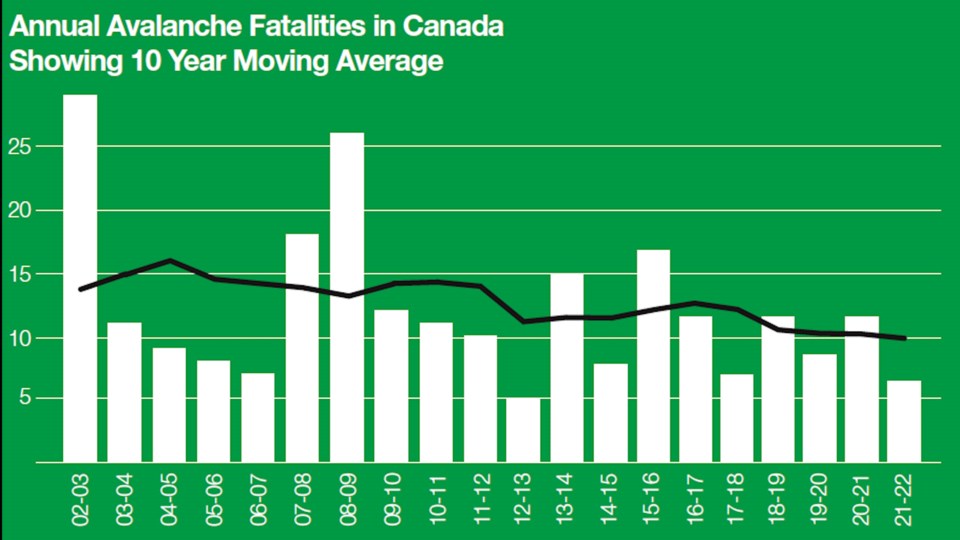 Risk is 'exceptional': Experts
James Kohut has been backcountry skiing in Alberta and BC since 1974 and says the current conditions are so severe that even gently slopes could be dangerous.
"Right now, I would be sticking to slopes that are no steeper than intermediate slopes. Because avalanches with this snowpack can come down on slopes with an angle as low as 20 degrees," he says.
Dangerous conditions are expected to drag on for the remainder of the season.
"Anything can happen, and no slopes are absolutely safe from my experience," says Kohut during an interview with Castanet News.
One B.C. search and rescue manager believes experienced backcountry enthusiasts will have got the message and think twice about putting themselves in dangerous situations.
Mark Jennings-Bates and his team at Kaslo Search and Rescue were first on the scene when tragedy struck, and two off-duty Nelson police officers were caught in a Jan. 9 avalanche.
"I think we just need to be cautious as to how we approach it and make sure that as much as possible, the public awareness programs talk about getting the correct training," he tells Glacier Media.
The search and rescue manager believes closures of dangerous and high-risk avalanche areas wouldn't help prevent deaths.
"If I were going into the backcountry for a skiing trip at the moment, I would have a highlighted concern about whether I did or didn't go," he says.
Timeline of deaths this season
Jan. 9: Two off-duty police officers were backcountry skiing some 60 km north of Nelson, near Empire Cabin, when an avalanche occurred. Const. Mathieu Nolet and Const. Wade Tittemore, both of the Nelson Police Department, died.
Jan. 31: Two snowmobilers were caught in an avalanche at Bowl 3 in the Oasis area near Valemount. One person was fully buried and died, and the other individual survived.
Jan. 23: Brothers and American businessmen were heliskiing when they became caught in an avalanche near Revels,toke B.C. Timothy and Jonathan Kinsley, respective leaders of Kinsley Properties and Kinsley Construction, died while heliskiing with Canadian Mountain Holidays.
Feb. 11: Two skiers, a man and a woman, died in an avalanche near Potatoe Peak, 40 kilometres south of Tatla Lake in central south British Columbia. One of the individuals was a volunteer member of the Central Cariboo Search and Rescue team in Williams Lake.
Feb. 12: Five snowboarders and one skier were caught in an avalanche near Kicking Horse Ski Resort in a backcountry area known as Terminator 2.5. Two people, who were fully buried, died at the scene, and a third person was buried but rescued.
March 1: Three German men died while heliskiing outside Invermere, and four people were hurt during an avalanche in the Columbia River-Revelstoke area. The three dead are a 57-year-old clinic manager, his 34-year-old son-in-law, and a 57-year-old Eging am See council member.
- with files from Castanet News