No charges have been approved against boaters allegedly violating killer whale buffer zones in 2020, despite hundreds of reports from the public, according to federal data.
Internal data shared with Glacier Media from Fisheries and Oceans Canada (DFO) indicate British Columbians reported more than 900 incidents of boaters potentially violating federal laws designed to protect endangered killer whales.
Of those, DFO officials investigated 222 incidents, including 92 fishing violations allegedly breaching sanctuary zones set up to protect the 73 remaining endangered southern resident killer whales.
Fewer than 10 of those incidents remain under investigation or have charges pending.
"Currently, no charges have been approved at this time for any of the 2020 incidents," wrote DFO spokesperson Lara Sloan in an email.
Sloan added "a number of investigations" continue, including some related to the destruction of southern resident killer whale critical habitat.
A CALL FOR MORE ENFORCEMENT
The numbers come less than a week after five environmental groups called on DFO and other enforcement bodies to ramp up patrols, prosecutions and penalties to deter any further violations. In their call for action, the groups cited a report from the marine mammal surveillance group, Straitwatch, which documented whale-watching operators "routinely violating" legally established buffer zones between their vessels and the whales.
In one 12-day period in 2020, whale-watching operators allegedly breached the 400-metre legal buffer between boats and the southern resident orcas 84 times, according to a Straitwatch report.
"It seems pretty condemning," Andrew Trites, head of UBC's Marine Mammal Research Unit, told Glacier Media at the time. "They should be setting the example for others on how boats behave around whales."
Straitwatch found another 51 recreational fishing vessels were observed within 400 metres of southern resident killer whales; of those, 28 came closer than 200 metres.
In addition, DFO says 161 incidents were reviewed and investigated over concerns boats were physically or acoustically disturbing whales in other parts of their critical habitat. Of those, more than half were reported to have come within 200 metres of the mammals.
Southern resident killer whales are among the most threatened orca populations off the B.C. coast. In 2020, the population declined to a 40-year low, more than a 25 per cent decline from their observed peak in 1995, according to the U.S. Environmental Protection Agency.
In recent years, researchers, government and environmental advocates partly attributed the whale's threatened status to the dramatic decline of chinook salmon populations, the southern resident's preferred prey. This summer, DFO closed salmon fisheries in the southern Gulf Islands until Oct. 31. The federal government declared "interim sanctuary zones" in several areas the whales are known to frequent off Pender, Mayne, Saturna and Galiano Island.
But in a new DFO-backed study released Tuesday morning, Trites along with colleagues Mei Sato and Stéphane Gauthier found the number of summertime chinook available to southern residents was four to six times higher than for northern resident populations. The popular belief southern resident killer whales face summer food shortages, suggested the research, has been debunked.
The research did not measure the effects of vessels breaching the whale's buffer zones, and immediately opened up questions over what is actually causing southern residents to be thinner on average than their relatively abundant northern cousins.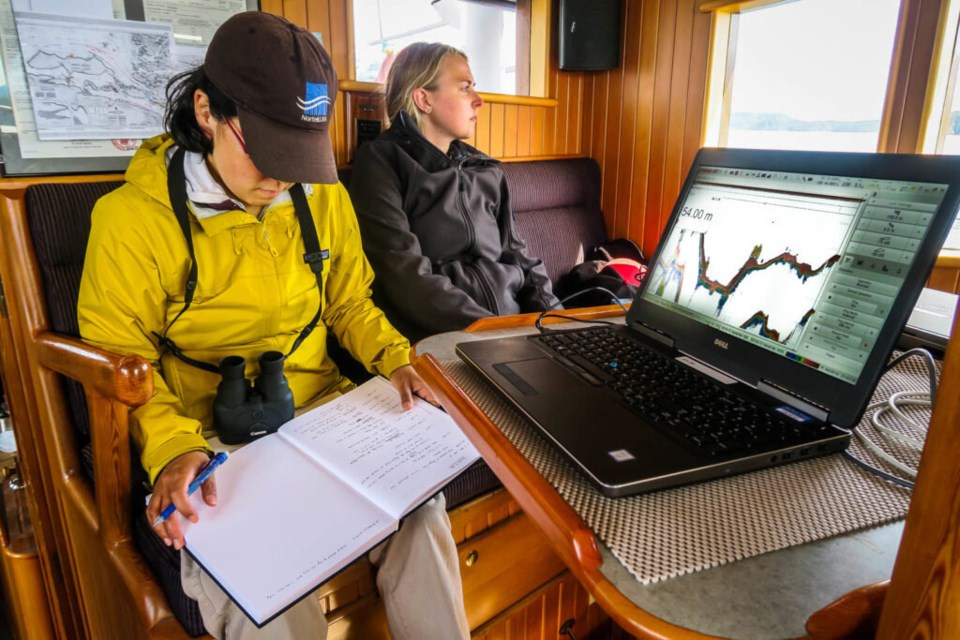 CANADA'S WHALE PATROL
Enforcement of buffer zones for killer whales is handled by DFO's Pacific whale protection unit, which runs two high-speed patrol vessels out of Annacis Island in Delta and in Victoria.
Straitwatch observers say enforcement has been consistent on the U.S. side of the border over the past three years, making up six per cent of all scanned vessels.
On the Canadian side, however, fisheries enforcement has been present in less than one per cent of the observations over the three years Straitwatch kept an eye on regional waters. In 2020, DFO enforcement was never observed in the presence of southern resident killer whales during Straitwatch's scans.
The DFO spokesperson, however, told Glacier Media that in 2020, Parks Canada and DFO spent more than 1,300 hours patrolling local waters "to identify and intercept vessels involved in illegal activities."
DFO carried out another 47 aerial patrols looking for boaters harassing and disturbing killer whales, including vessel approach distance violations.
A spokesperson for Transport Canada, meanwhile, said the ministry takes all alleged violations of the southern resident killer whale interim order "very seriously."
In 2020, Transport Canada issued 158 warning letters to operators, said spokesperson Sau Sau Liu in an email.
Anyone who receives a letter and later beaches the mandatory sanctuary and approach distances could face stiff administrative monetary penalties, up to a $1-million fine and up to 18 months in jail.
Between 2020 and 2021, Transport Canada issued five monetary penalties totalling $24,750.
"There are numerous ongoing investigations underway that could lead to additional administrative monetary penalties," wrote Liu.
But prosecuting such violations has resulted in few convictions.
In the summer of 2019, a Prince Rupert judge ordered a whale guide to pay a $2,000 fine for getting within less than 100 metres of a humpback whale. The fine represented the first conviction under new Marine Mammal Regulations.
Across Canada, it is illegal to feed, touch, swim or in any way interact with a marine mammal. Tagging or marking an animal, moving it or enticing it to move is also illegal.
Anyone who witnesses such infractions or finds a marine mammal in distress or dead, is encouraged to report it to DFO's Observe, Record and Report line at 1-800-465-4336 or by email at DFO.ORR-ONS.MPO@dfo-mpo.gc.ca.