Hundreds of people in 30 communities across Canada rallied outside the offices of federal politicians amid the worst wildfire season in Canadian history. Their message: "Stop the burning."
Canadian wildfires have burned more than 7.7 million hectares of land, an area the size of the Czech Republic. Smoke from Canada has reached Europe and dropped Toronto's air quality to rank the city among the worst in the world.
The scale of the disaster has led to renewed calls to address climate change. On Wednesday, that message reached the West Vancouver constituency office of Liberal MP Patrick Weiler, where an orchestra had set up alongside fire-extinguisher-wielding protesters from Pemberton, Whistler, Squamish and Vancouver's North Shore.​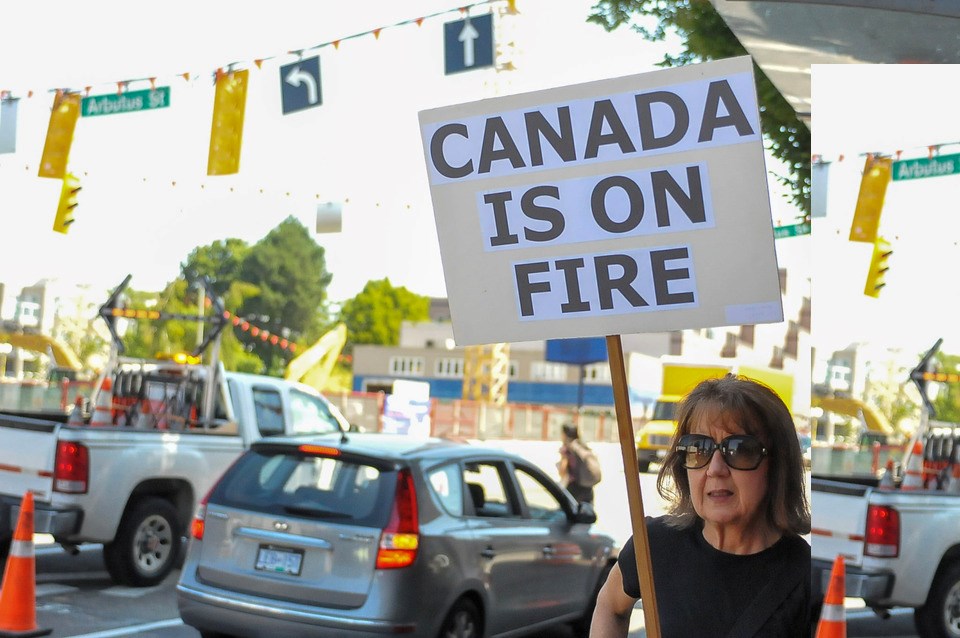 ​Across the water in Vancouver, dozens held placards outside Minister of Fisheries Joyce Murray's office, calling for an end to government supports to fossil fuel companies and a just transition for workers in the face of climate change.
"The national conversation around the wildfires hasn't really focused on actual solutions," said Amjali Appadurai, director of campaigns for the organization Climate Emergency Unit.
"It's just a wake-up call to treat it like the emergency that it is."
Appadurai, who ran in the BC NDP leadership race last year, said the federal government has made some big moves to transition Canada away from fossil fuels. Still, the scale is far from the $40 billion she said is required to improve the electric grid, retrain workers to build green energy projects, and retrofit buildings.
"We're all on a path to being affected by the crisis, and the most vulnerable of our neighbours will feel the impacts first," Appadurai said.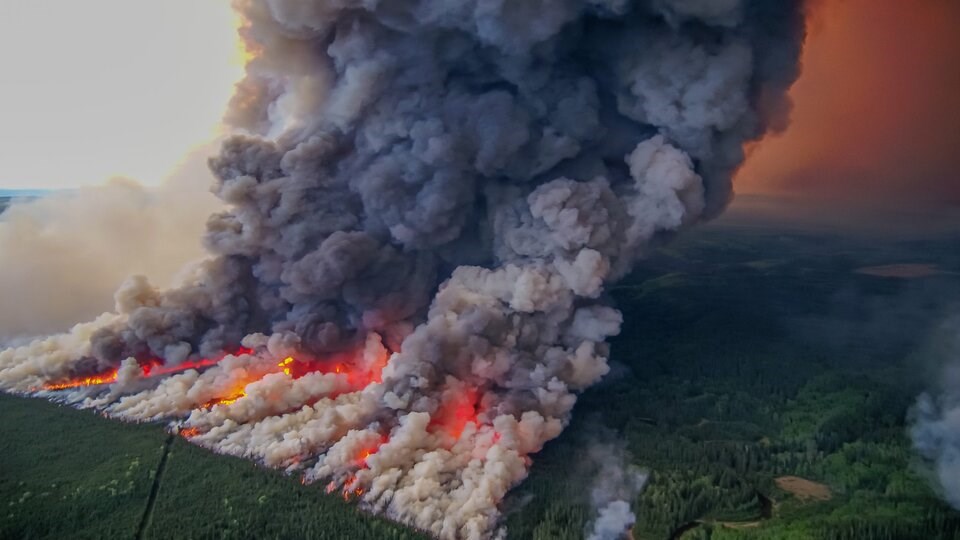 The nationwide protests came a day after the B.C. government said it would put up $10 million to purchase roughly 8,000 portable air conditioners so vulnerable people could protect themselves during a heat wave. The federal government, meanwhile, released its first-ever National Adaptation Strategy, pledging to eliminate heat deaths by 2040.
But such moves didn't satisfy a coalition of dozens of organizations calling for a scaling back and eventual elimination of fossil fuels and the infrastructure that comes with them.
A short distance away, Emiko Newman, the BC Climate Emergency Campaign coordinator, spoke to a crowd in front of Premier David Eby's constituency office.
The rally, which included doctors, a representative from the apparel company Patagonia, and the co-founder of a local ice cream company, backed Newman's call for B.C. to transition away from fracked gas, abandon investment in LNG processing facilities and revamp its climate policy.
"B.C. is not on a path to meet its climate targets," she said. "It's becoming increasingly common for us to feel trapped when it's too smokey to go outside but too hot to stay in."
"We are fed up, and we are scared. We want our summers back."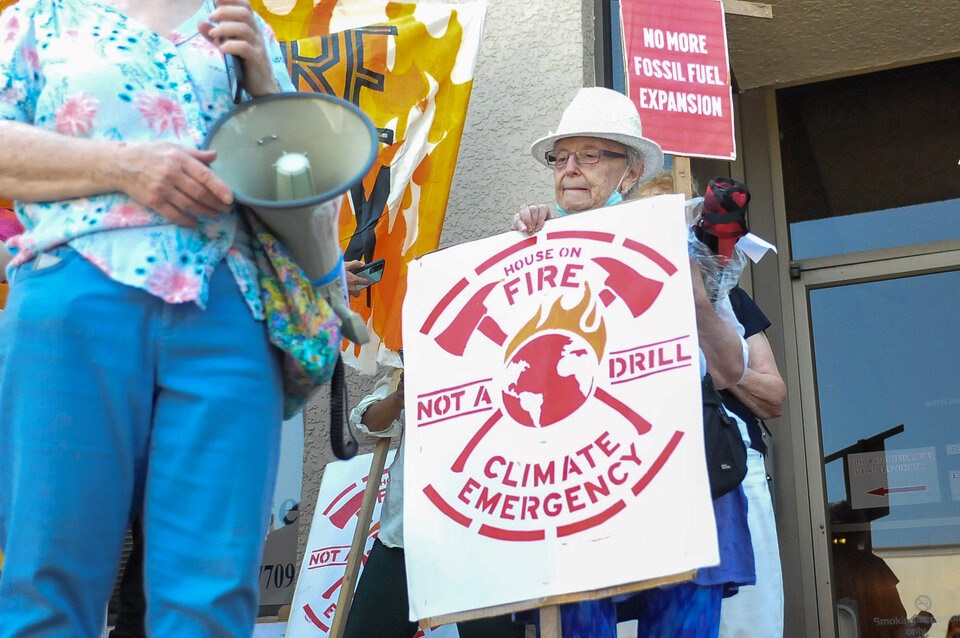 The Wednesday rallies also revealed the growing participation of what were once unlikely actors. In other jurisdictions, churches have been known to oppose action on climate change. But in front of Premier Eby's office, reverend Joyce Parry-Moore called for honesty.
"We can no longer be paralyzed by fear and denial while our planet burns around us," said the Anglican Diocese of New Westminster's Minister for Climate Justice.
The diocese — which spans 65 churches from Metro Vancouver to the Sea to Sky corridor and up the Fraser Valley to Hope — voted to create Parry-Moore's position in 2019. The idea was to decarbonize church buildings and restore the land the diocese owns.
The COVID-19 pandemic delayed the reverend's hiring until February 2023. But she's now settled at a church in Gibsons on B.C.'s Sunshine Coast — a home base to engage the church with a new generation and rethink long-established norms.​
​Parry-Moore told Glacier Media her work is about more than practical solutions. She's looking to advance a "thought revolution" in the church.
"For many hundreds of years, we had the impression that we are here to have dominion over creation. And we see where that has gotten us," she said.
"We have plundered and taken from the Earth."
The reverend said alternative answers lie in the book of Genesis, a religious text Christianity shares with Judaism and Islam. The most cited reference describes humanity's relationship with the world around her as a "dominion" over nature, said Parry-Moore.
"The idea of domination has shown up in lots of places — colonization and the destruction of nature," she said. "We think it's our God-given right to do that."
But in another reference to nature, one Parry-Moore says is often ignored, humans are said to be in a relationship to "serve the Earth." She says many tend to conflate the two stories, even though they offer two different points of view.
"We're working on the second version of creation," she said.