At the sound of a flat six engine sparking to life, Lucky the beagle's ears perk up.
He scampers to the garage, barks at the door, demanding to be let in. Most dogs love going for a walk. Lucky likes to go for a drive.
On any given sunny day, January through December, you've got a decent chance of spotting Lucky perched in the back seat of Bill Pomeroy's 1963 Corvair. The car would be eye-catching by itself, deep red paint and a white exterior, open to the elements. A self-satisfied looking dog, perched in the backseat and basking in the scents of the world, just adds to the scene.
"Being a beagle, he's all about the smells," Pomeroy says. "For me, it's a total de-stresser. I just jump in, turn the music on, and go."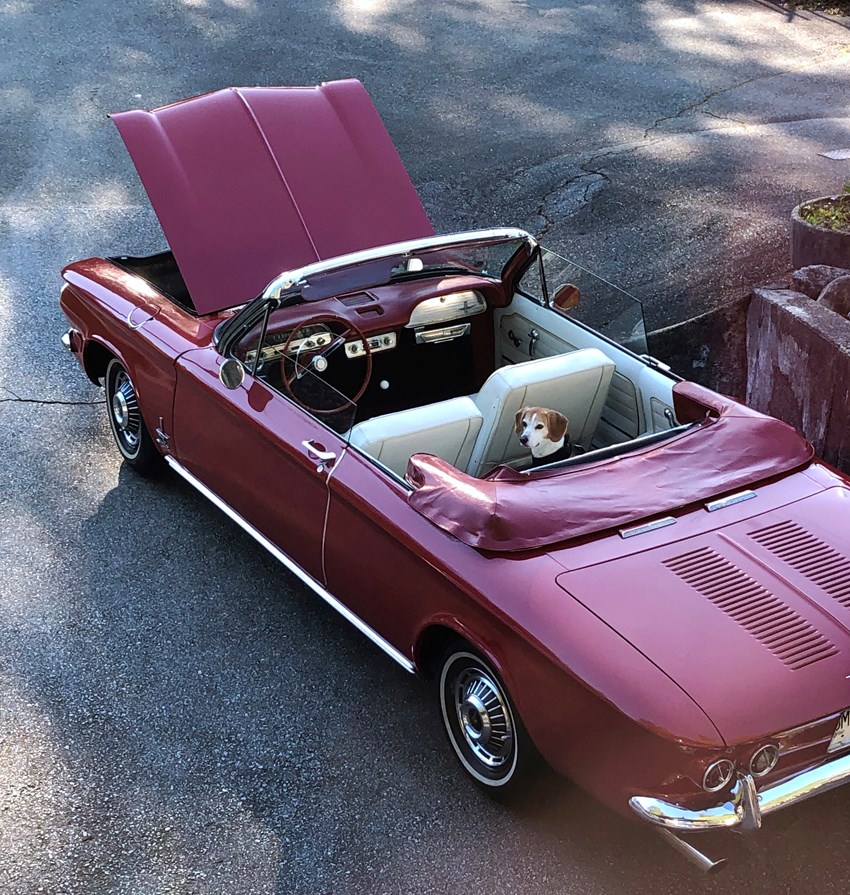 Pomeroy owns Artrageous Pictures and Framing over on St. Georges Avenue. A few years ago, with his two sons grown, he started looking for a classic car, something he'd dreamed about since he was a kid.
He wasn't looking for a potential wallet-crusher like a numbers-matching Shelby Mustang or rare air-cooled Porsche, but rather something accessible and fun. Maybe a Falcon or a Futura. But as he browsed through the auction sites, he kept noticing well-kept Corvairs going for reasonable prices.
"I remember asking, 'If I could have anything, what would I have?' The more I learned about the Corvair, it being the only rear-engined production American car, styled more like a European car, the more it interested me. It was the story behind it. There's nothing else like it."
The Corvair is perhaps one of the most unfairly maligned classic cars. The subject of Ralph Nader's book, Unsafe At Any Speed, it was criticized for its unstable handling.
In actuality, a Corvair with a proper anti-roll bar up front, and tire pressures correctly set, is not really any worse than any other contemporary car. Remember that expensive air-cooled Porsche 911 we just mentioned? Well, it's got the weight distribution of a rear-mounted engine and the handling compromises of a swing axle too. In the case of the Porsche, the handling quirks are part of the appeal.
Further, the Corvair is a pretty interesting machine. It was eventually outcompeted by the more conventional Ford Mustang, but its rear-engine 2.7-litre  flat-six is unique among domestic marques, and its styling is slimmer and more stylish than some other 1960s rivals. You also don't see too many of them around, whereas 1960s Mustangs and Camaros are much more common.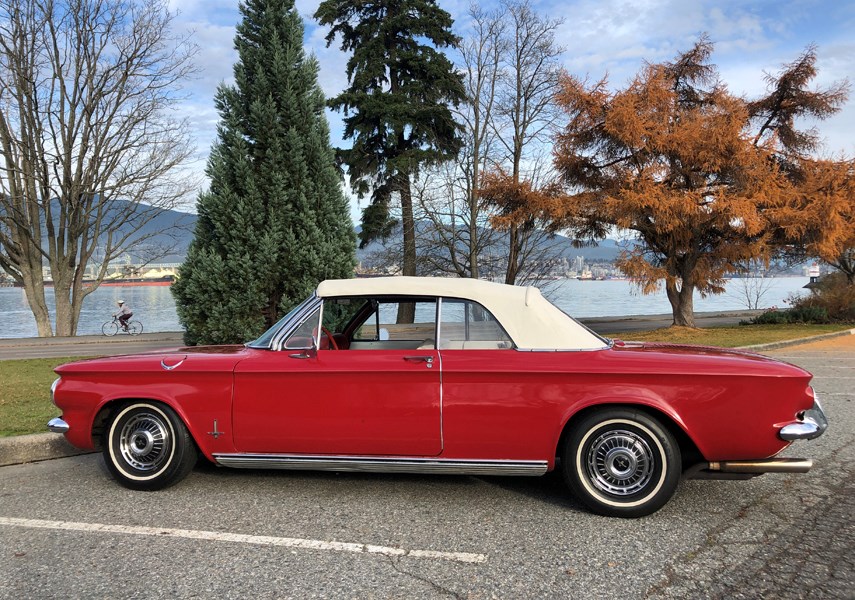 And perhaps the Corvair's reputation is a bit of a boon, as it has kept prices within the reach of ordinary enthusiasts. Pomeroy's 1963 convertible is a manual transmission model, originally sold out of Los Angeles. It spent most of its life in Palm Springs, and then was imported into North Vancouver about a decade ago.
"I'd been looking through the auctions, mostly in the U.S.," he says, "But then happened upon this one locally. I wasn't originally looking for a convertible, but it just felt like it was meant to be."
Pomeroy's car is largely original. "Everything is just as it was when the vehicle rolled off the assembly line," he says. He's gone over necessaries like the brakes and a bit of wiring, but the car has never been repainted or restored.
Best of all, because it's a relatively affordable classic, Pomeroy gets to actually use and enjoy his car. He talks about driving around Ambleside and rolling up next to the likes of a new Lamborghini at a stoplight.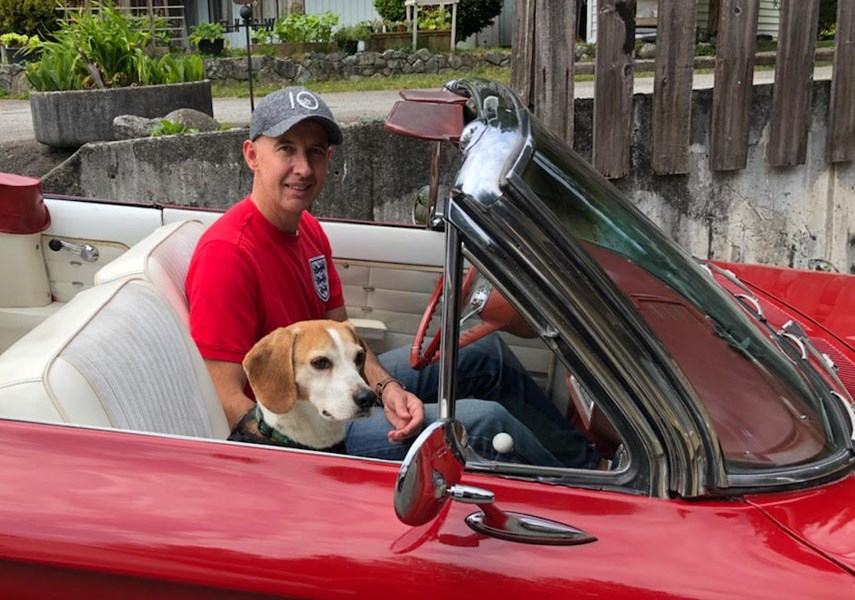 "It's funny that the guy with a car costing ten times as much is asking me about my car," he says with a chuckle.
"I'm not afraid to drive it," he adds, "I can go park it at Save-On, and while it would suck to come back to find a dent, it wouldn't be the end of the world."
Pomeroy drives his Corvair every couple of days, and says that he's had very few issues in the three years he's owned it. The car is happiest when it is kept moving, and so too is the owner. Today, especially, when bad news is on every screen, his Corvair provides a welcome escape.
"I'm following all the rules," he says, "It's almost the perfect isolation machine. I just go out for about twenty minutes or so and come back. It's so relaxing to drive. And I get to take my dog along too."
It sounds like just the right way to get through a tough time. Lucky owner. Lucky dog.
Longtime North Shore News auto columnist Brendan McAleer is killing time in the COVID era by connecting with classic car owners on the North Shore and sharing the stories of their babies. If you'd like to be featured, all makes and models welcome, contact Brendan at mcaleeronwheels@gmail.com.