Pity the poor Toyota Prius.
Once a groundbreaking vehicle with impeccable green credentials, its reputation has been overshadowed by the rise of all-electric vehicles. At the same time, increased customer interest in crossovers means that the Prius lost market share in the same way most hatchbacks have.
In order to broaden the interest in their Prius, Toyota has decided to give the little hybrid a bit of a boost. No, not in power output – that's not really in the Prius mission statement. Instead, the Prius now comes with optional all-wheel drive, for a bit more winter practicality.
And I do mean a bit. This all-wheel-drive system is only available at speeds below 70 kilometres per hour, and consists of an electric motor that produces around 7 horsepower. Not a typo: seven.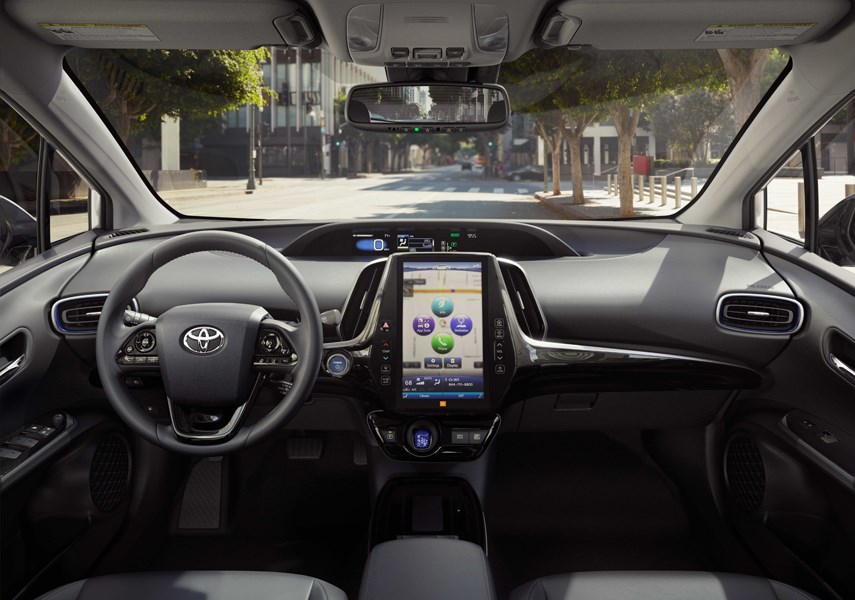 The question is, why would you bother with a system of such modest capability when you could just get a good set of snow tires instead? To find out, let's head out into our current wet and squishy winter conditions and see if this new all-wheel-drive system is going to give the Prius better traction among buyers.
Design
Never the most attractive car, various generations of the Prius have looked either bland or a little over-styled. This current model is a toned-down version of the latest generation's angular looks, and is still something of an acquired taste.
Having said that, there's no mistaking the Prius for any kind of other vehicle, and perhaps that's the point. It doesn't have a huge (fake) grille, like most of the rest of Toyota's model lineup, and doesn't appear aggressive in the least.
Yes, it looks a bit catfish-y, but at least the Prius is friendly. LED headlights keep the styling looking fresh, and the overall hatchback profile hints at the practicality contained therein.
Environment
Being a top of the range Technology-trim model ($33,450), this week's tester had a standout feature that immediately drew the eye. Dominating the dash, a huge touchscreen added a bit of Tesla-style futurism to the Prius' interior.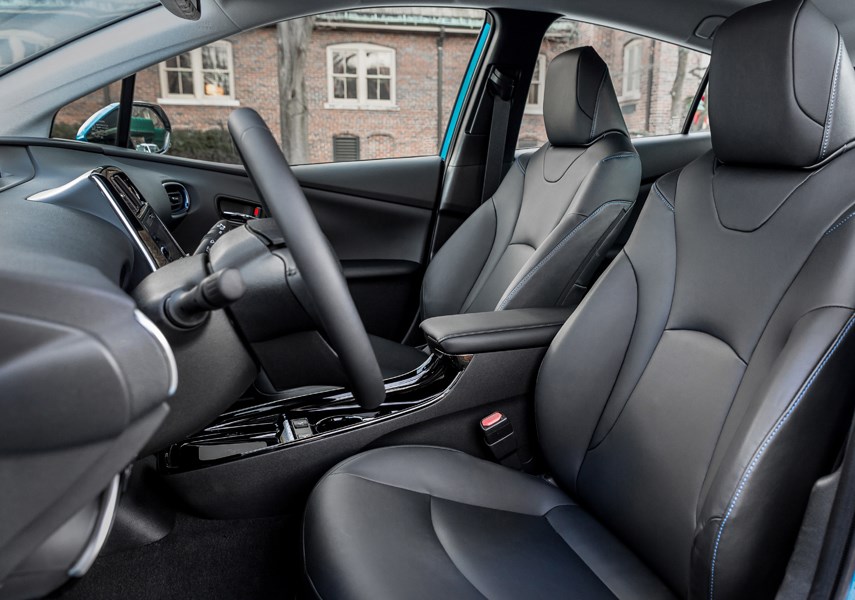 Well, sort of. The Toyota's screen isn't quite as tablet-like as you'd find in any Tesla. On the plus side, it's bright and easy to read, and feels like it should last, as you'd expect from any Toyota product.
Some changes to the interior trim make the Prius a little more conventional-looking inside, with no more white shiny plastic between the seats. Those seats are very comfortable, and the Prius continues to feel spacious and airy inside.
The seat coverings are synthetic leather, which will be hard-wearing if not quite luxurious. Combined with a large hatchback trunk, the Prius is still a great choice for pet owners.
The all-wheel-drive system might be modestly powered, but it is also so small that Toyota has been able to package it so as not to intrude on interior space. You get the same amount of room in an e-AWD Prius as you do in the standard car. That means 697 litres of space, plenty for most owners.
Performance
Because of the way electric motors stack with gasoline engines to produce power, the Prius e-AWD is no quicker than its normal sibling. With just 121 h.p. on tap, it's one of the slower cars out there.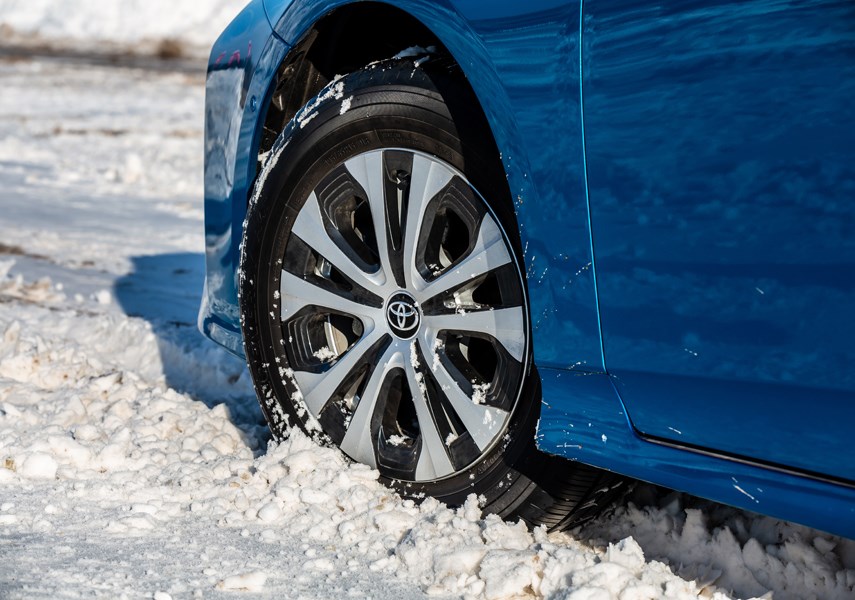 Still, the torque of the electric motors does mean that the Prius has some off-the-line scoot. And, with all-wheel drive helping you get all that twisting power to the tarmac, the e-AWD variant is at least nicely quick off the line in an urban environment. You might wish for a little more power when passing on the highway, but for around town it's just fine.
Don't expect any handling improvements from the all-wheel-drive system. More complex offerings elsewhere combine the torque-vectoring capability of electric motors to allow better turn-in, and a more nimble feel. The Prius e-AWD comes with better low-end off-the-line grip, and that's it.
However, handling prowess was never the point of the Prius, which remains a quiet, secure, and low-effort place to spend your commute. The little bit of extra low-speed grip is just a nice bit of added security. For the Technology models, the AWD system costs a paltry $500 extra, and barely affects the fuel economy.
Basically, this variant of Prius is the same recipe of fuel-savings without needing any special ownership requirements, just with a bit of added grip to get out of a slippery parking lot, or home during a freak snow storm. It's not ground-breaking technology by any means, but does make the Prius an even more sensible choice.
Features
The basic Prius e-AWD starts at $28,990, with heated seats, a 6.1-inch touchscreen, and 15-inch alloy wheels. Because Apple CarPlay is standard, you might not need anything else. The Technology package adds the bigger touchscreen, synthetic leather, and the nicety of a heated steering wheel.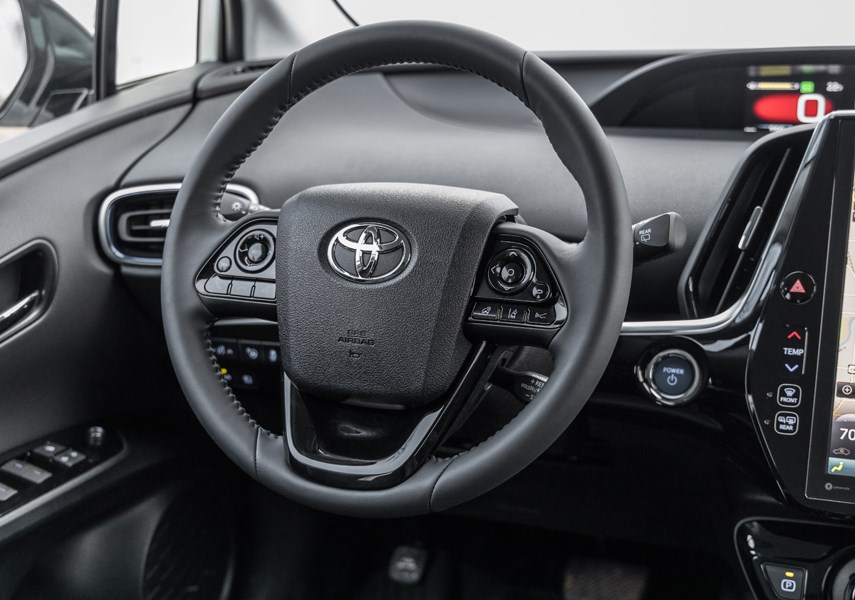 Fuel economy results, as you'd expect, are great. Official figures for the CVT model are 4.4 litres/100 kilometres in the city and 4.9 l/100 km on the highway. Even with the cold starts and slushy conditions, the Prius e-AWD returned a steady 5.0 l/100 km in mixed real-world use.
Green light
Practical hatchback; comfortable, roomy interior; easy to own.
Stop sign
Very basic AWD functions; large touchscreen more flash than function; still quite slow.
The checkered flag
The best all-round, all-weather Prius you can get.
Competition
Hyundai Konda Electric ($44,999): Here's the type of thing the Prius is up against. The Konda EV might be more expensive in terms of price tag, but big federal and provincial rebates shrink that gap to even-stevens.
Want something practical with a higher hip-point for ease of entry and better sightlines? The Kona EV is it.
Yes, owning an EV isn't as much of a no-brainer as a hybrid that you can refuel anywhere. However, the Kona's 415-km range is easily up to 90 per cent of commutes out there, and charging infrastructure is becoming more common. If anything, it's the lack of supply that's going to be the issue, not a lack of demand.
mcaleeronwheels@gmail.com