Let's say you go over to a friend's house, and there are scorch marks all over the kitchen. Why?
"Oh," he says, "That's my toaster. Italian. Catches on fire every so often, but it has so much soul."
Shrugging, you walk over to the fridge. There's a large pool of oil oozing out from underneath it.
"Yeah, that happens," says your friend. "It's British. Lots of character though. Hope you like warm beer."
Fridges and toasters are appliances that are expected to function without complaint every day. We don't want to have to think about them. For cars, on the other hand, being called an "appliance" is a bit of an insult. It implies that the car in question is incredibly boring. We want excitement!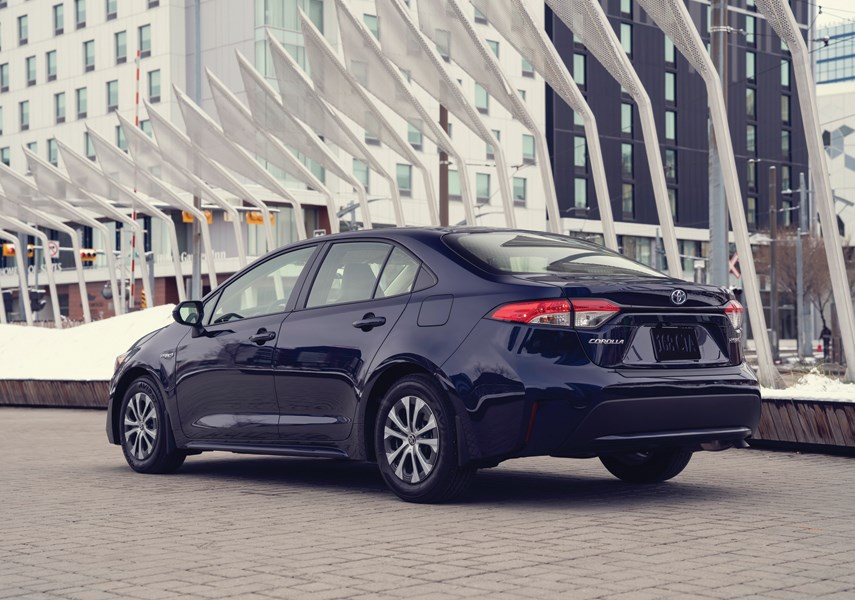 But perhaps you don't want burnt toast and slippers that smell faintly of 10W-40. Well good news, have I got the car for you!
It's the new Corolla Hybrid, and it is absolutely an appliance in every sense of the word. In this case, however, that's a good thing. This is a seriously impressive car, yet also one you won't have to think about much. Let's dive in.
Design
Somewhere over the past decade, Toyota seems to have become obsessed with festooning the front ends of their car with fake cooling vents. Seriously, there's more grille going on here than Bob's Discount Barbecue Warehouse and Hibachi Shack.
Still, the Corolla now gets some of the characteristics of the sporty hatchback variant that emerged a little earlier. The design is a little too busy to be cohesively attractive, but it is at least modern looking.
And it's a sight better than the Prius, which shares a very similar powertrain. The Corolla is the more conventional option, by dint of not looking like a Pokemon that's just been hit with a cartoon hammer. Let's call it acceptable.
Environment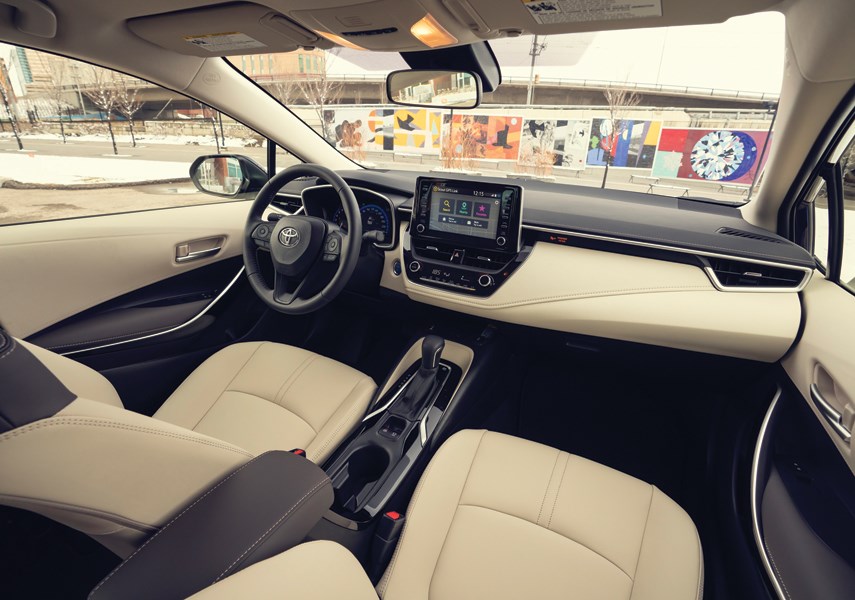 Better than acceptable is the Corolla Hybrid's interior, which is roomier than you'd expect, especially the back seat, and quite nicely finished. Nothing is a particular standout, but the seats are comfortable, and the quality of the material used is more mid-grade than compact car.
Compared to something like a Honda Civic, a little more cabin storage wouldn't go amiss. Toyota's crossovers have a surfeit of storage up front, and their smallest sedan could use a bit of that.
Trunk space, often a premium in a hybridized version of a conventional sedan, seems almost totally unaffected by the installation of a battery. Toyota's done well on packaging here.
However, the Corolla's biggest selling point, besides its spaciousness, is that it is extremely conventional. Again, this is a powertrain that's quite similar to that found in the Prius, but there's none of the oddness found there. You simply hop in, hit the starter button, and slot the shifter into drive.
Performance
First off, the bad news. The Corolla hybrid is quite slow. 0-100 kilometres per hour will take you more than 10 seconds, which is hardly invigorating.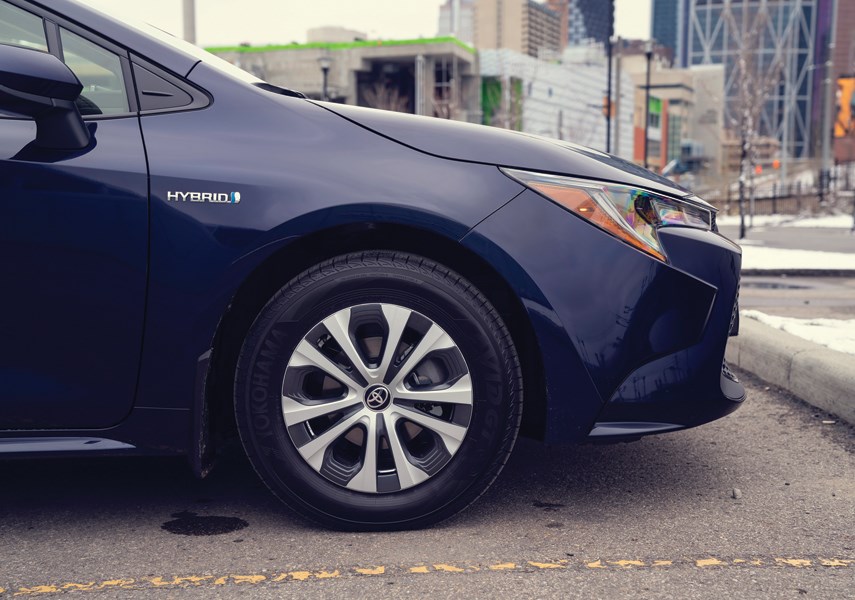 The 1.8-litre four-cylinder engine and two AC electric motors combine for a total of 121 horsepower and 105 foot-pounds of torque. At just under 1,400 kilograms, the Corolla's powertrain has a lot to move around.
The thing is, it never actually feels that slow. In a week of driving around the city, the Corolla Hybrid never inspired brisk performance, but it was also not quite what you'd call underpowered. The instant-on torque of the electric motor meant that it actually did well in traffic, and it handled acceptably.
What impressed was the way that the slightest lift off the throttle at highway speeds saw the engine shutting off and the car running in pure battery mode. No matter how or where I drove the Corolla it just continued to get excellent fuel economy.
All this with no need to treat in any differently from the conventional car. Gas prices dipped and soared, and the little Corolla just kept passing up gas stations. Based on observed mileage, well over 1,000 kilometres per tank on the highway is easily done. The one fly in the ointment is very grabby brakes that take time to get used to. Smooth operation comes with familiarity.
Features
At $24,790 to start, the Corolla Hybrid is priced sharply against even conventional sedans. My tester was equipped with a well-bundled premium package for an additional $2,000, which included everything from pseudo-leather seats to a heated steering wheel and wireless smartphone charger.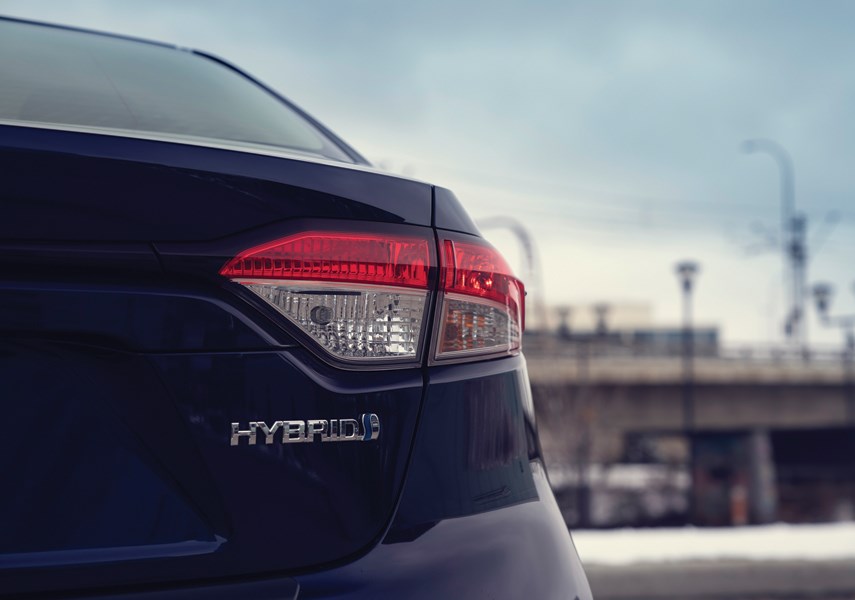 Fuel economy figures are of course better than most compact cars. Official figures are 4.4 litres/100 kilometres in the city and 4.5 l/100 km on the highway. In real-world driving, the Corolla returned 4.2 l/100 km consistently.
Green light
Excellent fuel economy; comfortable interior; conventional ownership experience.
Stop sign
Pretty slow; no plug-in variant.
The checkered flag
Easy to own and inexpensive to run, the Corolla Hybrid isn't terribly exciting to drive, but it just keeps working for you.
Competitor
Mazda3 sedan ($18,000): There's no hybrid version available, but the Mazda3's thrifty four-cylinder engine is still easy on your pocket. It's also considerably zippier to drive than the Corolla, both in terms of acceleration and handling.
Plus, just look at it. Mazda is putting out some of the best-looking conventional car styling these days, and their smallest sedan is flat-out great.
If you've got a lot of urban commuting to do, a hybrid is still your best bet. Otherwise, there are efficient choices out there with a little more personality to choose from, without the burnt toast.
mcaleeronwheels@gmail.com