We're used to the forest being squeezed.
Hemmed in by the limitations of the treeline and the ambitions of developers, our North Shore wooded places are often a bit like a tree sandwich.
Also, I'm pretty sure "having a tree sandwich" is what happens when you crash a downhill mountain bike in the forest. And yes, I'm sure it makes a sound.
Anyway, here's Subaru's new Forester, which is also feeling the squeeze. Below it is the new Crosstrek, a popular choice for smaller families or couples who like to be in the woods. Above it is the new Ascent, a three-row crossover with a powerful turbocharged engine that looks to take on the dominance of the likes of the Toyota Highlander and Honda Pilot.
That allows Subaru to lighten the Forester's load a little. No longer is there a turbocharged model, but things have been tweaked for a little more firmness. A host of practical considerations have been improved, and Subaru's camera-based Eyesight driver assist system is now standard on most models.
In short, the Forester is now a little more focused. Let's see how it works in our neck of the woods.
Design
In typical Subaru fashion, this all-new vehicle looks almost exactly like the old one. Probably the most recognizable difference is the new Sport trim, which features orange accents throughout. I'm not entirely convinced they work (it ends up making the Forester look a bit like a running shoe), but then again outdoorsy activities have always been about
bright colours.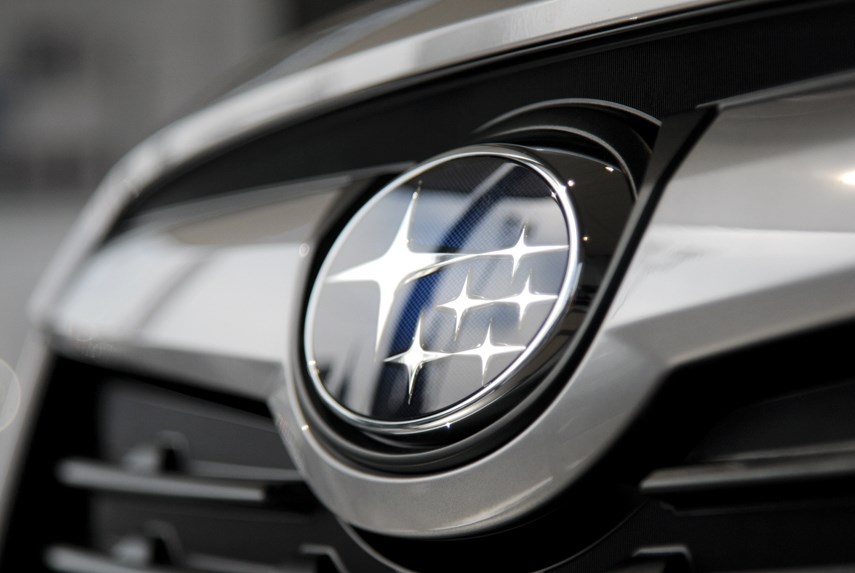 Other than that, the Forester is still the same sort of granola box it's always been. I think that's great: a boxy profile makes the most space from the available footprint, it's easy to see out of, and parking is easy when you know where the edges of the vehicle are.
The wheels on the Sport model are 18 inches and painted black, but note that 17-inch wheels will easily fit for winter tires. And, even though it's an all-wheel-drive Subaru, you do need proper snow tires for maximum safety.
Environment
Spacious and airy, the Forester's cabin is a pleasant place to be. The Premier version (a new trim level that sits above Limited) is pretty convincingly upscale, and nicer than you'd expect.
However, it's the mid-range trims that'll be of most interest to families. Happily, especially with the Sport, these are fitted with very durable looking fabric, and lots of rubbery plastic that should be easy to wipe down.
The beltline of the Forester is low, and the available power sunroof is enormous, which helps brighten things up a bit. Interior storage is good, with both rear seatbacks fitted with lots of pockets for books or tablets.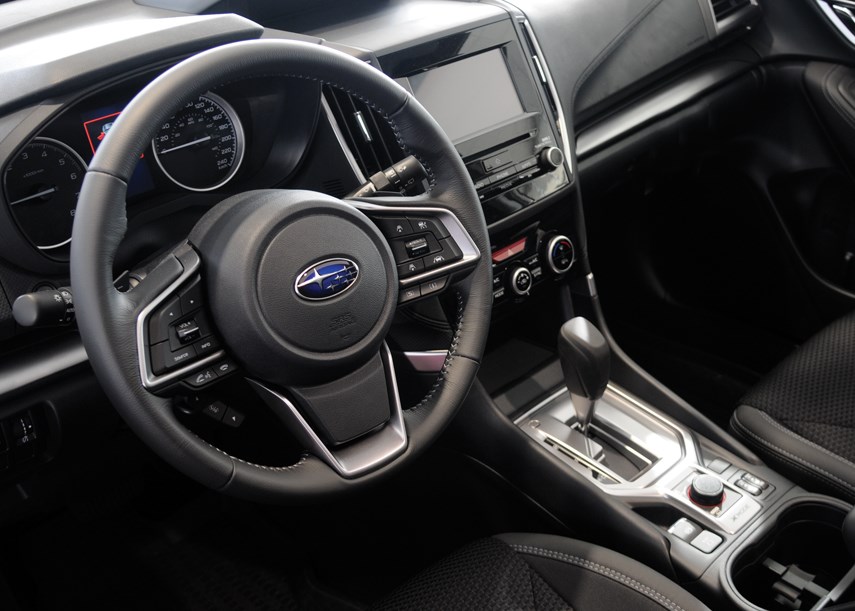 The rear seats aren't quite as supportive as the fronts, but are perfect for kids. Subaru has also fixed their Latch car seat attachments, which are now less likely to get crammed full of Cheerios and the like. The rear doors also open very wide, and there's a low, flat sill that's easy for smaller kids to scramble in and out of. However, these large doors are a little heavy for very young children to close by themselves.
The trunk features a huge opening, and Subaru's formerly very slow power tailgate is now about twice as fast. There's storage under the floor for the luggage cover when you're not using it.
Taken all together, the Forester is like the best kind of backpack: rugged where it counts, plenty of storage, sensibly organized. Now, let's see if it can hike without feeling out of breath.
Performance
Under that squarish hood is a new 2.5-litre flat-four engine that doesn't look much different than the old Forester's powerplant. However, the new four-cylinder is direct injected, so it has a little more power, and is a bit more efficient.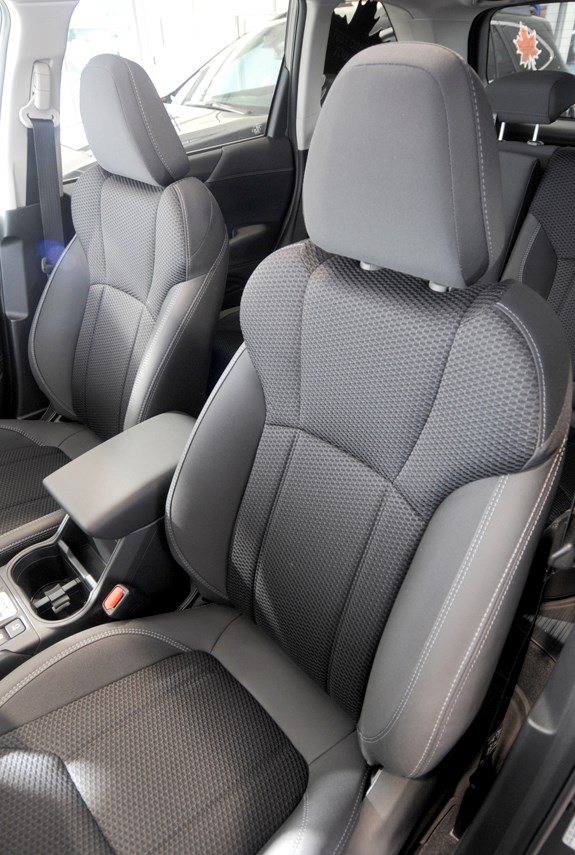 Total peak output is 182 horsepower at 5,200 r.p.m., with 176 foot-pounds of torque at 4,400 r.p.m. Both these figures are respectable, but not exactly breathtaking. It's a little irksome that there's no more Forester XT model, especially with the WRX sitting right there in the showroom. Canadians bought 15 per cent of our Foresters as turbocharged models, but in the U.S., the mix was only five per cent turbo'd. Thus, no more turbo for anyone.
Having lightly bemoaned the lack of turbocharged go, the Forester is actually perfectly fine without it. Some new programming for the continuously variable transmission (CVT) makes the most of the power on tap, and the Forester is easily able to get up to highway speeds and pass trucks when it needs to.
Even better, this new car is far more agile than the old one. It feels a little lower, corners a little more sharply, and is just a bit more fun. The old Forester was really only happy in the gravel, but all versions of this new model are happy on the curvy roads up the mountain.
And, for everyday use, the Forester remains much, much quieter than its early forebears. Subaru's reputation for good drivelines but rattly interiors seems to be a thing of the past, as the Forester is now both very surefooted off the road, but doesn't shake like a bunch of maracas on it.
Speaking of off-road, it's unlikely that most Foresters sold will ever be used to within a tenth of their potential in the dirt. There's a new two-mode terrain selection system, and while it's much simpler than the kind of thing you'd get in a Range Rover or Jeep, the Forester is legitimately capable.
Features
At $27,995 to start, and $39,495 for a fully-loaded model, the Forester is now a bit more narrowly priced as well. The Sport tested was a little over $35,000. Subaru's new infotainment system is standard on most models, and comes with Apple Carplay and Android Auto.
Fuel economy is pretty good, as you'd expect without a turbocharged version. Official figures are 9.0 litres/100 kilometres in the city and 7.2 l/100 km on the highway. Since it's naturally aspirated, the Forester does a good job of hitting its official targets.
Green light
Smooth and quiet; very practical; adequate power; top safety rating.
Stop sign
The choice of a turbo model would be nice; no more manual version.
The Checkered Flag
All the essentials that made the Forester a mainstay for Subaru, with a bit more polish for everyday life.
Competition
Honda CR-V ($27,290): Since the Forester's gone more mainstream, what better yardstick to compare it to than the most mainstream crossover out there: the CR-V. Long a favourite with Canadians, the new CR-V offers excellent traction, a flexible interior, and a small displacement turbocharged engine with decent torque.
However, if you want a little more rugged nature, the Subaru's still got a bit of an edge. Further, Subaru has long had very strong resale in the Canadian market, so there's little risk in going with the niche product.
mcaleeronwheels@gmail.com