Apparently, the Mitsubishi Outlander PHEV is the best-selling hybrid crossover in the world.
That's quite a feat for a company that has not been known for hybrids, let along PHEVs (plug-in hybrid electric vehicles) until quite recently. Since the release of the Outlander PHEV last December, more than 4,000 units have been sold in Canada.
Success of this particular vehicle has to do with the fact that there really aren't PHEVs in the affordable price range. The Germans are slowly introducing high-end PHEVs and of course we've had the Tesla Model X for some time, but Mitsubishi has the market cornered since there are very few choices in the SUV category for hybrids.
The Outlander PHEV is a blend of EV technology gleaned from models like the i-MiEV, Super All-Wheel Control taken from the Lancer Evolution, and the SUV capabilities borrowed from the Montero. Together, the Outlander PHEV is a triple threat providing a safe, sustainable and efficient SUV vehicle that is practical and affordable.
Design
The Mitsubishi Outlander PHEV is a solid-looking vehicle that is simple and sturdy. Some electric vehicles have opted for a more "futuristic" design, but the Outlander PHEV has stuck to a traditional and safe design, which isn't necessarily bad. It just doesn't look as trendy as say, the Tesla Model X, but the design has surprisingly aged well (basic body style has been carried over from the non hybrid Outlander).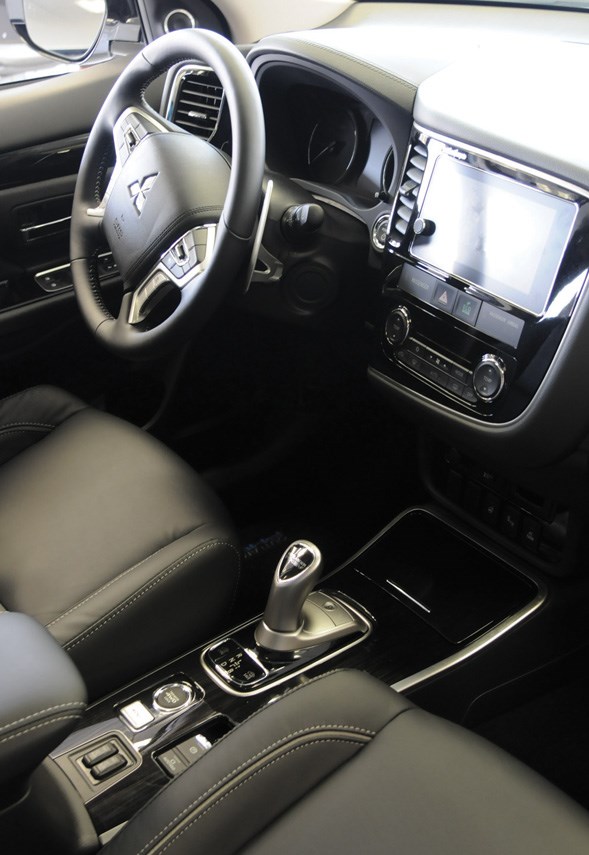 The interior is very comfortable and features premium leather seat surfaces, a seven-inch LCD screen and a delightfully quiet ride. Cargo capacity is a roomy 2,208 litres (78 cubic feet), and legroom is very generous. Again, the interior design is conservative and perhaps a tad outdated, but for some reason a lot of people seem to like the simpler design elements as not all people are in agreement with the iPad-like, button-less interior you see these days.
There are two 120V AC outlets within the Outlander PHEV to power your electronics. These outlets provide a full 1,500 watts of power and are strong enough to power just about any portable household appliance. This is useful if you are camping or tailgating (could power a coffee maker, speakers, grill, toaster, or even a television).
The safety features found within the Outlander PHEV are consistent with those found in new SUVs and include Blind Spot Warning, Rear Cross Traffic Alert, Forward Collision Mitigation, Lane Departure Warning and Automatic High Beams. Standard airbags include front, side and driver's knee for added security.
Performance
The 2018 Outlander PHEV is a vehicle made up of a 12 kWh lithium-ion battery, two separate electric motors and a 2.0-litre gasoline engine. The main electric motor provides 80 horsepower and 101 foot-pounds of torque, while the gas engine outputs 117 h.p. and 137 foot-pounds of torque. These two engines work together to drive the front wheels. The second electric motor is used to drive the rear wheels and provides another 80 h.p. and 144 foot-pounds of torque. The total net output by all three engines working in conjunction is roughly 200 h.p. and 250 foot-pounds of torque.
Fuel economy for the gasoline engine is 9.4/9.0/9.2 litres/100 kilometres, and for the electric engine usage dwindles down to an impressive 3.0/3.4/3.2 l/100 km for city/highway/combined.
Regenerative braking allows the Outlander PHEV to utilize energy that would be otherwise wasted. Paddle shifters on the steering wheel give the driver freedom to choose the level of regenerative braking they would prefer – from B0 (low engine braking) to B5 (very responsive).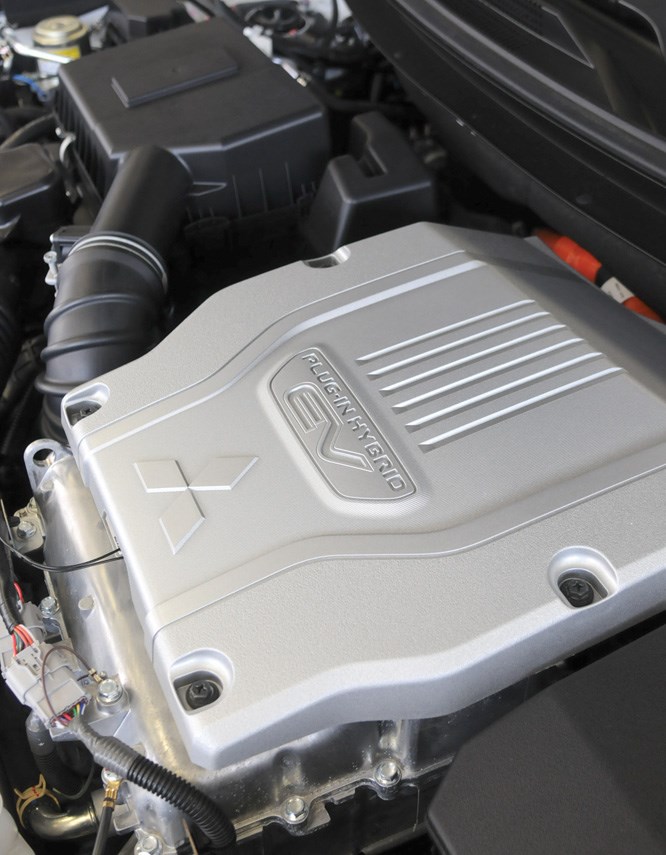 The battery itself can travel 35 kilometres on a full charge. A full recharge takes less than four hours using a 240-volt outlet, and if using an ordinary 120V AC outlet it is roughly eight hours. The Mitsubishi Outlander PHEV is currently the only plug-in hybrid in Canada that offers DC Fast charging. To give peace of mind, a 10-year, 160,000-km powertrain warranty is provided and includes the battery. For ease of use, the battery can be monitored using a phone app that will outline battery life and time needed to fully charge. The app can also pre-heat/cool the vehicle, indicate if anything is wrong and locate the vehicle using the lights.
Three driving options allow the driver to choose the most applicable mode. The default mode is EV, which is fully electric-powered. The next mode, Series, uses mainly electric power but uses gasoline to power the generator which feeds energy back into the electric battery. Thirdly, the Parallel mode predominantly uses the gasoline engine with assistance by the electric motor when extra power is needed.
While the technology is impressive, the vehicle does not "excite" the driver in terms of performance. In particular, the steering is somewhat numb (lacking road feedback) and the handling average. But since this SUV's primary mission is to maximize efficiency and practicality, lack of sportiness is completely understandable. The ride is smooth and refined, however, so the passengers can enjoy a comfortable environment that is also super quiet in comparison to normal gas-powered SUVs.
Summary
Competitors of the 2018 Outlander PHEV include the Toyota Prius Prime, Chevrolet Volt, Pacifica PHEV, and the Honda Clarity PHEV, to name some. So far in 2018, the Outlander has outperformed all the others and broken records not only in Canada but the rest of the world as well. To further sweeten the deal, residents of British Columbia, Ontario and Quebec can receive a rebate of between $2,500 and $4,000 for purchasing a hybrid vehicle in Canada.
If you are not in one of these provinces, Mitsubishi will also provide a $2,500 rebate to trim costs and incentivize purchases. For the base level SE trim, the 2018 Outlander PHEV starts at MSRP $42,998, and moves up to MSRP $49,998 for the GT trim. 
By 2020, Mitsubishi has set a goal to have 20 per cent of its sales as either plug-in hybrid or completely electric vehicles – a very ambitious goal indeed.
However, if the Outlander PHEV continues to sell well, Mitsubishi will have no problem meeting its goal.
editor@automotivepress.com