For the sixth consecutive year in a row, Mercedes-Benz has been Canada's top selling luxury manufacturer – clearly, they are doing something right as a new decade begins.
The A 250 4MATIC hatch is a vehicle that aims to draw in a younger audience with lots of technology and an affordable bottom line.
And surprisingly, this compact Mercedes offers features that were only available on high end cars just a few years ago. It delivers a lot of value for those who still want a European marque but also want to save some doe in today's challenging times.
Design
With AMG-influenced body styling, the Mercedes-Benz A 250 is sleek, thoroughly modern, and sporty. The hood is sloped with a "shark-nose" design which highlights its aggressive front end. A character line moves across the body to a dual-section rear bumper. The dynamic radiator grille is black and features a diamond pattern with the signature Mercedes-Benz insignia.
The interior cabin has a distinctly avante-garde look that makes competitors' cars appear very dated in comparison. Standard in the interior cabin is an illuminated entry system, outside temperature display, heated power side mirrors, heated front seats, keyless entry, four-way adjustable steering column, cruise control and three years of Mercedes me connect services. Two different types of front seats are available: a standard comfort seat or a sport seat (as part of the sports package).
The body of the A-Class is engineered to reduce noise and vibration to provide a better driving experience. The A 250 seats five passengers and the reasonably useable back seat features a rear centre armrest with dual cupholders. The cargo capacity ranges from 370 litres up to a maximum 1,210 litres with all seats folded down.
A WiFi hotspot is available but requires in-car data to be purchased. Apple Carplay and Android Auto are available but only with the purchase of the premium package. A seven-inch touchscreen centre media display is controlled by touch and features the Mercedes-Benz User Experience (MBUX) program. A Remote Start system via the Mercedes me mobile app will ensure you will always be able to start your vehicle, near or far.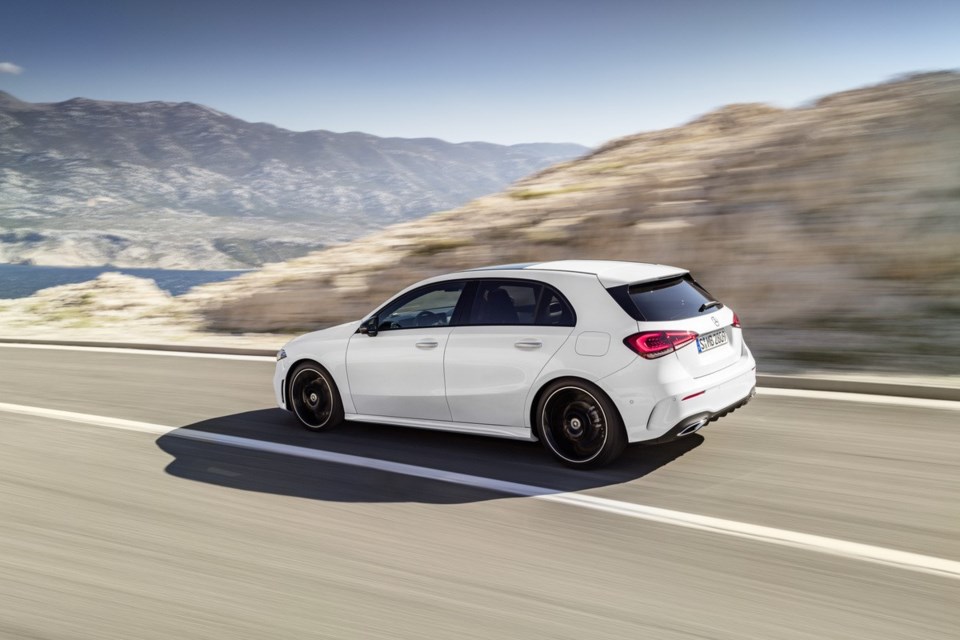 The Mercedes-Benz A 250 is full of safety features such as attention assist, active brake assist, auto-on rear-window wiper, rearview camera, LED taillights, seven air bags and an in-vehicle one-touch calling feature. However, if you wish to access items such as active distance, steering, blind spot, lane keeping and lane change assist, you will need to purchase the Intelligent Drive package for $1,900.
Performance
The engine is a 2.0-litre inline-four turbo and produces 221 horsepower and 258 foot-pounds of torque, paired with a 7G-DCT seven-speed dual-clutch automatic transmission. The A 250 can accelerate from 0 to 100 kilometres per hour in just 6.2 seconds – a shockingly impressive number for a small and affordable entry level car.
The A 250 comes standard with Mercedes' 4Matic all-wheel drive system, something that other automakers simply won't offer at this price range. A torque vectoring brake system is extremely responsive and quick. In the front, the suspension is a four-wheel independent MacPherson strut/wishbone type, and a multilink suspension in the rear.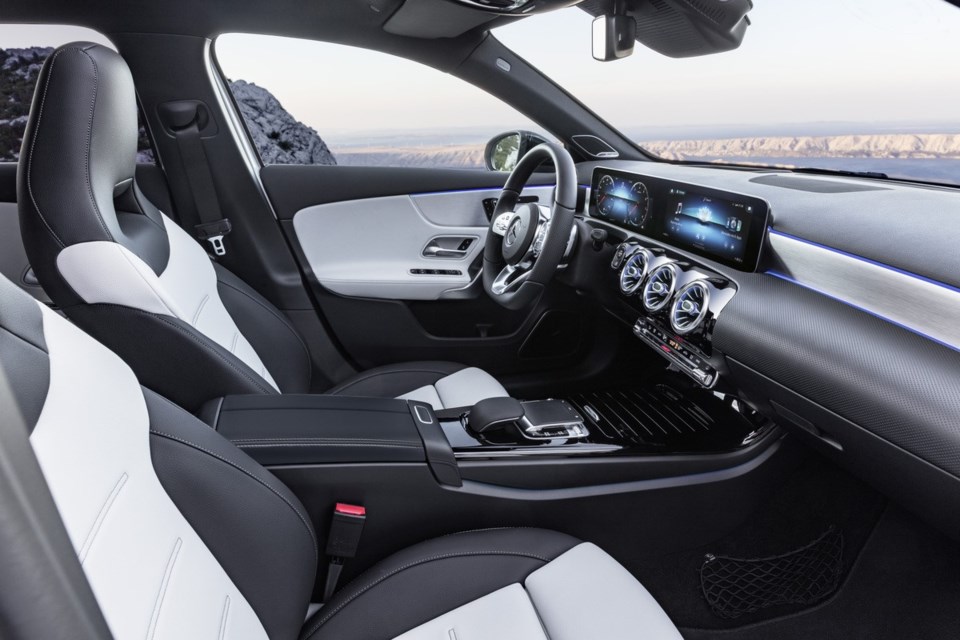 I can say with certainly that competitors – namely the VW Golf R, Audi A3 and BMW 2-Series – cannot match the level of features and performance of the A 250 hatch. The overall experience of the A 250 is a notch or two above cars in this price range, and the high tech features will keep you entertained for years to come.
The handling is fast and predictable, and the ride stiff but smooth. The VW Golf R or GTI is completely outdated in comparison (until the new one arrives shortly), and the Audi A3 doesn't even come in a hatchback form here in Canada. The BMW 2 Series is all new and beautiful to look at, but it's not as exciting to drive as the A 250. The Lexus UX perhaps is the closest competitor to the A 250, and it does offer hybrid as well – but the Mercedes is still the more fun vehicle to drive.
And if you demand even more performance, there is an AMG version with more than 300 h.p., although it costs substantially more.
Summary
Did you know that the hatchback version of the A 250 is not sold in the U.S., and it's unique to the Canadian market? And we still get the sedan version that's offered in the U.S. – so we get all of the models.
The base retails for $38,300 MSRP and as with other Mercedes-Benz vehicles there are plenty of options to add such as the sport package, a night package, and technology, premium, navigation, and intelligent drive packages. In any case, the A 250 is a unique-to-Canada model that provides a practical yet sporty driving experience with surprising amounts of performance and features. I think it's a winning combination.
Automotive journalist David Chao has been reviewing vehicles for the North Shore News since the early 1990s. editor@automotivepress.com