You might as well call it the Eh-Class.
Only available in Canada, the hatchback variant of the Mercedes-Benz A-Class is a small, premium car that takes over duties from the old B-Class, another car that only Canadians got.
Why does the silver star keep sending us its tiniest machines? Well, perhaps because we keep buying them. Canadians have a fondness for a decent small car. We don't always need to buy something large and pretentious, we just want the goodies in a smaller footprint.
Thus, while the U.S. market gets an A-Class sedan, they don't get the hatchback like we do. It's not inexpensive, at $37,990 to start, but it is the least expensive Mercedes-Benz you can buy. If you look at the spec list, it's also not quite the sort of thing you'd expect from Mercedes-Benz, being a front-wheel-drive-biased hatchback.
So let's have a look to see if the A250 is actually properly designed for Canada. Release the Canadian geese!
Design
The first piece of news that won't delight every B-Class buyer is that this new car is a proper small hatchback. The B-Class rode high, and was a convenient city runabout for people who didn't want
a crossover.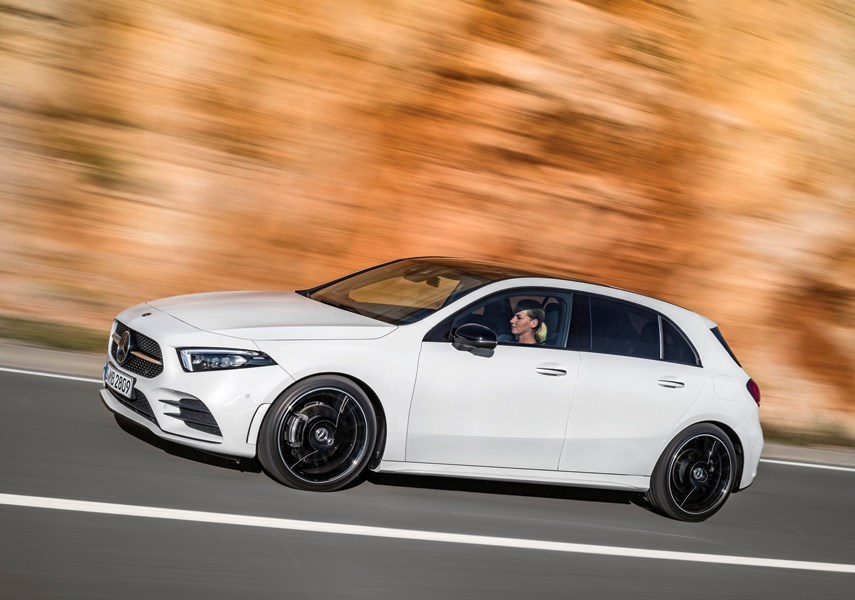 The A-Class is more a competitor to the VW Golf. On that note, it does pretty well, although it can be anonymous in one of the neutral colours it comes in. It's not bad looking at all, but doesn't really look like it should cost as much as it does.
If you're looking to get into a Mercedes product because you like the available technology, but don't want to be seen as showing off, that's mostly a good thing. It's less of a good thing that the A250 comes with Mercedes-symbol puddle lights that beam a silver star onto the ground every time you get out of the car.
Environment
Easily the best thing about the A250 is its interior, which is essentially a scaled-down version of the one you get in the E-Class. A broad digital instrument display handles the functionality; the quality and fitment of everything are top-notch; and it's easy to forget you're in a little hatchback instead of a luxury car.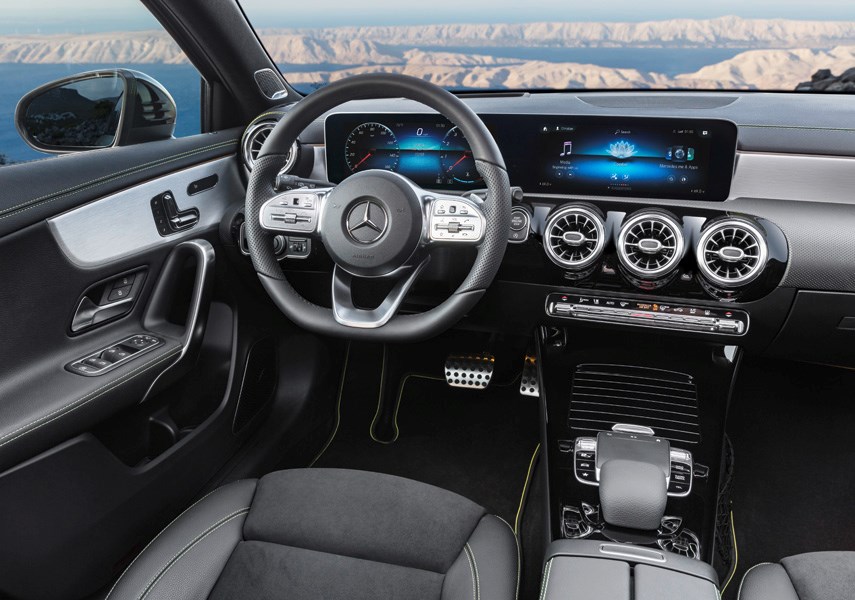 There are plenty of buttons as a backup to the touchscreen interface, but expect to use the voice commands the most, as those buttons can be a bit hard to read. It's particularly annoying that the silver script on the steering wheel controls is hard to understand at a glance.
Having said that, the A250 is a very upscale place to be, particularly at night, when it lights up with interesting accents. The seats are comfortable, the trunk space is reasonable, and if it's a little smaller in here than in a Golf, it's still a very livable machine for day-to-day commuting.
The C-Class is more an entry-level into Mercedes ownership for those looking for prestige. This is more a smaller serving of urban commuter for people who already enjoy the Mercedes-Benz environment.
Performance
Under its hood, the A250 gets a 2.0-litre turbocharged four-cylinder engine that makes 221 horsepower, essentially the same as a Golf GTI. Like the VW, it's a punchy little engine, more than you need for zipping around town.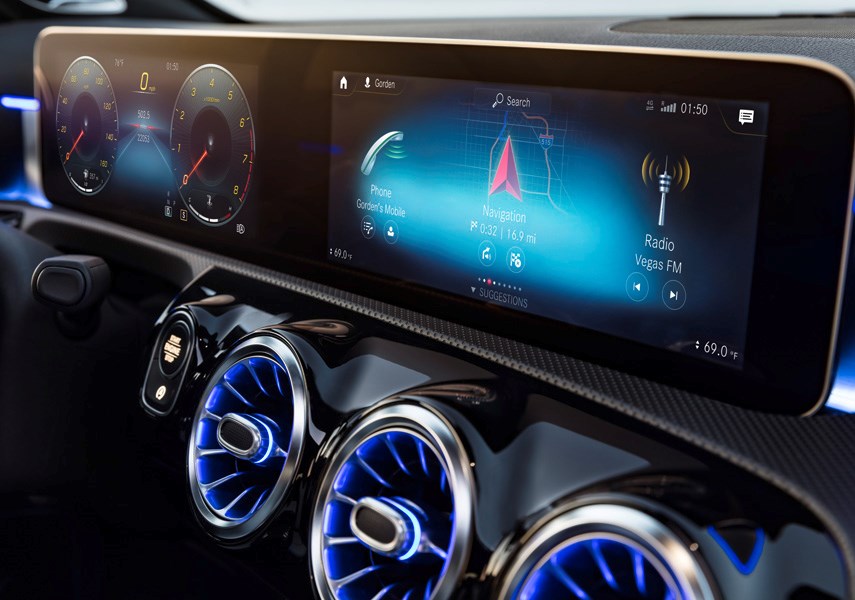 Further, unlike the Golf, the A250 comes with all-wheel drive as standard to keep the power down. A seven-speed dual-clutch transmission is quick-shifting and sporty, adding to the fun overall feel of the car.
The A250 drives a little smaller and nimbler than the GTI, with a slipperier shape and a more driver-focused cockpit. It's surprisingly energetic for a Mercedes product, and the eventual AMG variant we're getting in Canada should be really hot stuff indeed.
Overall though, the ride is excellent, the all-wheel drive sure-footed, and the turbocharged engine punchy. This is a great little city runabout with the interior of a much more high-falutin' luxury car. If you're downsizing from a conventional Mercedes crossover or sedan, you won't miss the exterior size.
Features
You pay a little extra for the A250's wide touchscreen dashboard, but it's well worth it. Other features bundled with the broad screen include blind spot monitoring and selectable interior lighting. This last sounds not worth the money, but it's really pretty neat.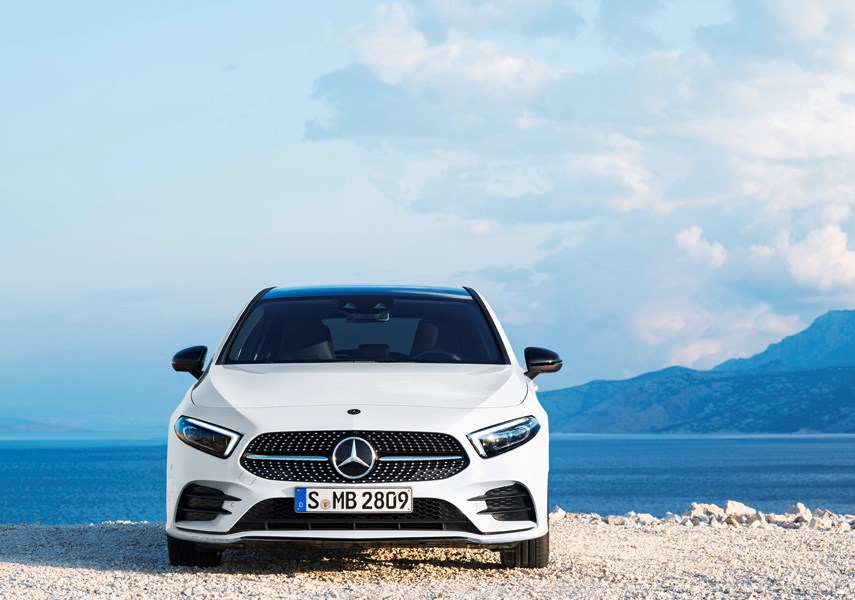 Fuel economy figures are of course better than many crossovers, or other premium cars. Official figures are 9.4 litres/100 kilometres in the city and 6.8 l/100 km on the highway.
Green light
Zippy and nimble; punchy turbocharged engine; upscale interior.
Stop sign
Still pretty expensive; lacks the high ride height of the B-Class; rear seats are a bit cramped.
The checkered flag
Despite the Mercedes badge up front, the A250 is a perfect little city commuter. And, because it does come with a Mercedes badge, it's a cut above in terms of interior design and comfort. The best of both worlds for busy streets.
Competition
VW Golf GTI ($30,845): I've mentioned it a few times in comparison – so why not simply go for the GTI? It's a known commodity, with good resale and an engaging drive. Plus it's just that little bit larger and more practical.
However, the GTI can't hold a candle to the Mercedes in terms of interior design. The M-B is just that much more cutting edge, and a more luxurious place to be.
You'll have to wait for the eighth-generation Golf for VW to catch up. Until then, the A-Class is the one getting top marks.
mcaleeronwheels@gmail.com