Volkswagen made a real mess of the diesel market with their emissions cheating scandal. Everybody wondered how they could manage to get the results they did without additives, while other manufacturers like Mazda had to take their time getting to market.
Well now we know. Happily, where VW has dropped the ball, Mazda is now free to run it in for a touchdown. Their new Skyactiv-D powertrain is here to offer a compelling alternative to the TDI-powered VW Sportwagen that you're considering replacing.
The CX-5 is already a favourite in the market, as it has all the features of a family friendly crossover, while also being great to look at and fun to drive. The question here is whether or not Mazda has managed to make a compelling case for sticking with a diesel, or just making the switch back to a regular ol' gasoline-powered car.
Design
First, the good stuff about the CX-5 in general. Especially when finished in the lustrous Soul Red, this is a pretty great-looking crossover that doesn't look bulky. In a world of huge and aggressive grilles, Mazda has managed to get a bit of flow into the CX-5's shape without overdoing it.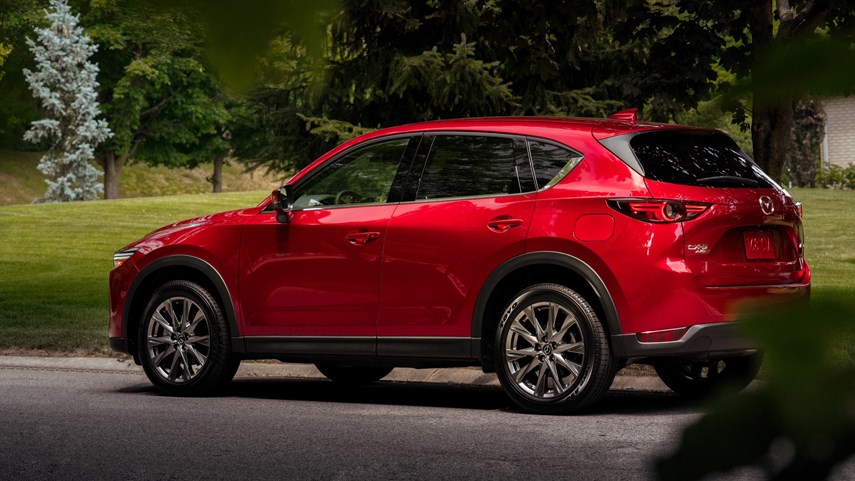 Still, I wouldn't mind if they brought over their Mazda6 wagon: that thing's stunning. Here, the high-riding crossover treatment does stretch things out a little. Still, the recently updated headlight and taillight treatment have kept things looking fresh.
As the diesel option comes on the Signature trim, that means 19-inch wheels that looks great, but will be costly when replacing tires. You can fit a smaller rim on for your winter tire set.
Environment
Mazda has done a great job overall of streamlining their interiors to look a great deal more upscale than you'd expect. Other marques can tend towards cheaper plastics, whereas the CX-5's interior is genuinely approaching premium grade.
In fact, it's nicer than some of the stuff you get when you've leased a low-end "entry-level luxury" vehicle. Quality and finish are excellent.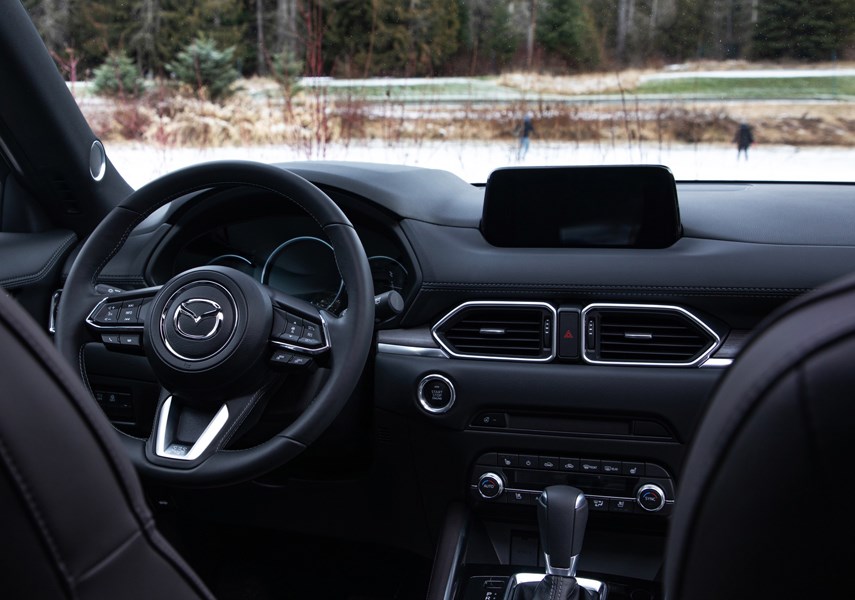 However, there are a few quirks. If this is intended as a family crossover, the CX-5 has let style get in the way of some practicality. Smaller children will have trouble clambering in and out of the rear seats (the grab handles are a bit high), and the lack of a touchscreen goes against what the rest of the market is doing.
But stay with it. In a market where big, distracting screens are beginning to dominate, Mazda's minimalist approach is laudable. It takes a little more time to learn the controls, but can then be used without glancing down.
And it's a very comfortable car to drive. You get a bit of clatter from the diesel on start up, but the cabin is otherwise hushed and comfortable.
Performance
Diesel means torque, and the so-equipped CX-5 has plenty of it. Horsepower is only 168, less than the turbocharged 2.5-litre gasoline engine, but you get a stout 290 foot-pounds of torque at just 2,000 r.p.m. from the 2.2-litre turbodiesel.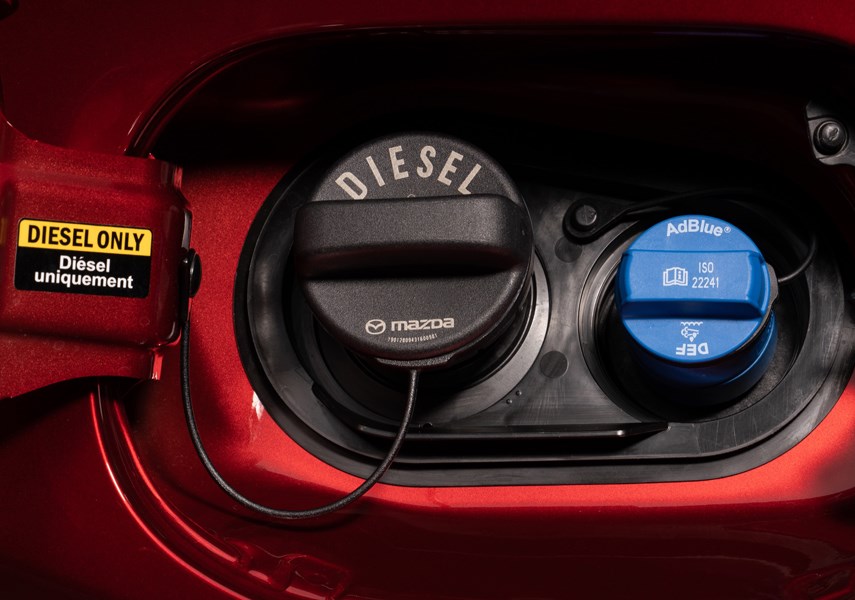 That gives the CX-5 an effortless feel when accelerating. You don't need to mash the throttle on an onramp, you just roll into it, and gather steam. It's very relaxing.
In a well-equipped car like this, diesel torque feels like a luxury feature. Mazda has weighted the steering a little too much for the CX-5 to be completely relaxing – the overall drive is a sort of blend between sporty and laid-back – but it does feel more substantial than an obvious choice like a Honda CR-V.
Handling is about as good as you're going to find from a non-Porsche crossover. Mazda's torque-vectoring and all-wheel drive work together to make the CX-5 a genuinely engaging vehicle to drive, and the instantly available diesel torque combine for good fun.
If you're a former VW owner that was left a big cold by the usually numb handling characteristics from something like a Toyota product, the CX-5 diesel feels just that bit more substantial.
Having said that, the diesel is a $5,000 premium over the regular CX-5, which is also no slouch. Whether or not the premium is worth it comes down to fuel economy and towing.
Features
At $46,400, the Signature trim-level tester I had for the week had a premium price to go with its premium feel. The only options, as mentioned, were $5,000 for the diesel, and $450 for the paint. The latter is worth it. As for the former, that's a maybe.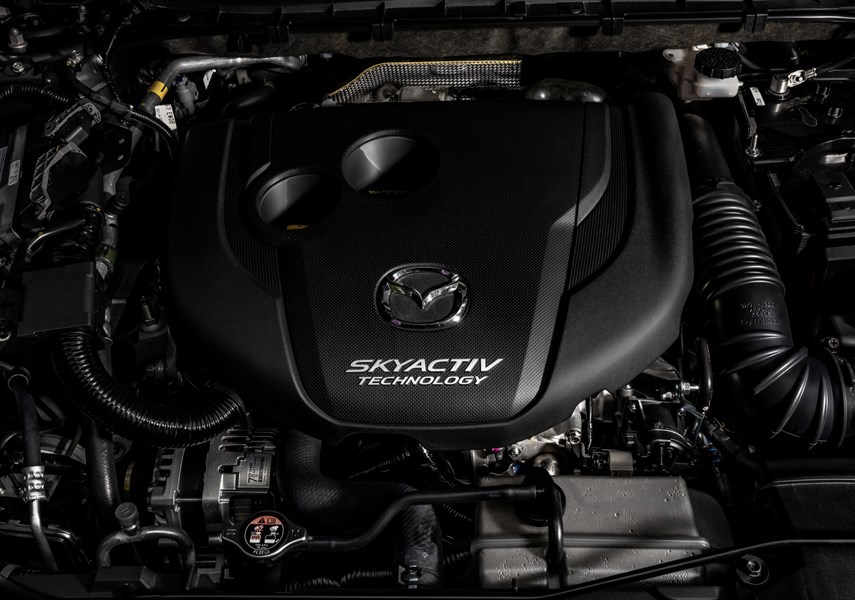 Fuel economy figures are better than the regular CX-5, but not jaw-dropping. Official figures are 8.9 litres/100 kilometres in the city and 7.9 l/100 km on the highway.
However, in real-world highway driving, the CX-5 beat the pants off its rating, clocking in the low sevens easily. If you have a vacation property in Whistler, this is the way to get there. It'll also tow 1,586 kilograms – 600 kg more than the regular CX-5.
That's really where the CX-5 diesel makes sense. It's the ideal replacement vehicle for a really well-optioned VW diesel wagon: something different from a standard crossover, but not with a showy badge on it. It's not for everyone, but it will really please those who own it.
Green light
Excellent fuel economy; comfortable interior; sharp handling; effortless on the highway.
Stop sign
Expensive; could use a bit more interior practicality.
The checkered flag
Premium-priced, but with a premium feel, Mazda pitches the CX-5 diesel as a luxury product. For the most part, they're right.
Competition
RAV4 Prime ($TBD): Announced at this year's Los Angeles Auto Show, the new RAV4 Prime is a different kind of alternative powertrain: a plug-in hybrid. This one's going to be popular on the North Shore, with our generally short-range commutes, and should arrive in the middle of next year.
The best part? More than 300 horsepower. I wasn't expecting that from a RAV4, and I bet you weren't either. With electric torque, the RAV4 should be great to drive, and boxily practical. 
mcaleeronwheels@gmail.com