Are you not entertained?
Forgive me, as everyone is making this joke, but owning a vehicle like the Jeep Wrangler Gladiator is like making friends with Russell Crowe. It's fun! And also potentially pretty uncomfortable.
The Gladiator is a new pickup truck version of the Jeep Wrangler, a rough and tumble truck that'll take on anything you throw at it. The Wrangler is very popular, more than you'd expect from its driving experience, which is a little agricultural.
But really, that's the charm of the Wrangler. Just as a sports car places you on the road with driving feel, more so than some isolating crossover, the Wrangler is very much a unique driving experience. Until the Ford Bronco or reborn Land Rover Defender arrive, nothing else offers the bouncy, jouncy, I'm-on-a-Safari experience that the Wrangler does.
And now you can have that expedition-grade drive in a useful pickup truck form. It's endless fun – with one rather large fly in the ointment. Let's grab our swords and sandals and get ready to Gladiator.
Design
Fitted with chunky off-road tires and classic bug-eyed looks, the Wrangler is one of the most honest-looking vehicles on the road today. It's boxy and old-fashioned, with exposed hood latches and door hinges, but that's part of the charm.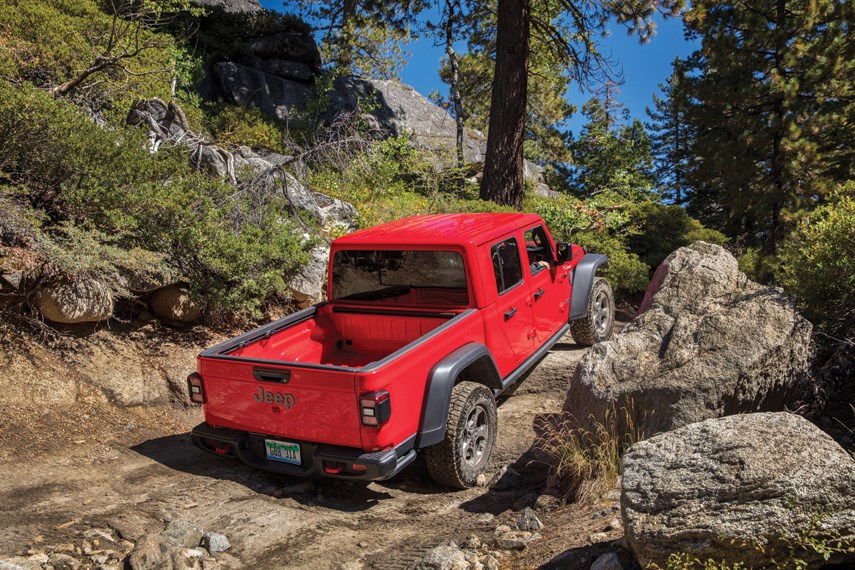 Basically, this thing is a Mercedes G-Class pickup truck for people who don't have the deep pockets necessary to drop six figures on an off-road plaything. Speaking personally, I love it. It's like a Tonka toy for your driveway.
All the doors come off, which is of questionable legality on our roads. More usefully, the roof panels are removable in fairly short order, which makes the Gladiator not just an off-road Jeep and a pickup truck, but a fun family four-seater convertible.
I'm struggling to think of a vehicle that is more faithful to its enthusiast-owner base. This and a Mazda MX-5 would pretty much be the perfect two-car garage.
Environment
My tester was a Rubicon-grade machine, and that meant it was pretty inconvenient for loading kids in and out. The Gladiator rides high, and without step rails can be a bit of a climb for grade-school kids.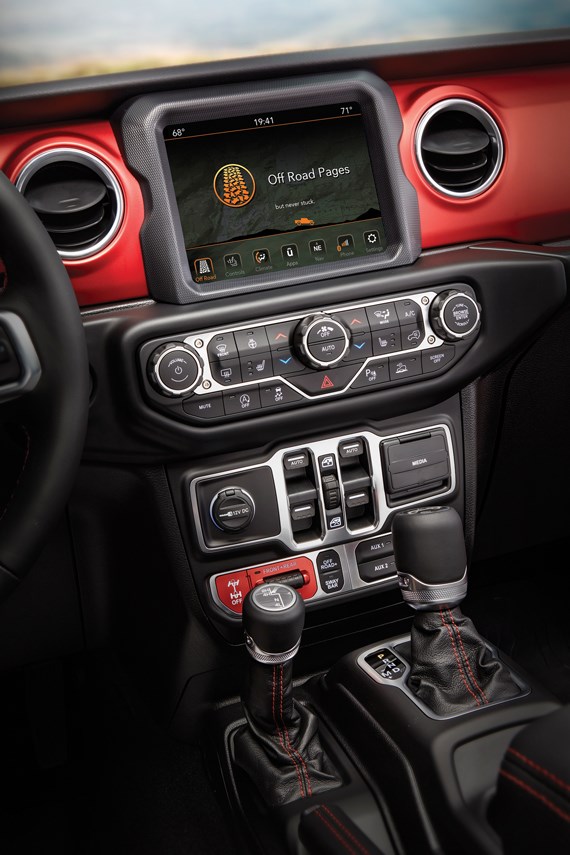 Once inside, everything is rugged and filled with cutesy Easter eggs. Start up the truck, for instance, and a little digital Jeep drives across your instrument cluster.
All the chunky knobs and switches are likable, and the actual infotainment itself works quite well. Fiat Chrysler has been ahead of the curve on its technology for some time, as it's quite intuitive.
Having said that, the Gladiator is still a Wrangler, and that means limited space inside, and a very utilitarian layout. Do not expect to feel like you're in a Range Rover.
For such a large vehicle, overall cabin room is a little small. Basically, all the best and worst qualities of the Wrangler are carried over here.
Performance
At 480 millimetres longer than the standard Wrangler, the Gladiator pickup wanders less on the road, rides a little more smooth and stable, and of course has that useful five-foot-long box. It's still far busier on the move than any crossover.
Do not expect a car-like ride. Every time you're behind the wheel of this thing, it's a bit like you're taking a Second World War ambulance to the front.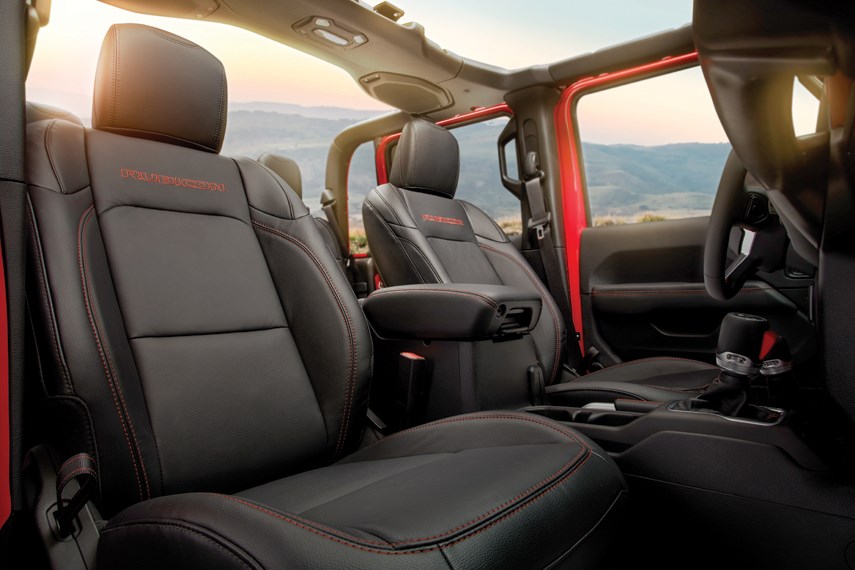 But precisely because of this tendency to require constant course corrections, the Gladiator is about as much fun as your first Power Wheels. It needs you to pay attention, and always feels like you're setting out on some grand adventure – even when you're only headed out to buy Cheerios.
The 3.6-litre, 285 horsepower V-6 can be optioned with a six-speed manual transmission, or the far more common eight speed automatic. For such a large and heavy machine, the Gladiator really scoots up to speed on highway onramps.
However, once you're on the move, the simple, twin-live-axle suspension and general tendency to need steering inputs constantly will have you driving a little slower. That's a good thing. Unlike most vehicles today, the Gladiator requires you to pay a little more attention to the task at hand.
Because of the added wheelbase, it's far more comfortable, and a little less demanding than any other Wrangler. Compared to the Toyota Tacoma or even the Ford Ranger, the Gladiator would work as a comfortable every-day vehicle.
Yet every time you get in it, there's a feeling of something special. This is an incredibly capable off-road machine, with locking differentials and push-button auxiliary inputs for extra lights or a winch. There are few places in B.C. you couldn't get to with a Gladiator.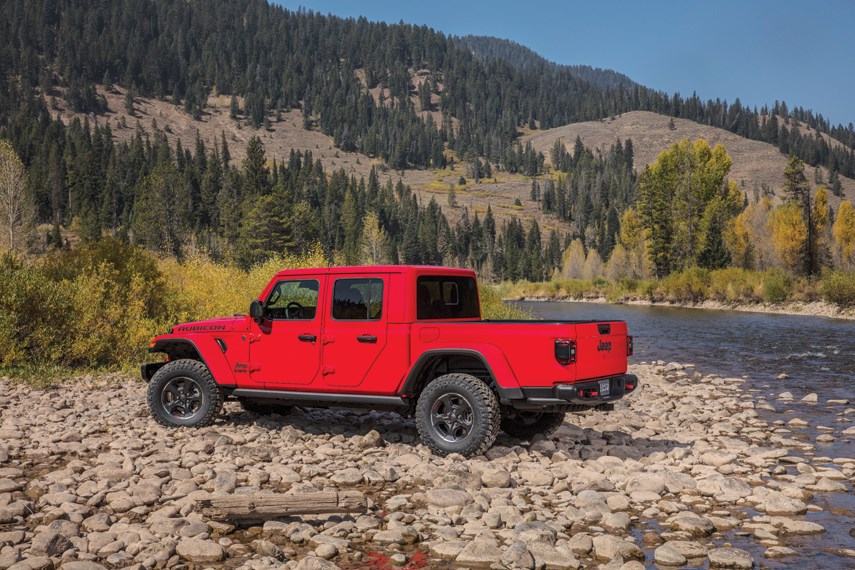 That pent-up off-road potential, ready for your weekend spent mountain biking or camping in the backwoods, is part of the average Wrangler's appeal. In the Gladiator, you've also got a much more livable ride and handling experience to go with it. Not to mention, a useful pickup bed for DIY stuff around the house.
Features
The only real major sticking point on the Gladiator is its price. Things start at $46,995, and the Rubicon I tested was over $60,000. That's a lot for a Jeep, but considering the only really comparative options are high-dollar German machines, perhaps it's not so bad.
Fuel economy figures are not amazing, given the barn-door aerodynamics. Official figures are 14.3 litres/100 kilometres in the city and 10.4 l/100 km on the highway. We might soon get a diesel-power variant, which would be great for people who go up-country more often.
Green light
Fun to drive; excellent off-road prowess; functional utility.
Stop sign
Agricultural on the road; expensive; prone to rattles.
The checkered flag
More fun and honest than any crossover, useful as a pickup truck, and makes you feel like every drive is an adventure.
Competition
Toyota Tacoma TRD Pro ($37,450): I've put the entry price on a Tacoma down, but a TRD version with similar off-road chops to the Jeep clocks in at a very similar $55,000. Get the blue one if you go this route, it looks great.
Compared to the Jeep, the Tacoma has a little more cramped cabin, but functions better as a pickup truck. The Jeep has the edge in off-roading, but both are very capable for how most users might actually get them dirty. The Tacoma also has a very strong resale value.
Overall, though, the Gladiator is just that little bit more livable on the tarmac, with better acceleration and a much better infotainment system. Expect to see both of them at your local trailhead.
mcaleeronwheels@gmail.com