Jaguar's first entry into the pure electric car market is a significant and important milestone – not just for Jaguar Land Rover as a company, but also for the industry that's emerging and impacting the world around us.
And Jaguar's new I-Pace (Jaguar branding spells it all caps: I-PACE) is a surprisingly good vehicle that will make potential Tesla buyers think twice about whether to go with an electric-only Tesla brand or migrate over to an established European brand.
The 2020 Jaguar I-Pace is a vehicle with a craftsman's touch for the digital age. Jaguar's first all-electric vehicle is being closely compared to the Tesla Model X, but it is more similar in styling and interior architecture to the Model S. Regardless, at about $90,000, the I-Pace is actually a bargain in comparison to the Model X.
Design
Tesla's Model S is a particularly good looking vehicle, so it's a hard act to follow for any companies trying to muscle into their territory – but the Jaguar has done a tremendous job with a design that is distinctively Jaguar but also thoroughly modern and beautiful.
Jaguar's iconic signature rear haunches are reflected in the I-Pace's exterior design and it also helps with the vehicle's drag coefficient to extend the driving range. Active Vanes open and close when required to cool down the internal batteries, and an Eco driving mode helps increase efficiency during longer range driving. Subtle changes can then be made by the vehicle to the cooling and heating systems and other features to increase energy usage.
As with any electric vehicle, the Jaguar I-Pace is both quiet in function and form. The front windows are sound-laminated and motor-dampening features minimize noise from entering the cabin. The result is a car that is extremely quiet, save the "built-in" sound designed to let passersby know that the electric car is coming through.
Ample space inside the interior cabin is achieved partly due to the ingenious use of axle-mounted electric motors and single speed concentric transmissions. Without a conventional transmission, an additional 10.5-litre storage bin is provided under the centre armrests. The rear cargo area boasts 1,435 litres of capacity and the front hood storage has an additional 27 litres. With the removal of a forward engine, the front seats have been placed farther forward which allows more comfort for rear passengers. Luxurious finishing touches have been thoughtfully placed throughout the interior to remind you that you are – first and foremost – driving a luxury Jaguar vehicle.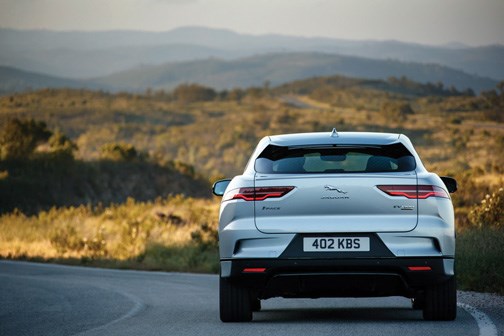 Beneath the "floating" centre console are two USB ports for charging your devices as well as a 12-volt power socket. A panoramic glass roof stretches across the full length of the Jaguar I-Pace, tinted to protect heat and UV light from entering, while simultaneously bathing the interior with natural light.
At the cusp of the newest technology, the Jaguar I-Pace strives to seamlessly connect the vehicle to the driver, their smartphone, and the outside world. This includes Jaguar's InControl technology, Connect Pro, Pro Services, Remote, and a Smartphone Package to name a few. The optional Activity Key feature is a wristband that you can wear in lieu of carrying a key fob. It is waterproof and you only need to touch it against the red Jaguar badge on the trunk to unlock the vehicle.
There are so many technology advances in the I-Pace that it's difficult to describe them all; you will have fun just going over each feature if you ever end up buying this advanced EV.
Performance
The Jaguar I-Pace has not one, but two electric motors that each deliver 197 horsepower and 256 foot-pounds of torque. The front and rear motors combined to provide a high performance all-wheel drive and 394 h.p. and 512 foot-pounds of torque. And being an electric vehicle, all of the torque comes on instantaneously – reminding you that these days, electric vehicles are the king of acceleration. No gasoline cars can come close when it comes to the pure sensation of acceleration with cars like the I-Pace as it shoots up to 100 kilometres per hour in 4.8 seconds in totally refined and smooth fashion.
If you love the growling sound of an engine or exhaust, though, you won't get that in an EV of course, but the bullet train-like feel is addictive indeed.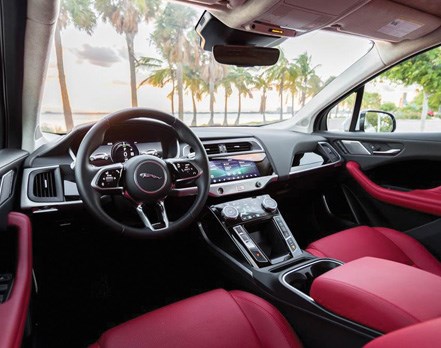 The low centre of gravity in the I-Pace is achieved through positioning the battery between the axles on the floor. A low centre of gravity means that the I-Pace handles corners and drives exceptionally well. In fact, the cornering and handling of the vehicle was so amazing that you begin to wonder if you are driving a crossover or a sports car (Jaguar calls the I-Pace an SUV but it really is a crossover in design in my opinion).
The only thing to keep in mind is that when quick acceleration and regenerative braking are combined, you do get a bit of unnatural driving feel that can cause motion sickness for some people, as we found out in our week of driving the vehicle.
The 90 kWh battery itself is made up of high energy density lithium-ion pouch cells. Jaguar says the battery is built to last but also provides a generous eight-year warranty for those who may be doubtful. A single charge will allow a range of approximately 377 km when full in ideal conditions. In a Canadian winter, you can expect that to be lower, in the 250-km range – still not bad at all.
A charging socket has been placed conveniently on the driver's front side wheel arch for easy access. For at-home charging, you can either install a Jaguar wall box for speedier charging, or use a regular charging cable which takes much longer. With the seven kW on-board AC charger, you can expect a full charge in a little less than 13 hours. For charging on the go, Jaguar recommends a portable 50-100 kW DC rapid charger, the higher range of which will charge 80 per cent of the battery in less than one hour.
Summary
The 2020 Jaguar I-Pace comes in three packages, including the S, SE and HSE trims. Canadian pricing for the S package starts from $89,800, and increases to $99,800 for the HSE trim. Other additions to the higher trim levels include leather seats, powered tailgate, wheel options and a drive pack or driver assist pack.
While the I-Pace does not have the same battery efficiency or the innovative door design of the Tesla Model X, it makes up for it in amazing performance and beautiful design, all backed by a major established brand. And even at close to $90K, the I-Pace is some $10K to $20K cheaper than the Tesla. Put it this way: if I were to buy an electric car tomorrow and price wasn't an issue, I would still pick the I-Pace over the Tesla.
editor@automotivepress.com