This is a tale of two Hondas.
The first is the original company, maker of sprightly and surprising cars that consistently punched well above their weight. The second is the modern Honda juggernaut, builder of everything from the supercar Acura NSX to the Ridgeline pickup truck.
Success and growth are both things that are valued in the business world, but in the automotive world, companies can start losing sight of their roots. Honda kicked things off with motorcycles and tiny, fuel-efficient cars, and that's why Canadians still love them today.
Which brings us to the HR-V, Honda's smallest crossover. This one's the Sport model, a new trim available for 2019, which is a refresh year for the nameplate. Not too much has changed – but we'll get to that in a bit.
The bigger question here is whether the HR-V is a Honda of the old school, or a Honda of the new school. Can a really big company still build small cars with big hearts? Let's take a spin and see.
Design
First off, the HR-V is built on the subcompact Honda Fit platform. Why didn't they simply call it the Fit Plus, or the Fit Extra, or the Fat? Oh wait, that's not gone well.
Anyway, it's a pretty good-looking little thing, right-sized for busy streets and parking lots, with a ride height that's easy to get in and out of.
Seventeen-inch two-tone wheels are standard on the Sport, and dress things up while still being a relatively affordable size when it comes time for snow tires or replacements. Note that Canadian market cars have 17-inchers while the U.S. gets 18s – that's probably a benefit considering our climate.
The Sport gets a tweaked look, and comes equipped with fog lights and a little bit of sporty-looking lower trim, and a chrome finish to the exhaust. Everything's according to formula, but it works well.
Environment
Here's where any Honda should excel. When the original Civic came out, people marvelled at the clever packaging that created acres of space despite a tiny footprint. It was like an Austin Mini, except without the breakdowns.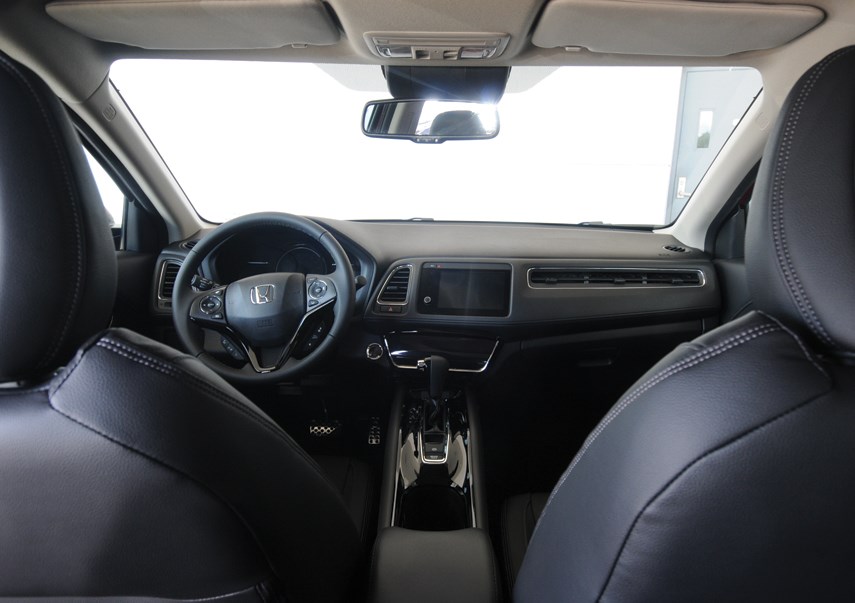 As the HR-V builds on the Fit, it's nicely spacious. The cabin feels roomy and airy, and the trunk has a low load height. The rear seats are incredibly clever, split 60/40 and capable of folding in all sorts of configurations to fit all manner of inconveniently shaped objects.
In fact, it's from the front seats back that the HR-V impresses. The front seats themselves, however, are a little short on legroom for taller drivers. Headroom is generous, but if you like to stretch out, the HR-V's subcompact roots are fairly evident.
The Sport comes with black cloth trim that isn't particularly exciting, but should wear well. This is a useful and flexible little car on the inside.
Performance
From good beginnings, here's where the HR-V starts to veer off the plot a little. Under its stubby hood is a bigger engine than you get in the similar Fit: a 1.8-litre four-cylinder that makes 141 horsepower and 127 foot-pounds of torque.
The only transmission is a continuously variable automatic (CVT), which Honda claims has been reprogrammed to be slightly smoother and nicer to drive for the 2019 models. All-wheel drive is standard on the Sport and Touring models, and an option for the lower LX trim.
While it's not a particularly heavy car, 141 h.p. is just barely enough to get the HR-V zipping around town. Old Hondas always felt nippy and fun to drive, and the HR-V's powertrain is a few monkeys short of a barrel.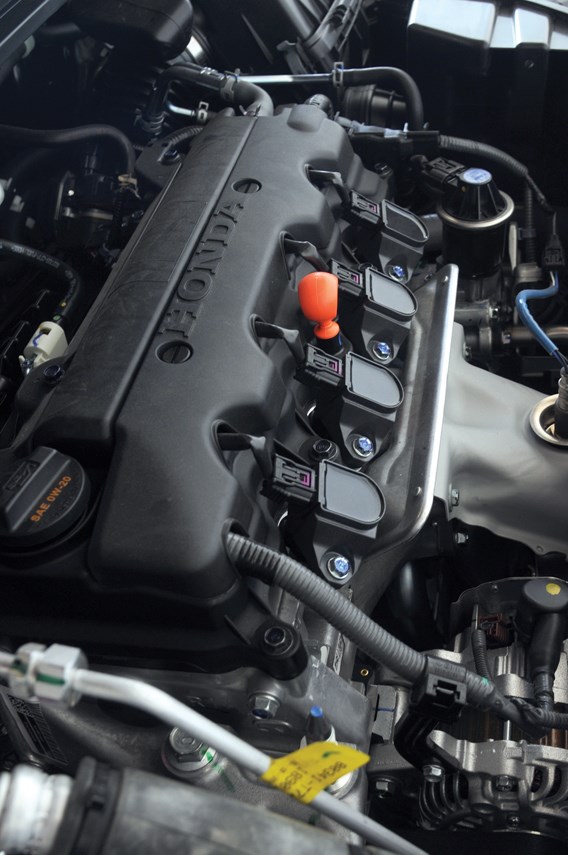 Getting up to highway speeds takes a little over ten seconds, and passing acceleration is also a bit leisurely. Having said that, the Sport version does get a bit of tuning to the anti-roll bars, which does allow you to keep your momentum up.
The slightly disappointing thing is that the Euro-spec versions of the HR-V get the Civic's 1.5-litre turbocharged four-cylinder, which has quite a lot more power and low-end torque. It'd liven the HR-V up quite a bit if we got it.
In fact, if you can live without the optional all-wheel drive, I'd suggest just buying a Civic hatchback instead. It's got a bit more of that old-Honda feel, in a modern shell.
The HR-V rides acceptably well, and for shorter drivers the higher ride height will be a boon. It's perfectly fine as an around-town commuter, just don't expect too much Honda fizz.
Features
With all-wheel drive, a useful driving assists package, and niceties like a leather-wrapped steering wheel and a six-speaker stereo, the HR-V Sport is well-packaged. Actually, even the base LX is well-equipped, with heated seats and smartphone connectivity.
However, it's not exactly cheap. The base LX front-driver starts at $23,300, and the Sport is over $30,000 when freight is added in. That's quite a lot for a little car.
Fuel economy results are so-so, but consistent. Official figures are 9.1 litres/100 kilometres in the city and 7.7 l/100 km on the highway.
Green light
Smart interior packaging; refreshed looks; good resale.
Stop sign
Expensive in higher trims; not that special to drive.
The checkered flag
A practical little runabout that could do with some sharpening up on the fun and frugal factor.
Competition
Mazda CX-3 ($21,045): Let's get this out of the way right from the off: the CX-3 is nowhere near as practical as the HR-V. In fact, the Mazda works best as a car for singles or young couples, rather than people who have to get kids or things around. It's useful as a hatchback, but not as flexible as the Honda.
However, it's both much better to look at, and far more fun to drive. It's also efficient, can be optioned with all-wheel drive if that's a must for you, and has a lovely interior.
In a perfect world, we'd be able to marry the Honda's pragmatism with the Mazda's pulse. In this world, however, you've got to choose.
mcaleeronwheels@gmail.com