The most popular passenger car in Canada is still the Honda Civic, a sedan.
However, when it comes to hauling a family around, more and more people are leaving the traditional four-door sedan in favour of a crossover.
Here's the CR-V, Honda's long-running entry in the segment. When it debuted, it was a much smaller vehicle, and offered a bit more ground clearance for people who needed a mostly on-road car but occasionally had to deal with, perhaps, deep snow. You could even get a manual transmission and all-wheel drive.
These days, the CR-V is larger, more refined, and positively huge inside. It's been a natural choice for people to move into as they've outgrown their Civics. Perhaps, for instance, you inherited mom's 1990s Honda, and now you want something safer for the kids.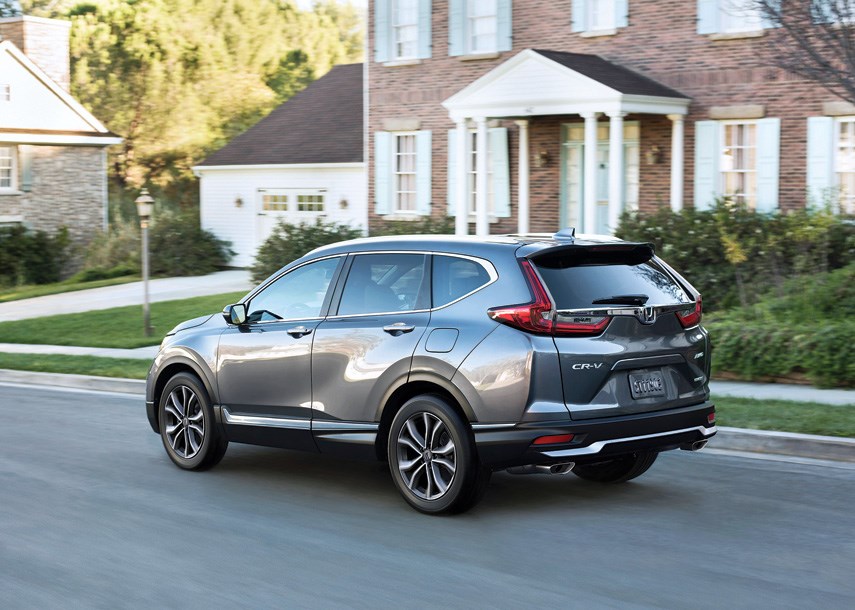 The problem is that every mainstream manufacturer offers a crossover of some kind. There's no reason to stick with Honda just because of the badge – why would you not check out a Toyota RAV4 or a Subaru Forester instead? Let's take a closer look, and see how the CR-V stacks up as a family hauler.
Design
We've got to mention the Civic here again, as while that car is festooned with crazy vents and grilles, the CR-V doesn't look like it even comes from the same company. My tester this week was the Sport version, which comes with 19-inch wheels, but overall the current CR-V is a reserved-looking machine.
Thank you, Honda, for that. While the CR-V doesn't make much of a styling statement on the outset, it does look like the sort of thing a grown-up could drive without being embarrassed. It doesn't flaunt faux exhaust pipes or never-to-be-used off-road add-ons.
Instead, this is a right-sized machine with a few flourishes to make it a little more interesting. If I have a complaint, it's that it isn't quite boxy enough, and the window beltline in the rear rises up enough that smaller kids can't see out properly.
Environment
Never mind the styling – everything that's important about the CR-V is found on the inside. First, it's roomy, with plenty of cubbies up front, and comfortable seats.
Also handy is the access to the rear seats, which small children can get into and out of more easily than some other CUVs. Credit the low floor and a bit more rear legroom. (You don't think you need much legroom for younger kids, but it does make it easier for them to wriggle in with their backpacks on.)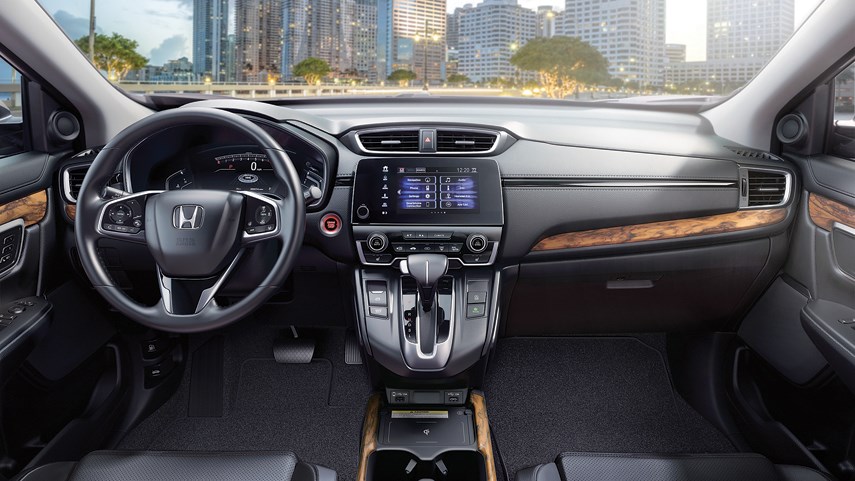 The trunk space is positively huge, with again a low loading floor. If you're looking for something to schlep your dog around in, that low floor will be pretty handy. It's also easily capable of swallowing up whatever daily luggage or groceries you might need.
The one quibble with the CR-V's insides come from its infotainment system. Thankfully, there's a volume knob now, but overall the system isn't immediately intuitive. Hyundai, for instance, has a much easier to use system. Having said that, the CR-V comes with the Apple CarPlay and Android Auto you'll probably use most often anyway.
Performance
There was a time when every Honda had something special under the hood. Sure, there wasn't always an abundance of torque, but the company's engines were scrappy, yappy, rev-happy little power mills.
Now, not so much. The CR-V gets a 1.5-litre turbocharged four-cylinder that makes 190 horsepower at 5,600 r.p.m., and 179 foot-pounds of torque from 2,000 to 5,000 r.p.m. The only transmission available is a continuously variable transmission (CVT).
As a result, the CR-V is not what you'd call a rocket down the on-ramp. If you've got the Eco mode on, you've really got to prod the throttle to get going.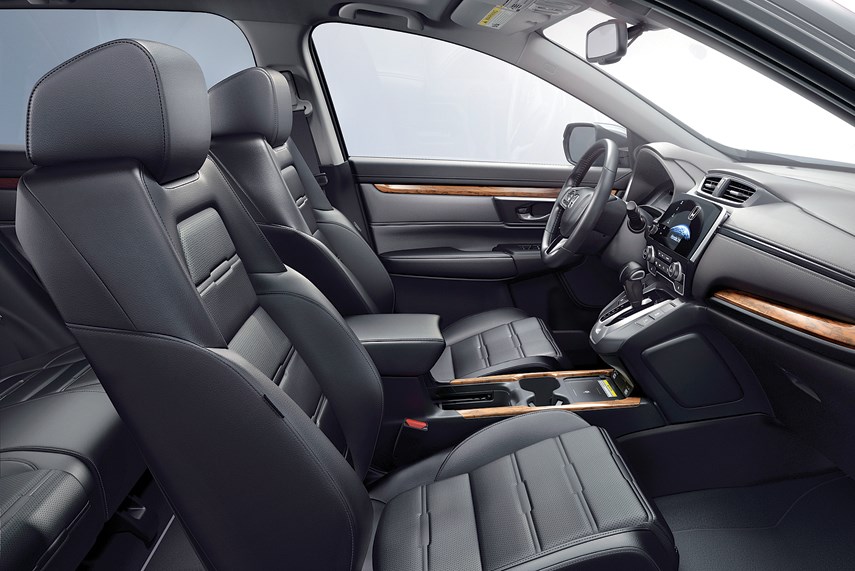 Overall, however, the power levels are certainly adequate. Further, the CR-V's ride and handling are very good indeed. The steering's much better than you'd expect from this class of vehicle, and the brakes feel strong. There's very much a Honda feel to the vehicle, as its dynamics are better than you'd expect in most regards.
And, as most families will appreciate, it's also a comfortable and quiet ride. Commuting around on the Upper Levels doesn't offer much opportunity for fun anyway, so why not have something that feels secure and capable, but also doesn't wear you out?
Features
The CR-V starts at $28,690 for the LX version, but that's a front-driver only. Most people are going to want to step up to the all-wheel-drive version. The Sport makes a nice all-rounder at $34,990, with the price on my tester bumped up $300 above that for the optional red paint. That's about what a V-6 Accord used to cost you.
Fuel economy results are among the best in class. Official figures are 8.7 litres/100 kilometres in the city and 7.4 l/100 km on the highway. The CR-V delivered solid mid-eight results in mixed real world use.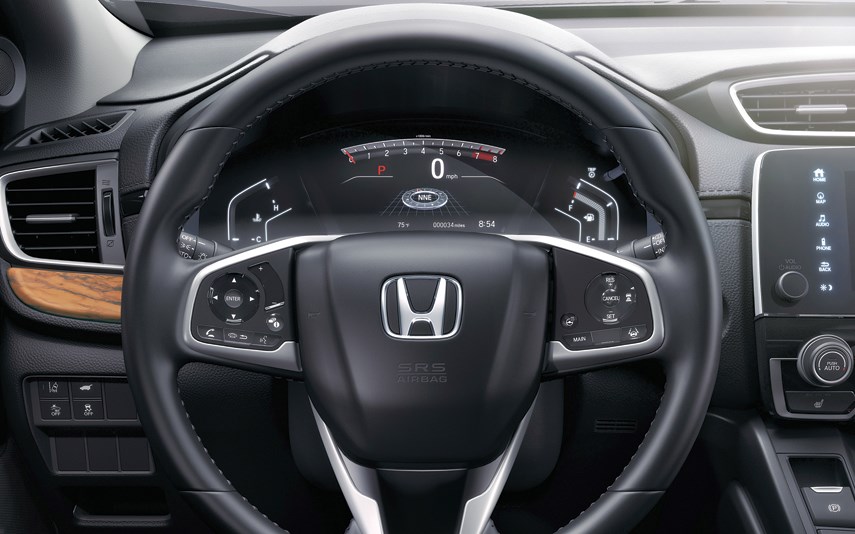 Green light
Comfortable ride; roomy interior; good fuel economy.
Stop sign
Adequate but not thrilling power; modest tow rating.
The checkered flag
Not terribly exciting to look at, but with a touch of special feel about it, the CR-V is a practical choice that'll keep on pleasing Honda families.
Competition
Subaru Forester ($28,695): For a bit more personality, look no further than a North Shore favourite – the Subaru Forester. Boxy, rugged, and kinda-sorta ugly, the Forester is the hiking shoe of the automotive world.
As a vehicle for outdoorsy families, it's pretty ideal. The one demerit for this generation is the lack of a turbocharged model, although I wouldn't be surprised to see the Forester XT return mid-cycle.
Compared to the CR-V, the Forester is a bit more rubbery, and less refined. Put it this way – one is the coat you wear to work, one is the puffy vest you take camping. Both are great picks.
mcaleeronwheels@gmail.com