Toronto Raptors superfan Nav Bhatia is a pretty interesting guy with a great back story.
Immigrating to Canada in 1984, he's an entirely self-made man, having worked his way up from the showroom floor, to the No. 1 Hyundai salesperson in the country, to the owner of two Hyundai dealerships.
He's also never missed a Raptors game, and can currently be seen cheering on the team with abandon – not a bandwagon jumper, but somebody who's been there since the beginning.
Bhatia's success story is the by-product of a great deal of personal effort, but it nicely parallels the story of Hyundai itself. When Bhatia started moving Hyundai-badged sheet metal, the cars offered relatively good value, but were maybe not the most attractive long-term proposition out there. Now, Korea builds everything from a genuine BMW 3 Series competitor (the Genesis G70) to some of the most popular entry-level electric vehicles on the market.
If you're shopping for something that's been a Hyundai hallmark since the beginning – an efficient and inexpensive compact sedan – you better believe they're still making those too. And, just as both bandwagon-jumpers and diehard fans are hoping for Canada's basketball team, this one has the potential to go the distance. Let's take a closer look at the Elantra.
Design
Having hired on a bunch of designers who used to work for Audi, Hyundai's design language has occasionally been accused of being too derivative of upscale European sedans. Excuse me? What better example could there be of sticking with a recipe that works?
Instead of trying for outlandishly futuristic, as with the Honda Civic, the Elantra builds on a handsome exterior that's not overwrought. However, it does appear some of the criticism has stung the design department into action, as this 2019 model has a new front end that features a wider grille and a more angular appearance.
Despite sharp-looking niceties like LED headlights, the updated look is perhaps a step backward over the previous-generation model. The similarly refreshed treatment in the rear has been more successfully executed.
Environment
Happily, if its exterior is a little more polarizing, the Elantra's interior is much more conservatively handsome. If you hunt hard, you can find a few cheaper plastics, but overall everything is well-finished.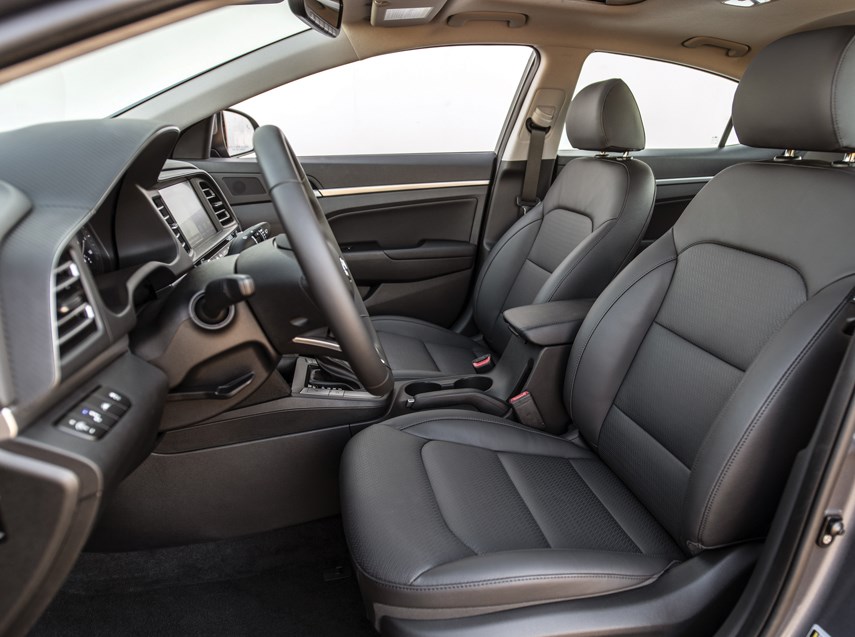 Up front, ergonomics are very good, with excellent and sensible button placement. The top-level trim, the Ultimate, features everything from heated steering wheel to heated rear seats, and nearly everything is controlled conventionally rather than through touchscreen menus.
The Elantra's front seats are very comfortable, and well-bolstered enough to give a hint that there's some sportiness under the hood. Make a note of that, as it'll turn out to be a bit misleading.
The trunk has a useful 408-litre capacity. Also notable is the wide trunk access, and good storage space up front in terms of cubbies and a spacious glovebox.
However, the rear seats are a little on the smaller side if you're hauling around growing teenagers. The Corolla is notably larger in this regard.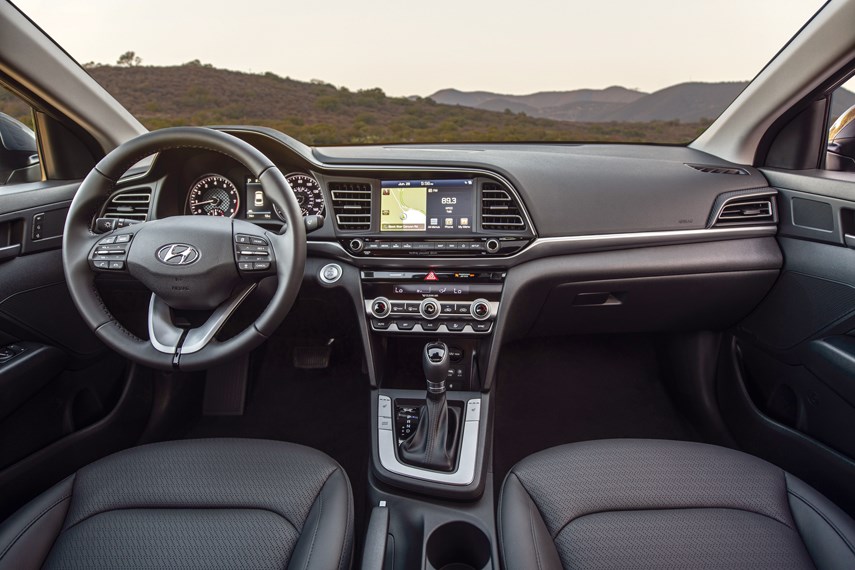 Performance
With a naturally aspirated 2.0-litre four-cylinder under the hood, and a conventional six-speed automatic transmission, you'd think the Elantra would have sufficient get up and go. And it does – but not more than sufficient.
If you want a little more sportiness in your Hyundai compact, you'll have to move up to the Elantra Sport, with its more-powerful turbocharged engine. The standard Elantra is tuned for fuel economy primarily, which is far more important for most shoppers.
Even so, with 147 horsepower at 6,200 r.p.m. and 132 foot-pounds of torque at 4,500 r.p.m., the Elantra's four-cylinder has just enough passing power when called upon. Better yet, the six-speed automatic is far more enjoyable to drive than a CVT would be, with quick shifting.
As you'd expect with any modern car, there's a Sport mode, but I'm not sure it's an improvement. Steering effort gets heavier, and throttle response is sharpened, but the Elantra's powertrain is happiest when not being pushed all that hard.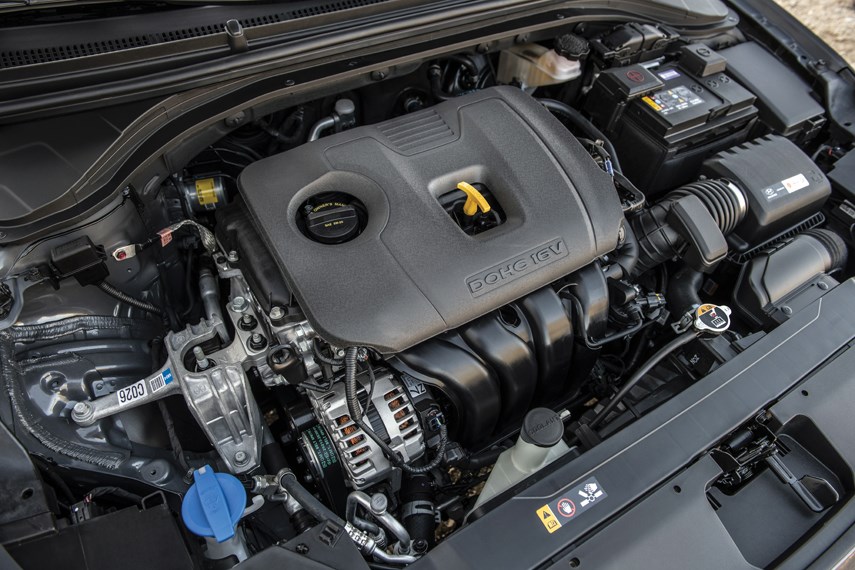 The suspension does a nice job of maintaining compliance, while still being poised through corners. Overall, the handling is sportier than the powertrain, which is great if you're looking for a car that delivers good holiday road trip fuel economy, but isn't a total snooze behind the wheel.
Further, I was impressed with the hushed cabin noise. Yes, this is a small economy car, but it drives with more poise than you'd expect.
Features
At $27,399 with every possible option, the Elantra Ultimate I tested might be too much Elantra for anyone other than a Hyundai super fan. The sweet spot is the $20,549 Preferred model, which gets you must-haves like Android Auto and Apple Car Play, as well as a heated steering wheel.
Fuel economy results are very good, particularly on the highway. Official figures are 8.3 litres/100 kilometres in the city and 6.4 l/100 km on the highway. A combination of slippery sedan aerodynamics and economy-minded powertrain saw the Elantra especially thrifty for highway driving.
Green light
Nicely finished interior; lots of features; economical to run; comfortable; handles well.
Stop sign
Powertrain not all that sporty; exterior refresh not an improvement.
The checkered flag
Offering good value for your buying dollar and genuinely good to drive, the Elantra is the perfect way to jump on the Hyundai bandwagon.
Competitor 
Honda Civic $17,890: Just to thoroughly mix my metaphors, here's Canada's current compact sedan champ: the Civic. It's been the best-selling passenger car up here for nearly two decades, and is also built right here. The Civic is tough to beat.
However, in recent years Honda has made some choices that have proved a bit too avant-garde for some fans. The Elantra's more conventional styling and powertrain options might get shoppers in the door to take a closer look, and Hyundai's overall value proposition is very strong.
mcaleeronwheels@gmail.com