The first time Tannis Hendriks took to the highway on two wheels she sang "You are My Sunshine" to herself.
The song, something she had sung to her son when he was young, was meant to calm any lingering jitters. It was a strategy recommended by her instructor at ProRide Motorcycle Training in North Vancouver. All the students in her class were encouraged to pick a song to sing or hum to help them focus if they felt nervous once they left the comfort of the classroom and headed out onto the open road.
And Hendriks did feel nervous, for good reason. Her only previous experience riding a motorcycle was as a passenger in her 20s with a driver who was too fast and not too careful.
Flash forward a decade or two and Hendriks met and married her husband, Martin, who happened to be a bike enthusiast. A rider since he was eight years old, Martin was older and wiser than the 20-something Hendriks had rode with in her earlier years.
She wanted to share the experience of riding with her husband, but her first goal was to get back on a bike as a passenger. Her previous experience had left her with the impression that biking was dangerous.
"You feel very exposed," says Hendriks of how she felt about being a passenger. "If you crash you're hitting dirt, you're hitting road, you're hitting concrete. So it's unnerving."
But when she finally did join her husband on his bike, she witnessed a mature, careful, responsible driver who changed her perspective.
After getting comfortable on the back of the bike, Hendriks decided she wanted to take the reins herself. It still took about a year to work up the courage and find the time, but she eventually signed up for a rider training course at ProRide.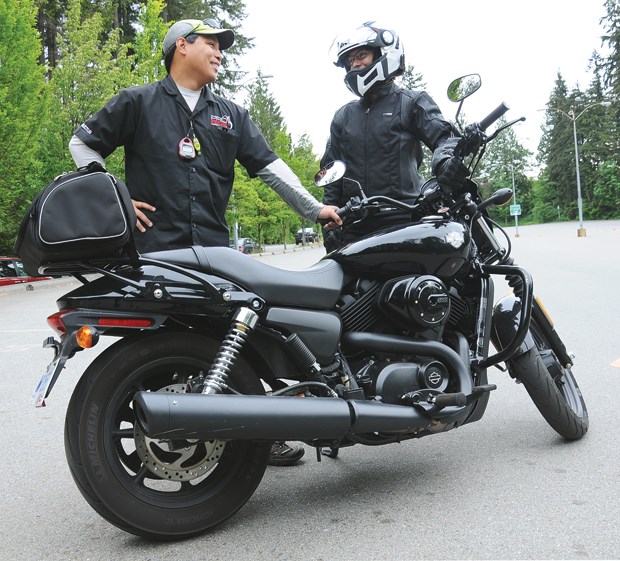 The course was six sessions held over six consecutive days starting on a Thursday night at Capilano University. The first two nights were in-class sessions where students learned the basics of bike operation and care, and watched driving videos.
Saturday and Sunday featured six hours each of riding in a parking lot on campus. Starting, steering, braking, and other basics were covered. First up: sitting on a bike in first gear, slowly letting the clutch out and letting the bike ease forward. Hendriks says she was surprised by how easy it was to learn to ride.
Previously knowing how to drive a standard helped, as did being in a controlled setting with instructors who were patient, informative, and funny, she explains.
The hardest skill to learn was emergency braking in a corner.
"You can't brake hard and fast while you've got a bike turned because the bike will drop," explains Hendriks, noting the driver has to straighten the wheel before applying the brake.
"It's counter-intuitive because if you're in a curve and you straighten the wheel, you're going out of the curve, potentially off a road."
There's also a lot of co-ordination that has to happen in an emergency brake situation: the driver has to apply pressure to the front brake (which is on the right handlebar) and the rear brake (a foot pedal on the right side), both at the same time, and gear down, so it involves clutching and managing two brakes at once while straightening the wheel.
It's a lot to remember, says Hendriks. But being the driver afforded a sense of control that she hadn't felt as a passenger and she developed a new outlook on riding: "It's exhilarating. You just feel free."
She compares it to learning how to ride a bike as a kid.
After two days riding in a parking lot and then passing a road skills test, Hendriks joined her classmates and instructors on two three-hour rides on the road.
After a bit of riding around campus and learning how to park, the group headed out into North Vancouver.
Hendriks admits she was still a bit nervous when they first hit the road but overall it was a positive experience. She recalls, however, one evening as the group headed back to campus, she was waiting to turn left to head back up Lillooet Road and lost track of where the traffic around her was for just an instant.
Suddenly she caught sight of something in her peripheral vision. It was a car in the right lane also making that turn.
The big, black blob startled her and her foot shot out and off the gearshift. She wobbled a bit, but recovered quickly and carried on. Driving defensively is key to riding a motorcycle, notes Hendriks, adding she always has to be on the look-out for other cars and hazards. Even lane position is important. She explains that there are three lane positions to consider (basically left, right, and centre), that are chosen based on visibility and other factors.
For example, it is recommended that riders not sit in the centre of the lane when stopped at a traffic light because idling cars may leak oil, which often lands in the  centre of the lane potentially creating a hazard if it gets on the motorcycle wheels.
At the end of the course, Hendriks and the class took Marine Drive to Horseshoe Bay then headed back via the highway. That's when the little sunshine song kicked in.
Although she was a bit nervous on the highway the first time, Hendriks has since travelled the route with her husband a few times and now feels quite comfortable.
However, it hasn't all been smooth sailing. She admits she recently dropped the bike at a traffic light when she was forced to stop on a hill in a right-turning lane and popped the clutch a bit too early while pulling out of the stop. Her wheels were turned and the bike dropped. A little bruised and a little embarrassed, she says the incident was a bit nerve-racking, but she is determined to practise hills stops and get back to that spot to try it again.
After completing the training course in May, Hendriks  is now the proud owner of a Suzuki Marauder 250 2008, and has two road trips on the horizon.