EDITOR'S NOTE: What do you get when you pack two adults, two rambunctious daughters and a 13-year-old Labrador retriever into a custom van and set the destination for "off the grid?"
The answer is you get the trip of a lifetime. In the summer of COVID-19, taking a self-sufficient trip with your family is sounding like a pretty decent idea. To explore that idea more, we found a North Vancouver family that did just that last year, heading out into the great beyond in their cool custom van. Here's what they found along the way.
We are Matt and Connie Buechler with our two kids Valerie and Zoe (11 and eight years old) and Bailey, our 13-year-old Labrador retriever.
For 13 years we have lived in the Lynn Valley area in North Vancouver, and after 20 years of working in our careers, our family decided to explore North America beyond our awesome province of British Columbia. We wished to spend more quality time together as a family and explore as much of Canada and the United States as possible. We then started to look into how we were going to make this trip happen.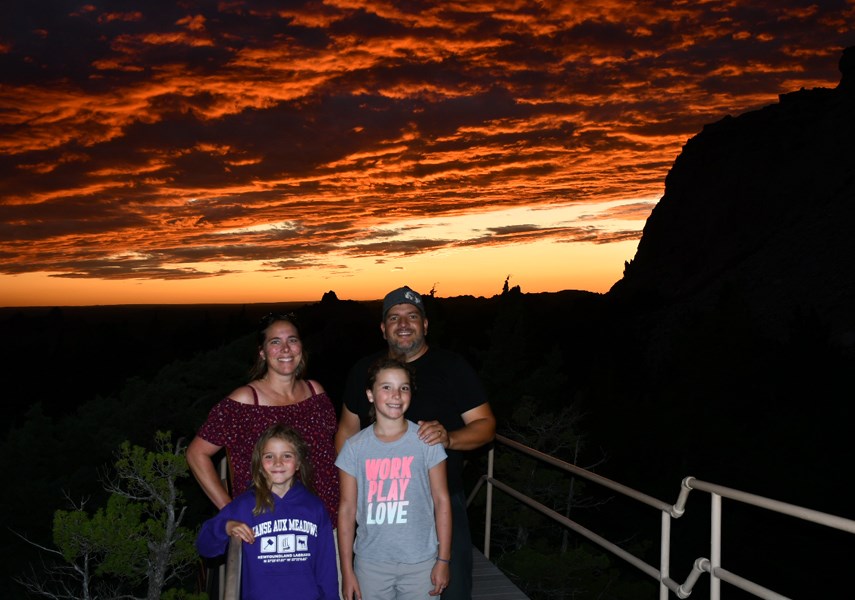 We considered many ways, from a truck with a fifth-wheel trailer to an RV, an SUV/trailer, or even flying from city to city and booking Airbnb stays.
After researching our options and keeping in mind our preference of having the ability to explore remote areas, we contacted Nomad Vanz, a custom van converter based locally in North Vancouver. We started a discussion with them about converting a van for travelling that could comfortably sleep four people and a dog, combine all the creature comforts of a home, can be used in all four seasons and on top of that has off-road capabilities so that we could explore the rugged and remote areas as well. 
The result was Cloudhaus, a 2018 Mercedes Benz 3500 4x4 Sprinter Van 170 EXT as a base vehicle, featuring a full custom conversion from Nomad Vanz. The conversion included a bunch of fun and functional features ranging from a safari rack and bumper winch on the outside, a shower and water purification system inside, convertible beds, a gourmet kitchen and more, all tied together with a custom colour scheme.
We had the van, now it was time to hit the road.
In the spring of 2019, our family set off on our adventure across North America and headed east. Our family tracks led us through the Rockies, across the Prairies, through Ontario, Quebec, all the Atlantic provinces, France (yes France!), the Midwest and the western United States, all over a four-month period.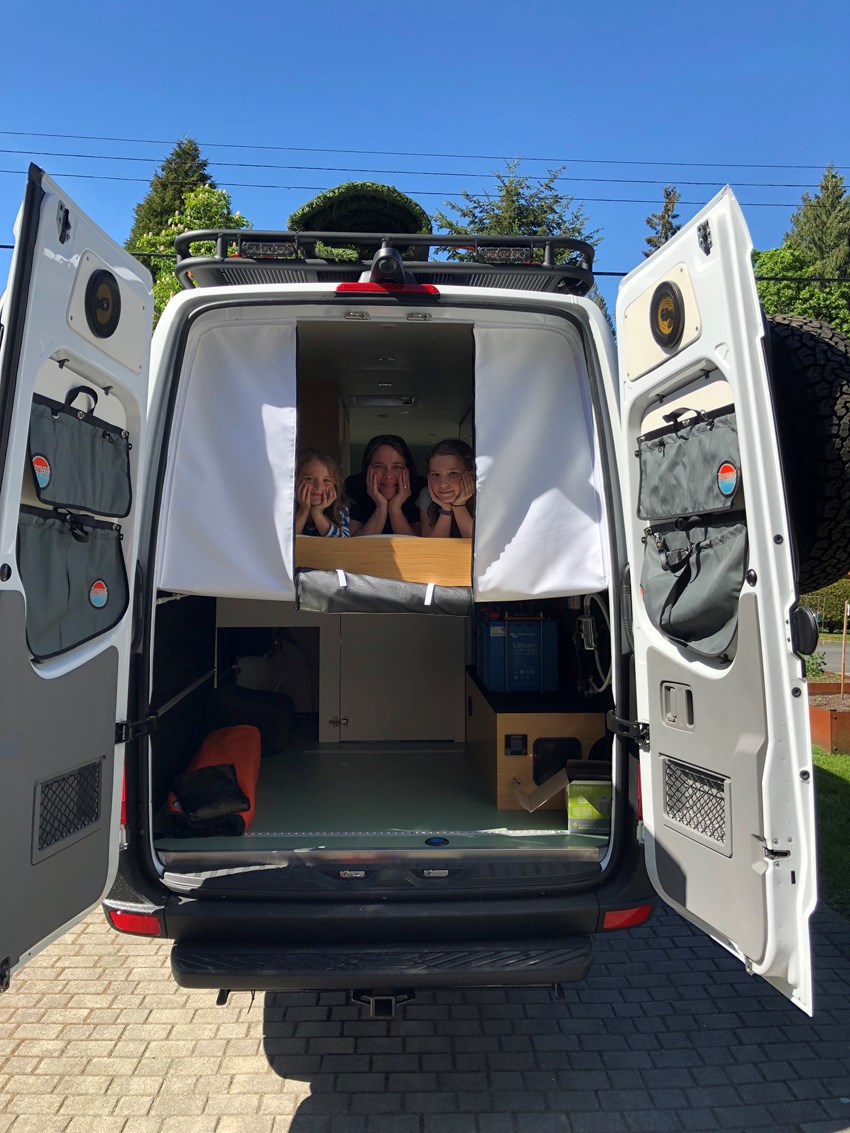 All parts of the trip were memorable, but some stood out. We were in awe of the vastness of the Prairie skies, but equally impressed by the rugged beauty of the Atlantic provinces. 
We enjoyed the French culture in Quebec and the visits to the fromageries and boulangeries along the Gaspé Peninsula. 
We can also testify that the people in Newfoundland and Labrador are amongst the most hospitable people we had the pleasure of meeting. 
Here are 10 trip highlights, in no particular order (and many more could be mentioned):
• Canada is big – While enjoying an Iceberg beer at the Quidi Vidi Brewery in St. John's, Nfld., we hit 'Home' on our cellphone map – more than 8,500 kilometres until home!
• The water in Bruce Peninsula, Ont., is as turquoise as shown in pictures, but don't be fooled by the colour – it is freezing cold!
•  With the help of amazing people at North Vancouver's Flicka Gymnastics Club, our daughter Zoe was able to attend a gymnastics camp in Halifax with Ellie Black, our Canadian Olympic gymnast.
• Two spots in Canada are tied on our list for the best star gazing: Cypress Hills Interprovincial Park on the Alberta-Saskatchewan border, and remote camping anywhere along the Trans-Labrador highway between Churchill Falls and Happy Valley-Goose Bay.
• The best beaches we found were in P.E.I., with the finest red sand and the warmest water (in the summer, anyway).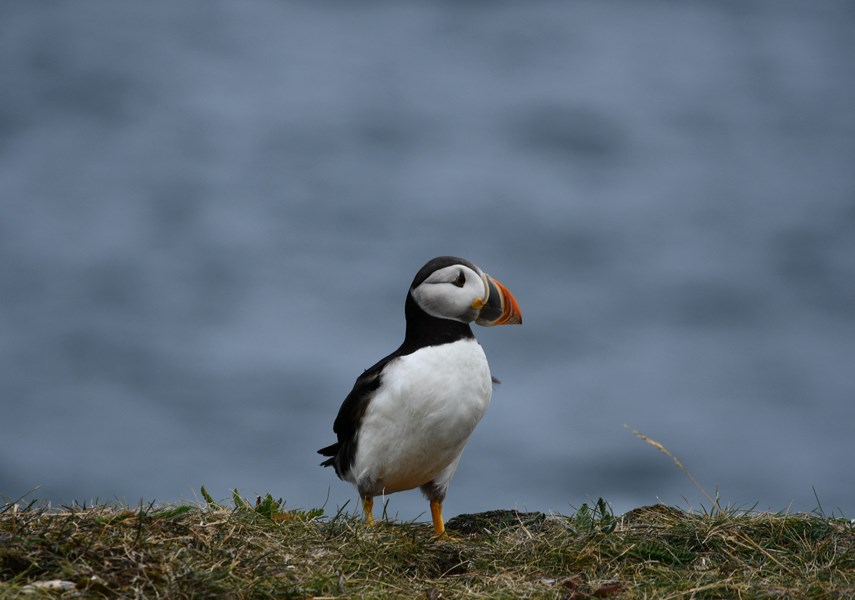 • The most scenic highway we experienced was the Cabot Trail in Cape Breton, N.S. – a winding road, stunning views and so much wildlife everywhere.
• The best natural hot tub we found was in Yellowstone National Park in Wyoming. We spent probably more time hanging out in the Boiling River than is recommended, but the warm water mixed with the early morning sunrise and stunning scenery made it really difficult to leave.
• The best mountain biking on our trip was in Sun Valley, Idaho. We found wonderful trails for all skill levels all around this rural community.
• We experienced the most amazing sunset at the most eastern point in Canada – Cape Spear, Nfld.
• France really is only an hour boat ride away from Newfoundland (look up St-Pierre et Miquelon).
Our trip allowed us to spend quality time together and created memories for a lifetime.
The fact that we got to travel in a Nomad Vanz vehicle allowed us to camp in remote places, carried us safely across the rugged Trans-Labrador highway, allowed us to climb steep mountains for great views, and kept our batteries charged with solar panels.
But the best was that we could go where other RVs couldn't go. We met amazing people wherever we went, learned fascinating things about our country and heard many people's stories. We learned that our country is beautiful and amazing everywhere, and our hope is that many other people have the same opportunity to experience what we were able to – make memories, and create their own family tracks.
This article originally appeared in the Car Care special feature section of the June 24, 2020 edition of the North Shore News.