Members of the European motoring press were recently encouraged to get behind the wheel of Honda's new "e" electric car.
The consensus has been almost universally positive, praising the e's clever packaging, small turning circle, and zippy electrified powertrain.
Yes, there has been a complaint or two about the name. "What are you driving?"
"A Honda e."
"A Honda-y what?"
And so on.
Silly name aside, the e is a wonderful looking car that's remarkably close to its concept. The production version is a little larger, with a four-door hatchback layout rather than the sporty three-door that graced the stage as a forward-looking concept in 2017.
Still, to go from new concept to realized production car and retain almost all of the characteristics of the former is pretty unheard of. At least on the exterior, the e is a knockout, with rounded, friendly features. It looks a bit like the futuristic probe-robot that Wall-E falls in love with in the eponymous Pixar movie.
There is, however, one rather large problem with the Honda e, and one that will likely prevent it from arriving in our market. That problem is price.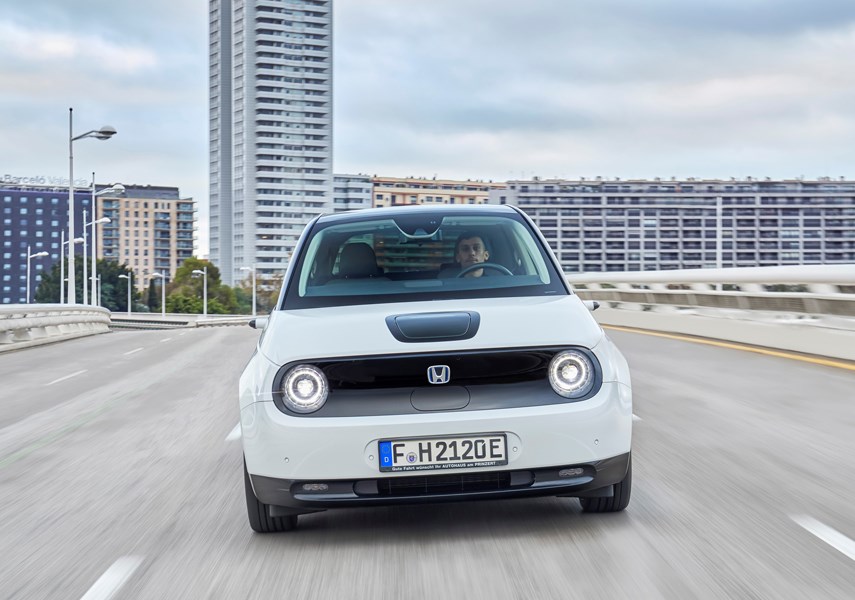 The e's 200 kilometre range might not be perfect for all customers, but is probably more workable than most people would expect. The vast majority of commutes are short enough that the e would easily be able to do them in a round trip, along with the grocery shop, and then silently charge up at night.
It's not the range, it's the premium you'll pay for a small, electrified vehicle. Before rebates, the e will cost the equivalent of $49,000.
That's a lot. If you feel like the prices of vehicles have been shooting up recently, you're not alone. Buoyed by cheap credit and long loan times, a wave of crossovers has put many people into more car debt than they can really handle.
Instead of buying an inexpensive sedan or hatchback, many people buy a larger crossover, because it feels safer and rides higher. Designers, encouraged by the added sheet metal to work with, increasingly make these crossovers aggressive to look at. Your average parking lot these days is a sea of gaping grilles and fake plastic fender vents.
Obviously, a nearly-$50,000 electric hatchback that's only sold in Europe isn't going to change that. However, the level of interest that the public has shown in the e indicates that maybe there's an untapped market here.
Buyers are a bit fickle when it comes to retro design and cars that don't look like they want to murder you. It makes manufacturers skittish. This year, the Golf-based VW Beetle is being discontinued, and Fiat is pulling their 500 out of North American markets. The profits just aren't there.
However, perhaps that's because both Fiat and VW have left their designs to sort of wither on the vine instead of refreshing them. The Honda e, on the other hand, is a far more futuristic take on motoring, rather than a look back over its shoulder. Yes, there's a family resemblance to the Honda Civic, but this isn't a throwback.
Personally, I think that even with that high price point, the Honda e might actually sell in limited numbers here. Especially in Vancouver, there's a huge demand for EVs, and the rebates would defray the costs somewhat.
But why can't Honda take the fancy dashboard-wide screens out of the e, de-content all but the most necessary features, and fit the powertrain out of the Insight hybrid? What if we could have something that looked like the e, but cost about as much as a modestly equipped Civic sedan?
The e looks like a premium product, but it's not traditionally luxurious in the sense of being large, imposing, and loaded up with leather seats and the like. Instead, it's a friendly-looking car that appears to be happy when it's driving. Why can't they build something like that for the rest of us?
There is a huge disconnect between the way that all environment and efficiency friendly vehicles (the Prius, Clarity, etc) all seem to have been designed to be weirdly futuristic, and how angry most of our regular cars look. We need more cars like the Honda e, which make driving a small car look appealing again.
It worked when BMW brought back the Mini in the early 2000s. There were huge waits for the car, even though it was a pricey and oft-times unreliable homage to the original. If a car was available that looked like the e, but offered the same price and ease-of-operation as your average Honda compact car, it'd be a smash success.
In the meantime, we've got to wait while manufacturers look at how Honda's e performs in the market. It could end up inspiring a new generation of more friendly looking cars, or it could be just a drop in the bucket as factories continue to churn out huge-grilled pickup trucks.
I'd like to be optimistic about it. The interest that people show in the looks of something like the Suzuki Jimny or Honda e mean that we're still interested in small cars. With many people concerned about reducing their carbon footprint, there's further demand for something smaller that treads more lightly.
It's just that, at the present time, most of the small vehicles available today look like bland or angry pods, instead of a friendly companion. I'd argue that your car should make you smile when you look at it. Maybe if our cars were friendlier, we'd be nicer on the roads too.
Brendan McAleer is a freelance writer and automotive enthusiast. If you have a suggestion for a column, or would be interested in having your car club featured, please contact him at mcaleeronwheels@gmail.com. Follow Brendan on Twitter: @brendan_mcaleer.